Nourish + Bloom Review June 2017
Nourish + Bloom is a monthly subscription for health & wellness products. With The Essential Collection, you'll receive access to Nourish + Bloom Life (our better living app), a wide selection of green superfoods, prebiotic fiber blends, omega supplements, multivitamins, prebiotic supplements, and whole food shakes. You'll also receive our stylish N+B carryall and a BPA-free water bottle, shaker bottle combo. They kindly sent us this box for review.
Now this is the kind of monthly subscription box that gets me really excited!! We are reviewing Nourish + Bloom for the very first time and at first glance it looks pretty amazing. If you get as excited about health products as I do, then you are going to want to check this one out.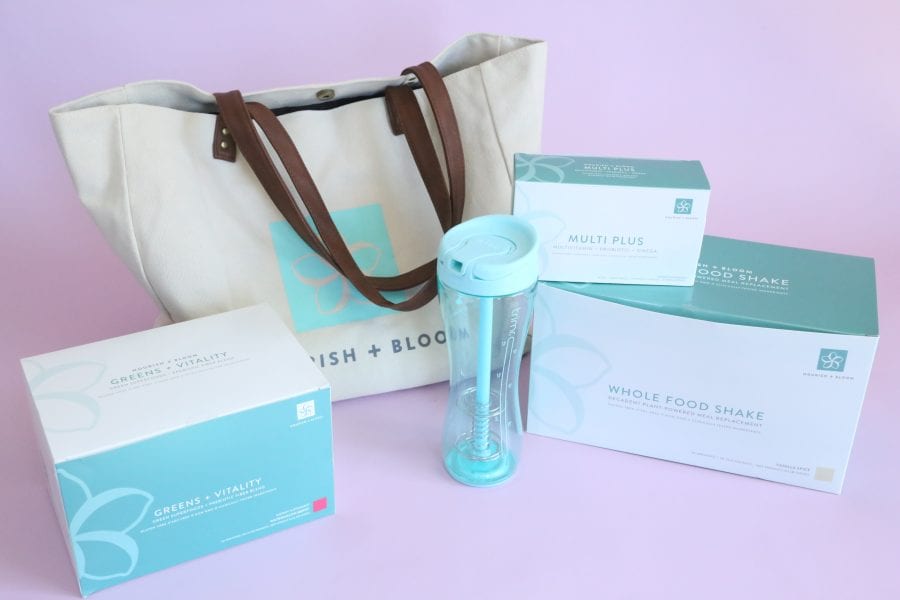 Subscription Details
When you sign up for the Nourish + Bloom Essentials Collection you can choose a one-time delivery for $190 per month, or you can choose the auto replenish option for $152 per month. Here's what they have to say about the auto replenish option:
If you choose the autoreplenish option, we'll deliver you the Essential Collection every month. You'll never have to worry about running out or shopping for more. By choosing autoreplenish, you'll also receive a 20% discount and will be first to try samples of our new products!
The Essentials Collection
Welcome to your new daily essentials! These specialized nutrient blends were formulated to nourish your body so you can bloom with beauty, vitality, and strength. Choose the autoreplenish option when you order and you'll enjoy a 20% savings. Each month, we'll deliver a 30-day supply to your door. No need to worry about running out–we've got your back!
Here's a look at what you will receive in your first Essential Collections order:
Greens + Vitality
With Greens + Vitality, get all the benefits of your favorite green smoothie in an easy-to-use powder. Powerhouses like kale, spirulina, and broccoli support your body's response to everyday oxidative stress and post-workout damage.* Non-GMO, vegan fiber from peas, oats, apples, and flax seeds keep you full between meals, promote easy digestion, and support heart health.* Caffeine-free green tea adds another dose of antioxidants, while milk thistle and cayenne pepper can help aid in digestion and support healthy liver function.* Best of all, our fresh Watermelon Berry flavor blends perfectly into all kinds of juices, shakes, and smoothies.
This is a powerhouse blend for sure! I am impressed by all the ingredients. The greens, the fibre, the digestive support, and the green-tea. I am comfortable with everything on the list. It also contains vitamin A for healthy skin, and vitamin B which is a vitamin us vegans need to be aware of. Add it to water, your favorite juice, milk (dairy or plant-based), or smoothie. The "other"ingredients included are Stevia, which is a sweetener, and Guar Gum, which is a thickening agent. Each pack only has 25 calories, which is AWESOME, and you receive a 30-day supply.
Multi Plus
It's not always easy for women to get all of the vitamins, minerals, and digestive help we need to combat the stress and strain we put on ourselves. We make it easy with Nourish and Bloom's Multi Plus. Each day of Multi Plus includes three essential supplements that are known for their ability to nourish and beautify.*
MULTIVITAMIN – Our multivitamin was formulated specifically for women, with B vitamins for energy and metabolism; calcium and magnesium for bone health; biotin for gorgeous skin, hair, and nails; iron for its workout-boosting powers; selenium for its antioxidant strength; and vitamins A, C, and E for all-around support.*
OMEGAS – A nourishing blend of 500 mg of EPA and DHA, which are two omega-3 fatty acids that support brain and nervous system health and your glowing skin.*
PROBIOTIC – A healthy dose of probiotics keeps your gut healthy and digestion regular. Includes key components of healthy vaginal microflora.*
I LOVE that the vitamins come in their own daily packs. Simply detach and throw in your purse. I always forget to take my vitamins because it's such a pain to go through each bottle every morning and pick out the ones I need to take. These handy little packs are so convenient that I will have no problem remembering to take them.
And…..the fact that the multi includes the full clinically-studied dose of lutein shown to support beautiful, healthy skin makes me extremely happy.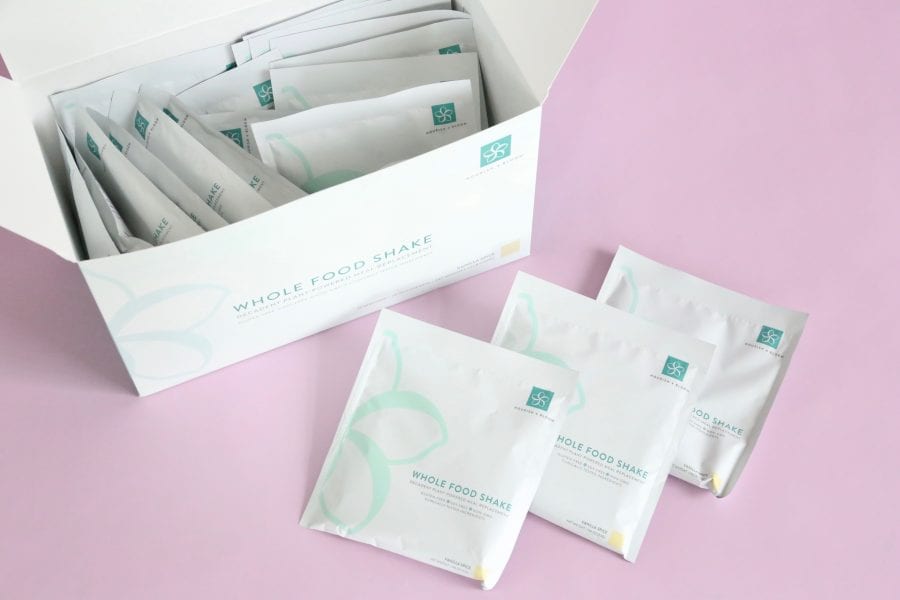 Whole Food Shake
Indulge in our delicious Whole Food Shake to fuel your workout, to replenish your body afterward, or anytime hunger strikes. Fiber-packed vegan proteins from peas, rice, pumpkin seeds, and beans, as well as enzymes to support healthy digestion. Vital micronutrients are gently extracted from non-GMO fruit and vegetables to provide you with a truly whole food meal that's easily and quickly absorbed.  Choose from two delicious flavors: Vanilla Spice and Decadent Chocolate Truffle.  Of course, this satisfying treat is free of soy, gluten, and artificial colors and flavors.
Yes!! This is amazing. Until now I have been using Vega Meal Replacement in my smoothies, but have been wanting to try another brand. This one sounds perfect for me. I love that the protein sources are peas, rice, pumpkin seeds and beans, and I love that we have a choice of Vanilla Spice or Chocolate Truffle. You can have this shake as your snack, or mix it with milk, fruit and veggies for a quick lunch. You can also add it to muffin or pancake mix. It is sweetened with Stevia and has 210 calories per serving.
Bonus Items Received with First Order
When ordering The Essential Collection, you'll receive access to Nourish + Bloom Life, our better-living app.  You'll be able to tap into the collective wisdom of our team of nutritionists, personal trainers, meditation coaches, and yogis. Because wellness is often on the go,  you'll also receive our stylish N+B carryall and a BPA-free water bottle, shaker bottle combo. So, get out there! Be joyful, be fearless, be nourished….and bloom.
I haven't had a chance to check out the Better-Living App yet but it sounds fun. And I love the tote and shaker bottler. They complete the Essentials Collection nicely.
Nourish + Bloom Review June 2017 – Final Thoughts
Nourish + Bloom is the perfect subscription for me! It won't be for everyone, due to the price point, but I happen to love the idea of this new monthly subscription for health & wellness products. I am extremely diligent when it comes to my supplements. I started paying more attention to what I was consuming, and how I was nourishing my body, a few months back and the results have been pretty amazing. The saying "you are what you eat" is so true. When I am consuming the proper nutrients my outward appearance shows dramatic results. My skin glows, the wrinkles and dark circles diminish, my nails grow, and my hair shines. Therefore, I think this new subscription is absolutely amazing. I haven't even tried the products yet and I am a huge fan. I plan on testing everything out over the next month and will update you with my next review.
What do you think of Nourish + Bloom?
XOXO