Oatbox Review August 2018
Oatbox is a monthly breakfast subscription box out of Montreal, Canada, that includes two handcrafted, 100% natural and preservative-free granola blends made with organic oats, rye flakes and honey, plus two complementary recipes. Subscribers can choose from a regular or gluten-free box. Subscriptions can be delayed or cancelled at any time, free of charge.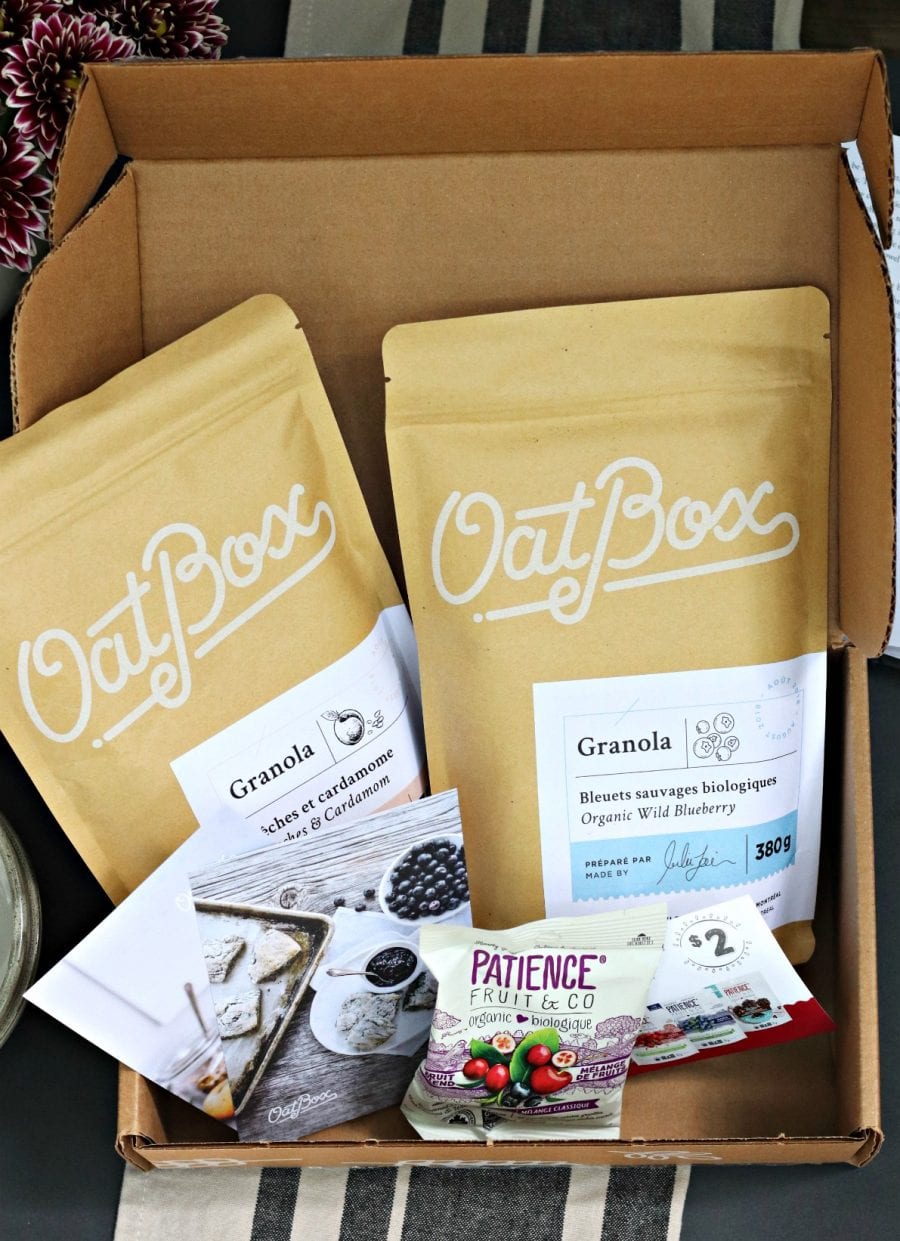 I've gifted single boxes to foodie friends in the past but the August box is the first one I've tried myself. The packaging is super cute obvs, but what about the contents?
What a pleasant surprise! The bags of granola were much larger than I expected (two 380g bags with about eight 1/2-cup servings each) with the perfect, light amount of sweetness compared to regular store-bought granolas I've tried, plus a generous sprinkling of real dried fruit.
The granola blends change each month. For August, there's a Peaches & Cardamom Granola and an Organic Wild Blueberry Blend, along with a package of dried blueberries, cranberries and cherries from Patience and Co. and a coupon for $2 off any Patience and Co. product. These were also delicious (well not the coupon — I didn't eat that ha ha) and would have been a tasty addition to a serving or two of granola although we shared them for a snack.
And the recipes included sound amazing: Blueberry Scones ready in 35 minutes from start to finish, and a Peaches & Rum Jam that takes just 5 minutes to prepare and 45 minutes to cook. These would be wonderful served alongside the granola, whether for a nutritious and hearty breakfast or brunch.
I love supporting Canadian companies that give back, so it makes my heart happy to know that for every subscription purchased Oatbox donates a complete breakfast to a child in need through the Breakfast Club of Canada.
Oatbox Review August 2018 – Final Thoughts
I'm really impressed with Oatbox — the granola is scrumptious and great value for a healthy, handcrafted product. A subscription (or a single box) makes a great gift for foodie friends (mine loved theirs!). I'd order it again — for others, and for myself!
Coupon Code: Use our link and get $5 OFF your first box! – CLICK HERE
Try Small Things – https://trysmallthings.com