Oatbox Review February 2020
Oatbox is a breakfast subscription box. You can choose from a variety of healthful breakfast products to fill a box that they will ship you every month. Their products are always 100% natural, most of the time organic and sometimes gluten-free, vegan and nut-free. Note that you can delay shipments if you don't want your monthly box or even unsubscribe at any time, free of charge.
Food subscription boxes are a must-have in my house. Often times they end up being my favorite deliveries. Food boxes make life so much easier. They save me a trip to the grocery store, they often save me money, and they ensure my pantry is stocked at all times. I have been receiving a monthly Oatbox delivery for almost two years….wow that is crazy…..and one thing is for sure, I LOVE having Oatbox granola in the pantry.
Subscription Details
There are three Oatbox subscription options to choose from (all prices in CAD) and shipping in North America is free:
The Starter Kit — 1 granola mix (8 portions) + 6 oatmeal portions + 6 breakfast bars each month for $35
The On The Go Kit — 1 granola mix (8 portions) + 6 oatmeal portions + 12 breakfast bars each month for $45
The Wolfpack Kit (great for families!) — 2 granola mixes (16 portions) + 12 oatmeal portions + 18 breakfast bars each month for $60
Subscriptions can be customized. Mine is two bags of the monthly granola discovery for $20 ($10/bag).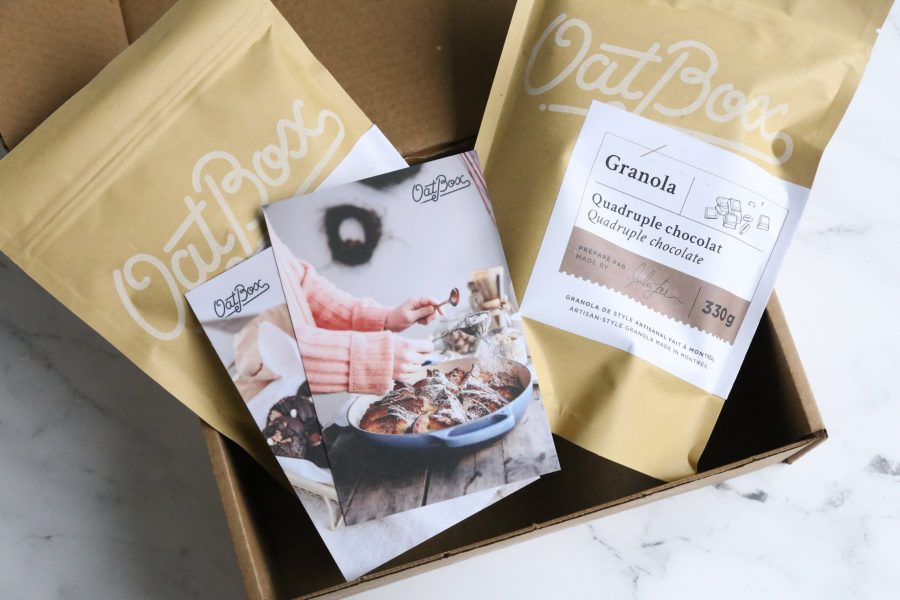 Here's a peek at the Oatbox granola mixtures we received this month….
Recipe Cards
Every month Oatbox includes two recipe cards along with the granola mixtures. This month we received recipes for:
Baked French Toast
Decadent Chocolate Cookies
I prefer the healthier recipes but these will be nice for a little treat.
Quadruple Chocolate Granola
Ingredients: Rolled oats*, rye flakes*, brown sugar, quick oats*, dark chocolate (chocolate, sugar, cocoa butter, soy lecithin (emulsifier), vanilla), white chocolate (sugar, vegetable oil, whole milk powder, nonfat dry milk, soy lecithin), tapioca syrup*, cacao nibs*, sunflower oil*, cacao powder.
To be totally honest, the granola mixtures that include chocolate always end up being my least favorite. Don't get me wrong, they taste amazing, but I definitely prefer a more health-conscious mixture, those containing nuts, seeds, etc…..
I keep the chocolate mixtures for days when I need a treat. This one will be amazing with coconut milk and sliced banana…..drizzle with a little honey to make it even more dessert-like.
Salted Caramel Granola
Ingredients: Rolled oats*, almonds, rye flakes*, brown sugar, quick oats*, tapioca syrup*, sunflower oil*, vanilla extract (water, alcohol (35%), sugar, vanilla bean extractives), sea salt.
I love salted caramel anything so I already know this mixture will be tasty. But just like the chocolate mixture, I will probably enjoy it as more of a treat than a daily breakfast option. I picture this one sprinkled on top of some coconut yogurt….or coconut ice-cream.
Oatbox Review February 2020 – Final Thoughts
The February Oatbox granola mixtures have a more decadent, treat-like flavour profile. I definitely prefer something a little more simple – plain granola, mixtures with nuts, etc…. but these are definitely a nice change. I won't enjoy them as a daily breakfast but more as a treat after dinner. But that's the wonderful thing about Oatbox. You can enjoy your granola mixtures a number of ways. Here are just a few ideas:
with cashew milk, or any other milk
with milk and topped with fruit
sprinkled on yogurt
sprinkled on icecream
as a smoothie topping
-AYOB Sarah