Oatbox Review January 2020
Oatbox is a monthly breakfast subscription box from Montreal that can be customized to include handcrafted granolas, oatmeal, breakfast bars, coffee, tea and other products. Gluten-free boxes are available and subscriptions can be delayed or cancelled free of charge.
There are three Oatbox subscription options to choose from (all prices in CAD) and shipping in North America is free:
The Starter Kit — 1 granola mix (8 portions) + 6 oatmeal portions + 6 breakfast bars each month for $35
The On The Go Kit — 1 granola mix (8 portions) + 6 oatmeal portions + 12 breakfast bars each month for $45
The Wolfpack Kit (great for families!) — 2 granola mixes (16 portions) + 12 oatmeal portions + 18 breakfast bars each month for $60
Subscriptions can be customized. Mine is two bags of the monthly granola discovery for $20 ($10/bag).
My Oatbox delivery included two recipe cards. The recipes use or complement the month's granolas. For January there's Sugar-Free Breakfast Cookies and Date and Oat Energy Bites. I'd like to make both!
Oatbox introduces two different granola mixes each month. January's are Ancient Grains and Coco-Choco. Each 330-gram bag contains about 8 half-cup servings (170 calories for the Ancient Grains and 180 for the Coco-Choco) — a pretty standard portion as far as granola goes. It's nowhere near as sweet as commercial granola mixes and has a decent amount of fat and fibre to sustain you til the next meal. Complete nutritional info is available on the Oatbox website.
I can tell you from experience that these coco-coco clusters make a delicious, crunchy snack. I'm sure they'd be delicious with milk or yogurt too. The coconut and chocolate flavours are both very subtle so you won't feel like you're eating dessert for breakfast.
I love the raisins and dried apple in this mix and could do with more of both. The oats aren't particularly sweet or flavourful on their own so the raisins and apples add some zing.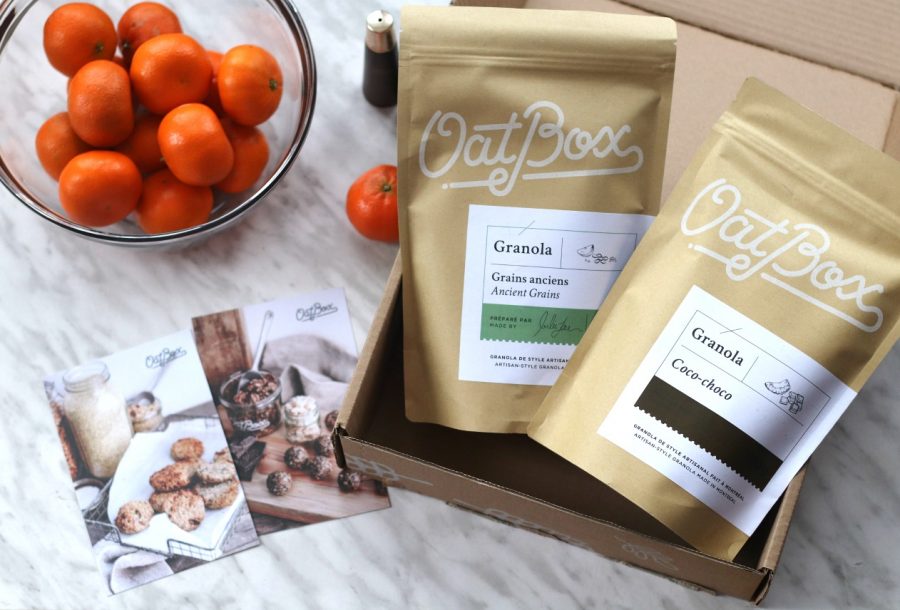 I've tried several Oatbox granola mixes and quality is consistently top-notch in terms of taste, freshness and nutritional value. I like the minimal packaging and the beautifully photographed recipe cards and the price is reasonable for what you get. Makes a great gift!
Have you tried Oatbox? What do you think?
Try Small Things – https://trysmallthings.com