Oatbox Review June 2018
Oatbox is a breakfast subscription box. You can choose from a variety of healthful breakfast products to fill a box that they will ship you every month. Their products are always 100% natural, most of the time organic and sometimes gluten-free, vegan and nut-free. Note that you can delay shipments if you don't want your monthly box or even unsubscribe at any time, free of charge.
Have I told you how much I love this subscription? I think I have but thought it was worth mentioning again. I LOVE this subscription!! There's nothing like a bowl of granola and a big ol' cup of coffee early in the morning. It's the best way to start your day……in my opinion. Oatbox has transformed my morning routine and I couldn't be happier.
Coupon Code: Use our link and get $5 OFF your first box – CLICK HERE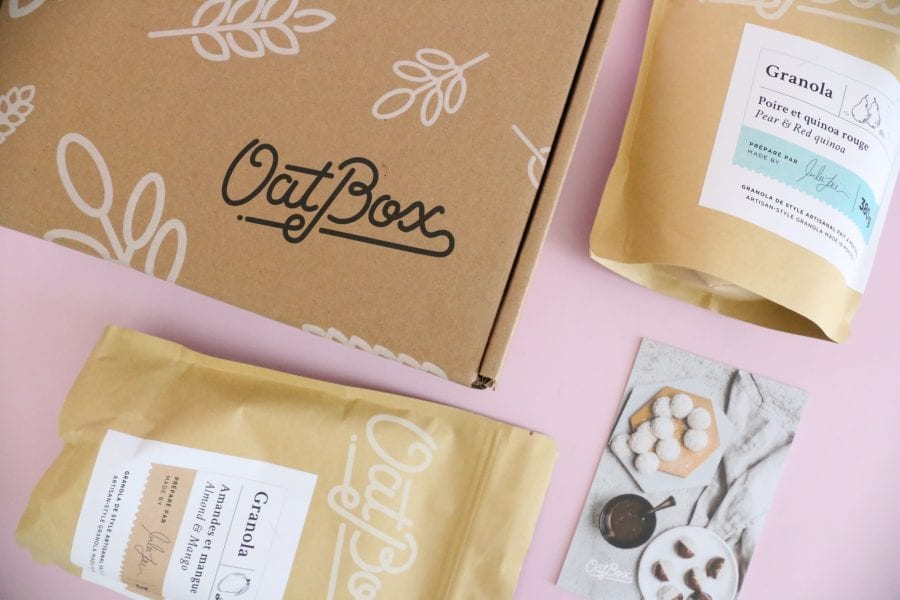 Subscription Details
What You Get: Discover 2 new granola mixes every month. flavors you won't find at your supermarket!
Good to Know: At Oatbox they handcraft all their products (they do not put products from other brands), and every month their subscribers discover new flavours of breakfast products.
Options: Choose to receive the regular box or the gluten-free box.
Here's a peek at the mixes we received this month in the regular Oatbox….
Almond & Mango Granola: Organic roasted oat flakes, organic rye flakes, brown sugar, almonds, organic quick oats, water, organic high oleic sunflower oil, freeze-dried mango, maple syrup, sea salt.
Pear & Red Quinoa Granola: Organic roasted oat flakes, organic rye flakes, organic red quinoa, organic honey, brown sugar, organic apple sauce, water, freeze-dried pears, organic high oleic sunflower oil.
Bonus Item
Oatbox included a bonus item for us this month which was really thoughtful. We received a sample size bottle of Dish soap from The Unscented Company.
Oatbox also includes 2 recipes in each box. This month we received a recipe for Bircher Muesli and Coconut Snow Balls.
Oatbox Review June 2018 – Final Thoughts
I honestly don't know what I did before Oatbox came in to my life. I am officially obsessed with granola. I always knew I liked it but Oatbox has turned my "like" into "love". I look forward to testing out new granola flavours every month, so much so I haven't even bothered ordering any of the other breakfast options they have available to subscribers. I also look forward to the recipes they include in each box. There are so many fun ways to incorporate granola into your breakfast recipes but my favourite will always be a good ol' bowl of granola and cashew milk. I could eat it for breakfast, lunch and dinner. I don't see myself unsubscribing from Oatbox anytime soon. It's a subscription I will have for a very long time.
XOXO