Oatbox Review May 2020
Oatbox is a breakfast subscription box. You can choose from a variety of healthful breakfast products to fill a box that they will ship you every month. Their products are always 100% natural, most of the time organic and sometimes gluten-free, vegan and nut-free. Note that you can delay shipments if you don't want your monthly box or even unsubscribe at any time, free of charge.
I receive an Oatbox delivery every month and have been for a couple years now. I always get their monthly granola selections and from time to time I order additional items like oatmeal or granola bars. I have also ordered a few extra mason jars (new subscribers receive one with their first box), and this month I ordered a coffee cup and some jam. Let's have a closer look…..
Subscription Details
There are three Oatbox subscription options to choose from (all prices in CAD) and shipping in North America is free:
The Starter Kit — 1 granola mix (8 portions) + 6 oatmeal portions + 6 breakfast bars each month for $35
The On The Go Kit — 1 granola mix (8 portions) + 6 oatmeal portions + 12 breakfast bars each month for $45
The Wolfpack Kit (great for families!) — 2 granola mixes (16 portions) + 12 oatmeal portions + 18 breakfast bars each month for $60
Subscriptions can be customized. Mine is two bags of the monthly granola discovery for $20 ($10/bag).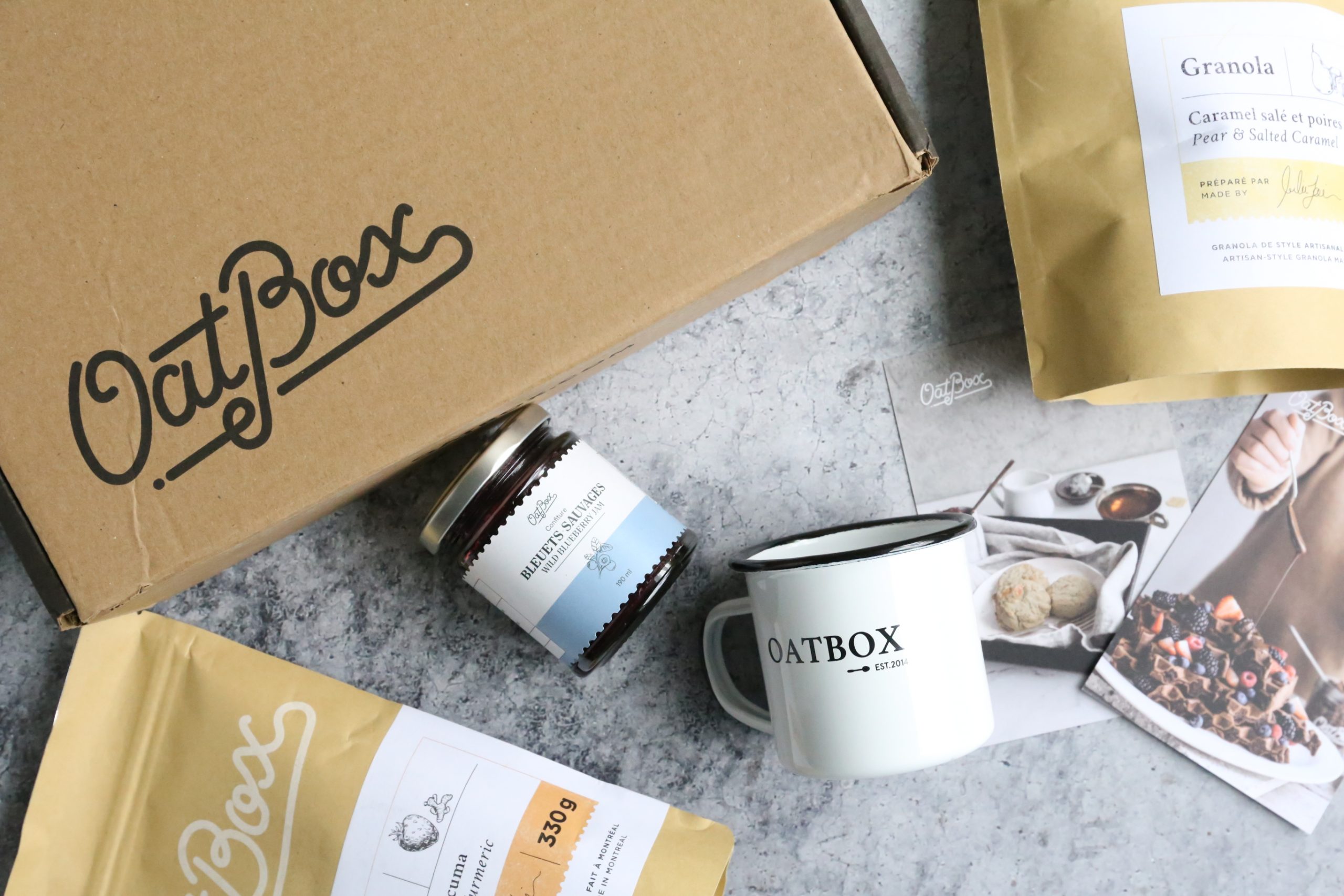 Here's a peek at the Oatbox granola mixtures we received this month….
Recipe Cards
Every month Oatbox includes two recipe cards along with the granola mixtures. This month we received recipes for:
Apricot Scones
Easy and Decadent Chocolate Waffles
Strawberry & Turmeric Granola
Ingredients: Organic roasted oat flakes, organic rye flakes, maple syrup, brown sugar, organic quick oats, freeze-dried strawberries, organic high oleic sunflower oil, turmeric.
Pear & Salted Caramel Granola
Ingredients: Organic roasted oat flakes, organic rye flakes, shaved almonds, organic quick oats, brown sugar, sugar, organic high oleic sunflower oil, freeze dried pears, vanilla, sea salt.
My favorite Oatbox granola flavors always end up being the ones that include nuts. This one includes almonds which will go nicely with the dried pears. This particular flavour will be the perfect topping for my smoothie bowls.
Oatbox Mug
The much awaited Oatbox mug is finally available! This lightweight and durable mug is ideal to enjoy your morning coffee or a mid-day tea.
Dimensions: 8cm x 8cm
Contains: 355ml (12oz)
Am I the only one who gets VERY excited about coffee cups? As soon as I saw this cup on the Oatbox website I knew I needed to order it. I wish it was available in more than one style and/or color…..I would order them all!
Wild Blueberry Jam
Ingredients: Wild blueberries, sugar, lemon juice, natural lemon and lime pectin.
Mornings are my favorite. I love being the first one up and I love taking a few moments to myself to enjoy a cup of coffee and a piece of toast. And when I have a yummy new topping for my toast it's just that much better.
Oatbox Review May 2020 – Final Thoughts
When you love mornings as much as I do, breakfast subscription boxes are a MUST! I absolutely love my morning ritual and it always includes a yummy breakfast…..sometimes two. Now that baby is here I get up at 3am every morning and find myself looking forward to my coffee and early morning snack even more than I did before. Oatbox granola goes perfectly with coffee but it's also really great sprinkled on smoothie bowls, and when I was pregnant it was one of my late night cravings. It's best with unsweetened cashew milk…..in my personal opinion.
-AYOB Sarah