Oatbox Review October 2019
Oatbox is a monthly breakfast subscription box from Montreal that comes with two large bags of handcrafted granolas that are 100% natural and preservative-free, plus two recipes. Gluten-free boxes are available and subscriptions can be delayed or cancelled free of charge.
*They kindly sent us this box for review.
There are three subscription options to choose from (all prices in CAD):
The Starter Kit (that's my box) — 2 granola mixes each month for $20
The On The Go Kit — 1 granola mix + 6 oatmeal portions + 3 breakfast bars each month for $30
The Wolfpack Kit (great for families!) — 2 granola mixes + 6 oatmeal portions + 6 breakfast bars each month for $47
Shipping in North America is free.
Two different flavours are included each month. October's are Pumpkin Spice and Maple & Nuts. Each 330-gram bag contains six half-cup servings (260 calories for the Pumpkin Spice and 270 for the Maple & Nuts) — a pretty standard portion as far as granola goes. That said, Oatbox granola has considerably less sugar than a lot of commercial ones, along with a good amount of fat and fibre to tide you over til the next meal. Here's the complete nutritional info from Oatbox: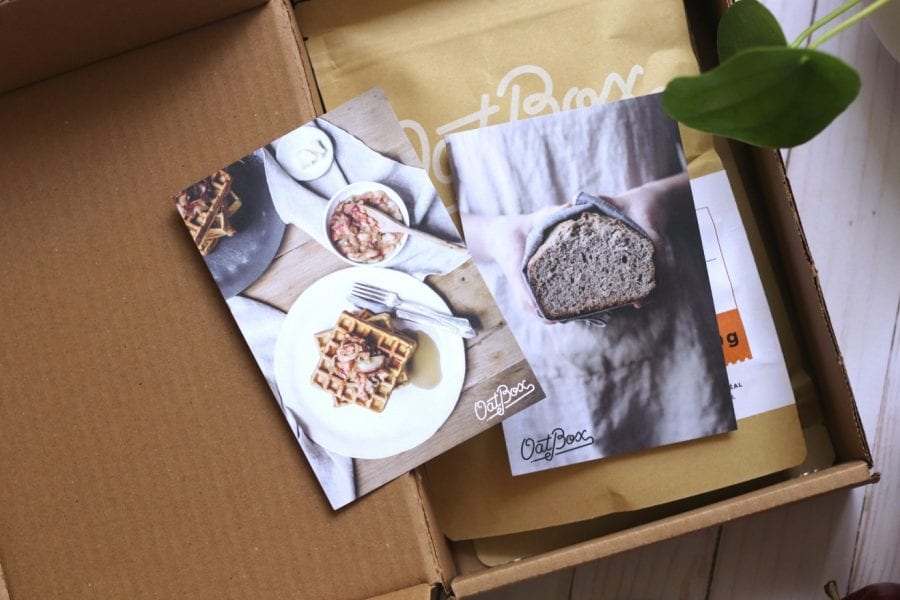 Each Starter Kit also includes two recipe cards. The recipes use or complement the month's granolas. For October there's Belgian Style Pumpkin Waffles that call for 3/4 cup of the Pumpkin Spice granola (the recipe makes six waffles) and a Walnut Bread that uses a cup of the Maple & Nuts blend. Both sound delicious!
The Pumpkin Spice granola is lightly spiced (not at all heavy on the cinnamon, which can ruin it for me) and generous on the pumpkin seeds, which give it a bit of crunch. I think it would be even better with some raisins mixed in, but it's delicious as is.
The Maple & Nuts wowed me for all the nuts but disappointed me with the maple flavour, which I found way too subtle.
"May you live as long as you want and not want for as long as you live." That's an Irish toast.
"Cinnamon, eggs, bread, and maple syrup." That's a French toast.
Dear Oatbox: More maple syrup, eh?
October's Oatbox is the first one that didn't totally satisfy, but only because the maple in the Maple & Nuts granola is too subtle for my taste. Otherwise it ticks all the boxes. (Pun intended.) The quality of the product is top-notch (freshness, nutritional value, organic ingredients, check check and check); the packaging minimal but effective; and the price reasonable for what you get. ($20 for 12 portions clocks in at about $1.66 per serving.) I love the subscription box for the convenience and for gifting, but I think Oatbox products would do very well in stores too.
Have you tried Oatbox? What do you think?
Try Small Things – https://trysmallthings.com