Oceanista Review Fall 2019
Oceanista is a seasonal subscription box filled with a selection of beach-inspired apparel, jewelry, skincare products, flip flops, beach accessories & other handpicked beach boutique essentials. They kindly sent us this box for review.
I was eagerly waiting for this box to arrive. I fell in love with Oceanista a couple seasons ago and my love continues to grow with each box I receive. The Summer box was absolutely AH-MAZING! Easily one of my favourite subscription boxes to date. And have I told you how amazing the owner is?? I'm sure I've mentioned it before, but just in case you missed it……..The owner JJ Sterling is the absolute sweetest. I like to make a big deal of it when subscription boxes have great customer service because it isn't always the case. Basically what I am trying to say is Oceansita gets a big ol' A+ all around!!!
Subscription Details
Oceanista subscribers can expect to receive 5-8 hand-picked beach & nautical inspired essentials such as beach apparel, jewelry, exclusively designed Featured Artisan pieces, beauty products, accessories, flip flops, mermaid must-have's, and other surprise items.
Subscribers have 3 subscription options to choose from:
seasonal subscription
annual subscription
gift subscription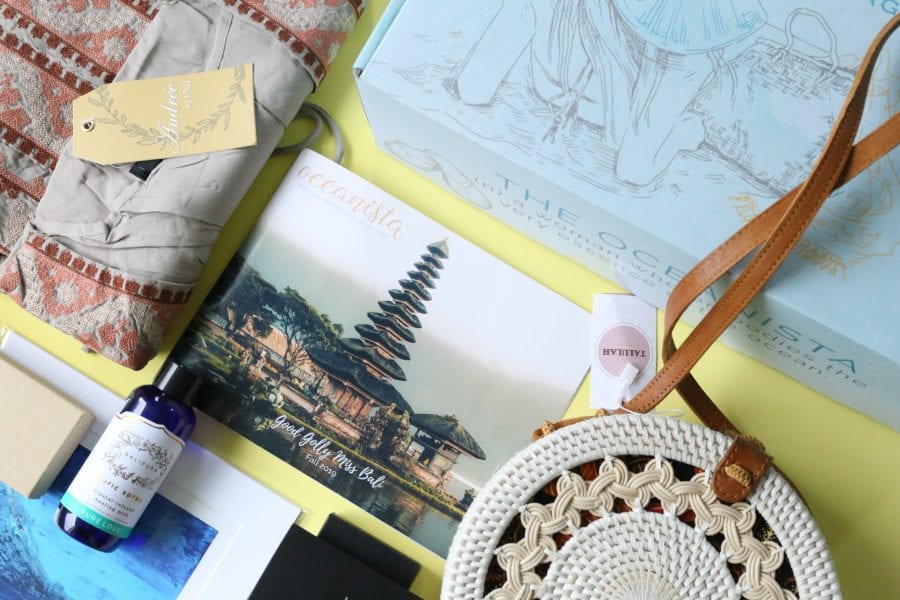 Here's a closer look at the items we received in the Fall 2019 Oceanista Box….
Embroidered Poncho-Like Tunic – Andrée by Unit ($49)
Curated for our Oceanistas is this gorgeous free-flowing poncho-like tunic with embroidery detailing all over the front. Loose fit, woven, and relaxed, this tunic is perfect for everyday wear, an evening out, or while traveling. Pairs great with your Noime Bali Bag.
This top couldn't have arrived at a better time. If you follow me on Instagram you will have seen our announcement. I'm currently 16 weeks pregnant and Baby AYOB is due early March. So……I have been wanting to add some cute, loose-fitting tops to my wardrobe. Don't get me wrong, I will also wear this when my baby belly is gone, but I'm SO happy to have a a gorgeous new top to wear during my pregnancy journey. Either way, it's a win.
PS – I LOVE the tie detail in the back.
Art Print Kate Shore Fine Art ($28)
This fall season we teamed up with the lovely Kate Shore to bring you an exclusive art print called "Daydreaming." Place this reporduction of her original painting in an 8×8 inch frame of your choice and whisk away into Bali bliss. This professional giclée print is created using archival quality paper and inks. Not only are these matted and ready to frame, a limited edition quantity of prints were created, individually numbered, signed and dated by Kate. 
It's not often we receive prints in subscription boxes so this item feels like a special treat. I just finished re-decorating my office and still need to add a few finishing touches. This will be the perfect piece to display on one of my shelves. It's a gorgeous print that evokes feelings of peace and happiness.
Noime Bali Bag ($79)
The Noime round Bali Bag is meticulously handcrafted using traditional techniques by artisan craftsmen and craftswomen within the villages of Bali. Perfect for the beach, a night on the town, or casual wear, we know your Noime Bali Bag will turn heads.
This was the first spoiler I saw for the Fall Oceanista box and it was love at first site. I've been on the hunt for a bag like this but hadn't found one I liked as of yet. This piece is on-trend, gorgeous and fits the theme perfectly. It has a tan leather strap and an inside pocket. It also comes with a pretty dust cover. I am SO excited to add this bag to my collection.
Balipura Crystal-Infused Healing Mist ($25)
This Auric Spray called "Pure Love" enhances unconditional love, compassion, understanding and harmony. If you are feeling that you are closed or blocked in terms of something to do with love and understanding, this is the spray for you. 
This spray is said to help you open up to a situation from a space of compassion and integration. It is made with rose quartz, jade, and ylang ylang, just to name a few. Sprays like this are nice to have on hand. I usually place them beside my desk as that is where I spend more of my time. I like the idea of having a different spray for different situations.
Handcrafted Wooden Bali Bead Necklace ($24)
The style of these handcrafted Bali bead necklaces and color of the threads and tassels were picked by me for my Oceanista's!
When it comes to necklaces, this is one of my favourite styles. I love the beads and I absolutely LOVE the tassel. I maybe would have liked a more neutral color so I could wear it with more of my outfits, but that doesn't take away from the beauty of this piece. Sometimes it's good for me to get out of my comfort zone or grey, white and black:)
Island Hopping by Doucce ($35)
A versatile eyeshadow palette containing four shades of silky, smooth powders to create a variety of looks that will last all day and night. Island Hopping is highly pigmented and is specially curated with both matte and shimmer shadows to allow for balanced looks with effortless blending. 
I have received Doucce eyeshadow before and really like the formula. This particular palette gives me beach vacay vibes with the pretty bronze/brown shades and the pop of teal. You can apply dry for a more natural finish or apply with a wet brush for a longer lasting dramatic island look.
Oceanista Review Fall 2019 – Final Thoughts
The Fall 2019 Oceanista box is absolutely gorgeous. It brought with it everything I was hoping for. I gorgeous clothing item, beautiful accessory, jewelry, home decor, makeup and more!! As I mentioned above, I start to fall more in love with this box each season. Every item is curated perfectly and brings with it nothing but passion and love. The Fall Oceanista box has a retail value of over $240. But it doesn't stop there. The fact that the items we receive are unique and handcrafted adds even more value to the box. Definitely one of my favourite boxes of the season.
-AYOB
Explore.
Save.
Enjoy!
Sign up for a free account on A Year of Boxes to receive exclusive offers, be added to our monthly mailing list, and much more! We are always adding features to improve the experience for our users, from their valuable feedback!
Join Today!