Oceanista Review Summer 2018
Hello everyone! I hope that you are having a wonderful Summer! I know that I am and even more so from getting this wonderfully curated seasonal box by Oceanista. Even being landlocked here in Oklahoma I can smell the ocean and feel the cool breeze on my face from all of their lovely and charming items in the Summer box!
From the Website:
The Oceanista Subscription Box
"Get ready to experience the excitement of receiving our signature box delivered to your door every season, and uncovering the hidden treasures that await you inside. You'll be awash in whimsical beach inspired essentials from brands we love that are sure to compliment your beach lifestyle and wardrobe. Featured artisan pieces, luxury skin care products, mid-season surprises, and the chance to win a free gift every season guarantees our box will be one you look forward to again and again!"
This box is $79.99 a season, BUT if you use my code "Courtagonist" you'll get 10% off your first box! How awesome is that?!?! Plus, the value of the box is always worth $150 or more! The summer box had a retail value of over $200 dollars! Now, let's get into the goodies, shall we?
Oceanista Sunglasses
One of the first items that I spotted in the Summer Box were these stunning sunglasses made by Oceanista themselves! They are made from sustainable wood, are bouyant, and UV 400 with Polarized protection.
They are so light weight and they really have the perfect shielding on them! I love the beautifully made holder for the sunglasses and the soft protective bag that makes it perfect to toss these into my purse! The retail value on these sunglasses is $69.99 almost the cost of the box!
Tote Bag
Now, who can have a great day at the lake, beach, or by the pool without a handy tote bag!?! Not me. I need something to hold my towels, snacks, water, and a good book!
This is the perfect size for an on-the-go tote! It is a canvas beach bag created by Primitives by Kathy.  It really is a must have for the summer!
You can use it not only for taking out onto the water but you can even use it as a grocery bag as well! Love it! Retails at $30.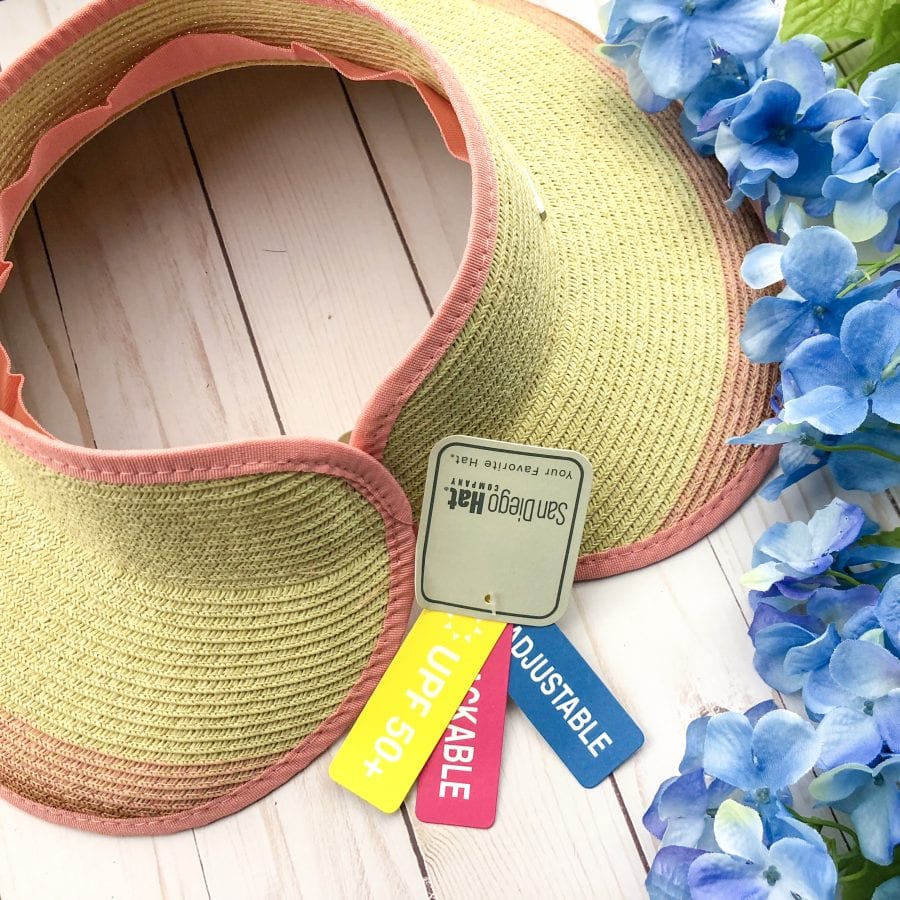 Sun Hat
One of the things that I get most worried about with extended sun exposure is getting a sunburn on my face! Even with sunblock on the rays from the sun can hurt your skin and cause damage! Ouch!
I love that they sent us this portable, easily travel, sun hat by San Diego Hat Company ! It makes it so easy to just throw in a tote and be on the go.
It has UPF 50+ protection against harmful UB rays and it is adjustable for all! Retails at $28.
Bracelet
One of my most favorite items to get in a box is jewelry! The wonderful curators at Oceanista hit the nail on the head with this stunning Jilzarah "Sundress" Gold Crescent Cuff Bracelet!
Ever since receiving this gorgeous bracelet I have been in love with all of the other jewelry on their website! Their packaging, care instructions, and love for jewelry really shows how much they care about their products!
This bracelet retails at a very affordable price of $36!
Luggage Tag
One of the many things that I love about Oceanista is the fact that they feature a local artisan in every one of their boxes!
Supporting small businesses is something that is near and dear to my heart! It helps that the artist for this season's box make me smile and relaxed just looking at her art!
I am talking about WanderLust Leather! This luggage tag just screams SUMMER! Plus they sent a coupon that allows you to contact Jamie to create a custom name tag to go with your summer one! How awesome is that!?! The retail value for this wonderful and customized gift is $28.97! You should most definitely check out her shop!
Another item, not pictured, is the wonderful Cheri Arome Beach Waves Pink Salt Hair Mist! It really does smell like summer! It gives you the PERFECT beachy hair waves! It is extremely affordable at only $12.
Body Balm
Last but certainly not least is a little gift just for you! A stunning and perfectly created Oceanista sticker that you can just smell the salt in the air with, a magnet for your fridge, and a wonderful moisturizing body balm!
This has to be one of my most favorite boxes that I have gotten this year. It truly has something that I will use every single day, but might not have gone and bought myself.
This is truly a Treat-Yo-Self type of box. So what are you waiting for?!?! Treat-Yo-Self and go out and get yourself a subscription to this amazing service!
I'll see you next season with the Oceanista box! I can't wait to see what they have come up with!
XOXO
Courtny – https://courtagonist.wordpress.com