Oceanista Review Summer 2019
Oceanista is a seasonal subscription box filled with a selection of beach-inspired apparel, jewelry, skincare products, flip flops, beach accessories & other handpicked beach boutique essentials. They kindly sent us this box for review.
Oceanista is easily one of my favorite subscription boxes. I feel like this is the box to watch. It already appears to be making a name for itself and I'm sure it's going to continue to grow. Especially after seeing what they put together for the Summer box…..they NAILED it! If this is what we can expect to see every season then you NEED to subscribe!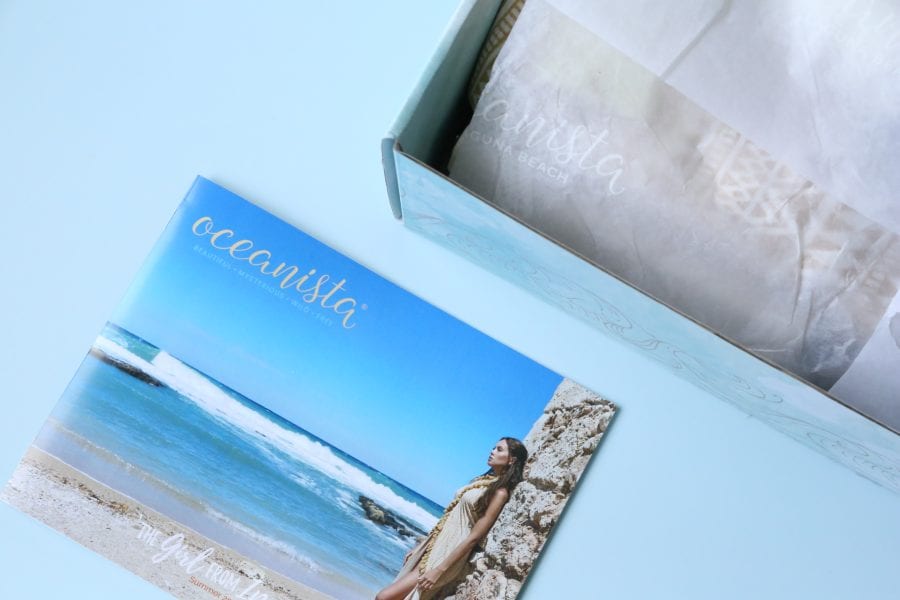 Subscription Details
Oceanista subscribers can expect to receive 5-8 hand-picked beach & nautical inspired essentials such as beach apparel, jewelry, exclusively designed Featured Artisan pieces, beauty products, accessories, flip flops, mermaid must-have's, and other surprise items.
Subscribers have 3 subscription options to choose from:
seasonal subscription
annual subscription
gift subscription
Here's a closer look at the items we received in the Summer 2019 Oceanista Box….
Elan Resort Coverup ($69)
A fun and updated look to this seasons hottest Oceanista's, this Coverup Convertible Skirt/Dress is sure to make a style statement. A unique aztec inspired print is accented with a totally on trend mustard and ivory coloration. This beach coverup/wrap design features a tassel fringe detail for added style and flair. Style with a basic sandal or flip flop and your floppy beach hat, for an easy beach look that has you pulled together from head to toe.
First up we have this gorgeous cover-up. It can be worn as a dress or a skirt. I tried it on as a dress and it is super cute! It is the perfect piece to bring with you on vacation because of the versatility, and because it's so easy to wear. You can find this brand in stores like Nordstroms, which says a lot. It's a quality piece and I am super excited to wear it.
Katie Makaiwi Genuine Surf Tumbled SeaGlass Pendant Necklace ($45)
This season we took the road less traveled and decided to have a close friend in Puerto Rico handpick genuine sea glass off the coast of Aguada. She shipped them to us in batches of 100 pieces at a time over several months. Each piece of sea glass has been inspected with a jewelry loop for authenticity. We then took the very best of the batches and our team of artisans, in collaboration with Katie, began handcrafting the most beautiful seagrass pendants imaginable.
I can't get over how gorgeous this pendant is and I love the story behind it. It is estimated that the Seaglass is well over 50 years old based on the color. This not only adds value to the piece but it makes it something to be treasured. It's the perfect accessory for any beach outfit. Oh, and its made with 100% Fine Italian .925 sterling silver snake chain.
Oka-B Millie Sandal ($30)
The Millie thong is the result of the Oka-B design team creating the perfect thong flip-flop. It's the classic Oka-B comfort you love with a chic new look to give you a pair of sandals you'll never want to take off.
As soon as I put these sandals on I fell in love. They are SO comfortable. I should also point out that they are eco-friendly, recycled and made in the USA. They are waterproof and machine washable which makes them perfect for your beach bag.
Oceanista Cateye Sunnies & Driftwood Designer Carrying Case ($30)
Oceanista debuts our first cat eye sunglasses. We chose this style for this seasons box due to the theme and style of the items featured, and also the wear-ability for a wide range of faces. There are really two distinct styles that fall under the cat-eye umbrella: the more traditional 50's swoop and a wider, softer 80s's iteration, to ultra thin and sharp 90's. We chose the 80's style! They're fun for day-to-day wear, yet perfect to take on vacation.
Ok…..I am in LOVE with these sunglasses. First of all, I LOVE receiving sunglasses in my subscription boxes. Second, I LOVE the way these ones fit. I am quite picky when it comes to my sunglasses as they often don't fit my face, or they don't sit properly. These ones, however, are absolutely perfect. I feel like these will suit a wide range of faces. Oh…..and I should also talk about the wood-style case. It folds flat for easy packing while on vacation.
Oceanista Embroidered Floppy Beach Hat ($26)
Our 100% recycled paper straw wide-brim floppy beach hat is perfect for hiding from the sun and excellent for a day at the beach! It's crushable and packable and able to hold it's shape. Brim measures 5′ in width and hat is 17.5′ in total diameter. Fun and fashionable and we believe every beach girl needs a floppy beach hat.
This is the item that got me really excited for the Summer box. It was the first thing I saw when I opened the lid and I may have let out a little squeal. I am SO in love with this hat. I've been wanting an embroidered floppy hat for the longest time and now I have one. It's super cute, it will cover my face from the sun, and it's extremely durable. You can fold it up and pack it in your suitcase…..love it!
Brazilian Camu Camu Body & Hair Dry Oil ($12)
Transform your hair and skin with Brazilian Camu Camu dry oil, an all-in-one weightless mist that provides luxurious hydration to the body and helps improve hair texture.
I am officially obsessed with this oil and I will have to figure out where to purchase it because once this bottle runs out I will definitely need more. It smells AH-MAZING! This is easily my new favorite scent. I don't know exactly what it is but it smells like sugar, and candy and vanilla. My husband doesn't really like any of the scents I wear but I let him smell this one and he agrees….it smells so good.
China Glaze Body & Sol Collection ($7.50)
It's all about showing some skin this summer with the Body & Sol Collection Nail Lacquer by China Glaze, a tan-line free collection of 6 shimmery, multi-dimension nude hues. We chose Beach Buff because it is one of our favourites and will go well with all skin tones and everything styled in your Summer Box. Take this on your next beach vacation and wear them on your toes with your new Oka-B sandals.
Here we have a gorgeous nail polish, it's a new shade and I am absolutely loving it. This is the color/shade I gravitate towards. It's a very pretty nude with just a hint of color.
Oceanista Beach Net Market Tote ($16)
Our beach fish net tote bags are crafted from lightweight cotton with an extra large expandable capacity. Despite its large storage bag volume, the material of this fishnet bag is fine enough to roll up into a nearly pocket-sized package that's easy to tuck away or keep in your purse, backpack, or car.
Lastly we have this cute little net tote. It's perfect for travel because it can roll up and fit in a tiny space in your suitcase. It will be perfect for the beach, a trip to the market, or just running around town.
Oceanista Review Summer 2019 – Final Thoughts
I am SO in love with the Summer Oceanista box. I don't even know if I can put in to words just how amazing it is. I don't even like Summer and this box has me excited for trips to the beach, days at the pool and late night BBQs. They really did an amazing job curating this season's box. I can tell that a TON of time and energy went in to every single item. It is well-thought-out, it has amazing value, and I LOVE every single item we received. There's not one item I won't get use out of. The floppy hat and the sunglasses are a couple of my all-time favorite subscription box items. I am so excited to wear both. I'm tempted to say that Oceanista is my #1 favorite subscription box at the moment. If I had to recommend one Summer box to get…….this would be it.
-AYOB
Explore.
Save.
Enjoy!
Sign up for a free account on A Year of Boxes to receive exclusive offers, be added to our monthly mailing list, and much more! We are always adding features to improve the experience for our users, from their valuable feedback!
Join Today!