Oceanista Review Summer 2020
Oceanista is a seasonal subscription box filled with a selection of beach-inspired apparel, jewelry, skincare products, flip flops, beach accessories & other handpicked beach boutique essentials. They kindly sent us this box for review.
Oceanista is a personal fave. I absolutely adore this subscription box, and I say "adore" because it truly is the best word to describe my feelings. Oceanista is a beautiful box through and through. Everything about it is absolutely wonderful, from the beautiful packaging, to the thoughtful curation, and the amazing customer service. This is a subscription I can stand behind 100%.
Note: I already had a peek through this season's box and it is one of my favorite Oceanista boxes to date!
Subscription Details
Oceanista subscribers can expect to receive 5-8 hand-picked beach & nautical inspired essentials such as beach apparel, jewelry, exclusively designed Featured Artisan pieces, beauty products, accessories, flip flops, mermaid must-have's, and other surprise items.
Subscribers have 3 subscription options to choose from:
seasonal subscription
annual subscription
gift subscription
Here's a closer look at the items we received in the Summer 2020 Oceanista Box….
Mersea The Cotton Tassel Wrap ($49)
We are girls on the go so this multi-tasker is an essential for us. This one piece can be worn multiple ways: as a wrap, scarf, sarong, and dress cover-up! Made in India from lightweight cotton, tassels dress it up just enough to wear by the pool or over a dress. Packaged in a matching bag, this wrap is washer friendly (preferably in a delicate bag to protect tassels) but loves to hang dry.
The focal piece of the Summer box, and a deserving one at that! This tassel wrap is absolutely beautiful. It's lightweight and can be worn a number of ways. It's the perfect piece for your beach bag or summer outings, thanks to the versatility. Cold at night? Wrap it around your shoulders or wear it as a scarf. Need a quick cover when at the beach, throw it on as a sarong or a dress. It was available in a few different colors and Annual VIP members were able to choose.
Set Sail by Kristin Beach Resin Bracelet ($28)
In this season's box, we are excited to feature one of Kristin's beautiful handmade jewelry pieces. The beach and ocean scene is embedded into the resin and painted by hand, making it a one of a kind bracelet. The adjustable vegan suede leather cord allows for extra comfort and can expand to 9 inches in circumference. Annual VIP members were able to choose their color.
Kristin is the feature artisan for the Summer box and she created this gorgeous bracelet. I LOVE the ocean scene embedded in the charm. It's oh-so-pretty and calming to look at. I love the adjustable strap as it will fit all wrist sizes…..even my child-size mini wrists.
SanDiego Hat Company Sun Hat ($38)
For a stylish yet classic look, the ribbon paperboard stripe sun hat is our kind of hat! Its medium sized brim offers just the right amount of sun coverage.
I am a sucker for floppy hats……give me ALL the floppy hats, so I was very excited to see this in the box. I try to avoid the sun as much as possible so I like to have a cute beach hat with me at all times during the summer months. I love the ribbon detail as its unlike any of the sun hats I currently own. I feel like you could dress it up but it will also look cute with a casual outfit.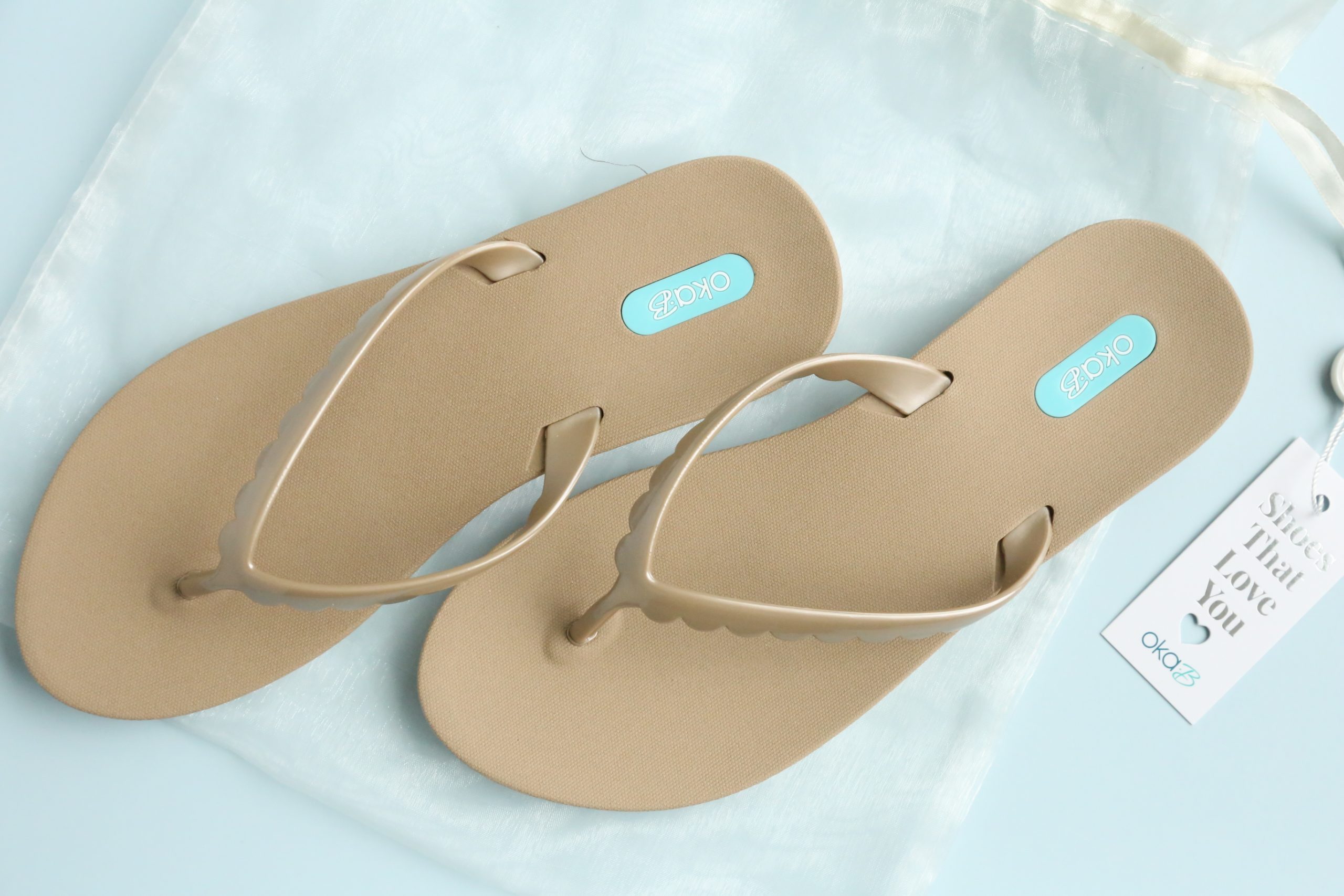 Oka-B Bristol Flip Flops ($30)
Lightweight, comfortable, durable. These women's flip flops are the ideal blend of comfort and style. These sandals are the perfect addition to your summer capsule wardrobe.
What Summer beach box would be complete without a pair of flip flops?! We received a similar pair in a previous box but I am MORE than happy to see them featured for a second time. These Oka-B flips flops are SO comfortable. I love the scalloped design and the neutral color. They will go perfectly with my new wrap and sun hat!
On Board Organic Skincare Body Scrub ($12.99)
Exfoliation? Yes, please! Our organic body scrub exfoliates, hydrates and polishes your skin. Made with all organic sugar, salts, coconut oil, vitamin e and more – gets rid of dead skin, bacteria and environmental debris.
On Board Organic Skincare Face Oil ($34.99)
On Board Organic Face Oil provides ultimate hydration for your face and neck, leaving your skin feeling silky, soft and smooth. Replacing night serums and cream moisturizers, this hydrates below the surface to allow you to glow from the inside out.
Out of all the skincare items we have received to date these are my favourites. Especially the Face Oil. It has the most amazing ingredient list and it is something I will use daily. I think I may need to purchase more of this.
Swig Wine Knot Stemless Wine Cup ($17.95)
Still classic and still chill, the Swig that started it all! The triple insertion technology allows Swigs top-selling stemless wine cups to keep drinks cold up to 9 hours and hot up to 3 hours. Their unbreakable construction makes them perfect for enjoying chilled wine or even ice cream sundaes before bed.
last, but definitely not least, we have a Swig Wine Cup which caught my eye the moment I opened the box. I may have squealed a little because I absolutely LOVE these reusable tumblers and can never have too many. I love that they added a decal to the cup – Wine Knot – because it ties in to the theme perfectly. Oh…..and using it for ice cream sundaes?! Best idea ever!!
Oceanista Review Summer 2020 – Final Thoughts
Oh my goodness…..what a wonderful box! The Summer Oceanista is easily one of their best boxes to date. I love everything about it, from the theme to the gorgeous new box (I believe it is a new design/style) to the amazing selection of goodies. I mean, how can you not love this box! I have a whole new outfit for my summer outings, a reusable tumbler for beachside beverages, and a new face oil for my daily skincare routine. I love that the fashion items and accessories can all be worn together – wrap, flip flops, hat and bracelet. I honestly couldn't be happier with what we have received and it has made me love this subscription even more…..if that's even possible.
-AYOB Sarah
Explore.
Save.
Enjoy!
Sign up for a free account on A Year of Boxes to receive exclusive offers, be added to our monthly mailing list, and much more! We are always adding features to improve the experience for our users, from their valuable feedback!
Join Today!