Oceanista Review Summer 2021
Oceanista is a seasonal subscription box filled with a selection of beach-inspired apparel, jewelry, skincare products, flip flops, beach accessories & other handpicked beach boutique essentials. They kindly sent us this box for review.
It has been a little while since my last Oceanista review, and let me tell you……I REALLY missed this box! Oceanista has been one of my guilty pleasures for the last couple of years. I fell in love with this box the moment I laid eyes on it. And….once I got to know more about the company, the owner, and the driving force behind the subscription, I fell in love with it even more.
Subscription Details
Oceanista subscribers can expect to receive 5-8 hand-picked beach & nautical inspired essentials such as beach apparel, jewelry, exclusively designed Featured Artisan pieces, beauty products, accessories, flip flops, mermaid must-have's, and other surprise items.
Subscribers have 3 subscription options to choose from:
seasonal subscription
annual subscription
gift subscription
Here's a closer look at the items we received in the Summer 2021 Oceanista Box….
'Cozy in Love' Dolman Sleeve Romper – $47
Fall in love with this beautiful pastel print bodice romper. It features loose wide dolman sleeve arms, a drawstring waist, snap closure at the top and decorative tassel tie and pockets. Pairs great with sandals. A must-have item for Summer. This romper is truly unique and one of a kind!
Available in – Light Denim Mix, Sage mix, and Rose Mix
Let's start things off with my favorite item in the box…….the 'Cozy In Love' Romper! How can you not love this adorable little romper?! It is so freakin' cute! It was available in three different colors and it was very hard to choose between the three because I wanted them all. I love the washed out colors, the fun tie dye pattern, and the loose fit. It is SO cute on and absolutely perfect for the Summer months!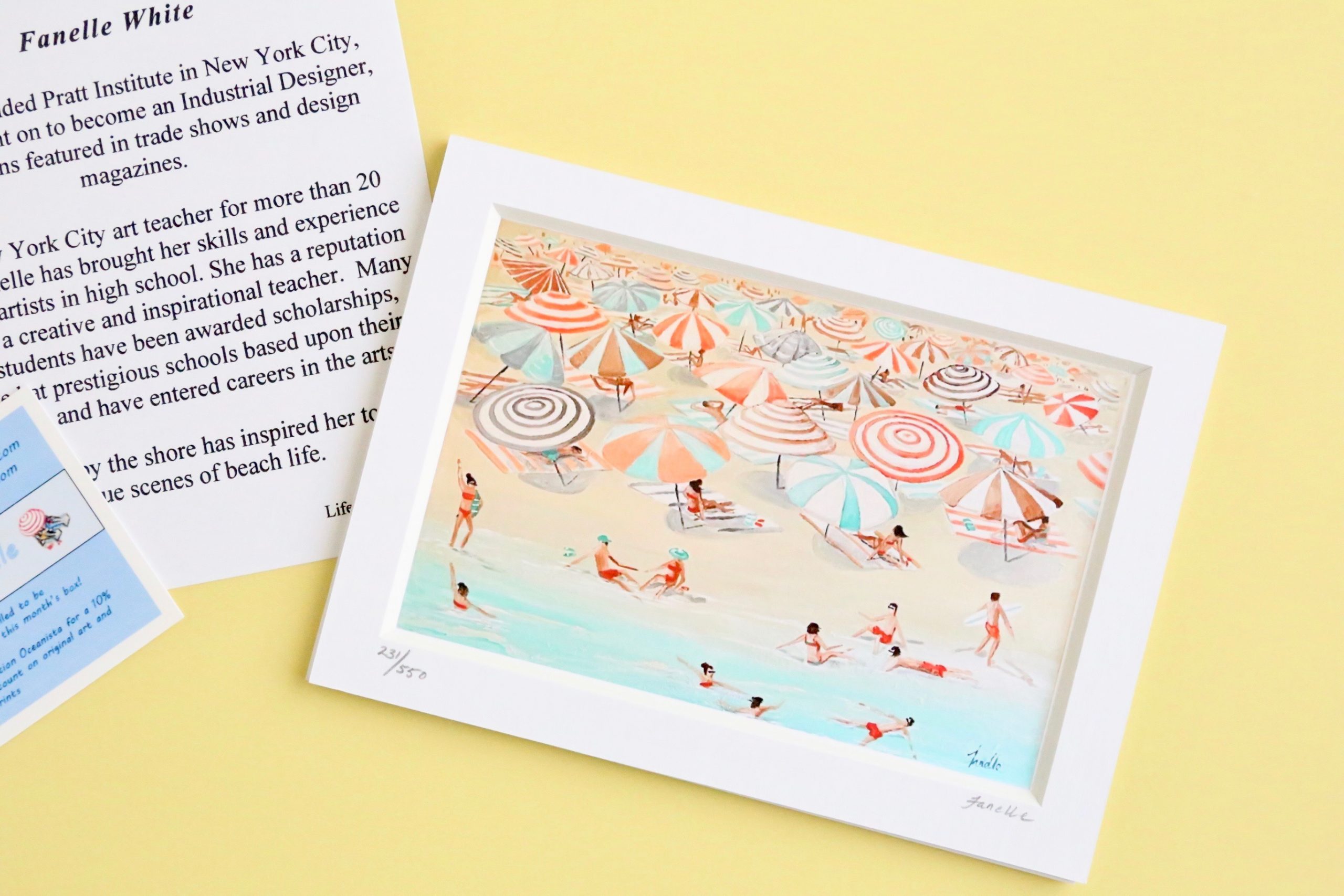 Featured Artisan – Life Arts Designs – Giclee print – $45
This Summer season we teamed up with the talented, Fanelle White at Life Arts Designs, to bring you her art print called, "Vacation Vibes". This professional giclee print is created using archival quality paper and inks. Not only are these matted and ready to frame, a limited edition quantity of 550 prints were created individually numbered and signed by Fanelle.
Next up we have this beautiful print from Fanelle White. It is giving me all the vacay vibes! The colors are fun and I loved that it is ready to frame. This will be a cute piece for my office desk.
Sundream Sunday Beach Throw – $54
Both beautiful and sustainable, these blankets are made of reclaimed fibres derived from 100% post-consumer materials containing a special blend of cotton, acrylic, and polyester. The Sunday Throw is designed to be your go-to blanket – perfect for a home accent throw to cuddle up with and rugged enough for your weekend adventures up the coast.
Steven and I have been spending a lot of time at the park the last few weeks and this beautiful throw will be the perfect addition to our park/beach bag. He's not totally loving the feel of grass on his feet as of yet, so I large blanket is a must. I also happen to LOVE the boho vibes and the neutral colors.
Ka.Co.Clay Handmade Polymer Clay earrings – $24.95
From feature artisan Sabrina King of Ka.Co.Clay, these beautiful polymer clay earrings are lightweight and the backs are 18 karat gold plated. Handmade exclusively for Oceanista members.
Available in – So Cali, Daybreak, Bloom, Sunset
I never used to be a fan of clay earrings but over the last couple months I've really been drawn to them. Maybe my jewelry preferences are changing, but regardless, I am loving the look of these. I also happen to think they will look super cute with my new romper. I might have to check out the Ka.Co.Clay website and see what else they have to offer.
Soleil Toujours Organic Sheer Sunscreen Mist – $34
A 70%+ organic, clear and 80 minute water resistant sunscreen mist formulated without oxybenzone or octinoxate, and gently infused with hydrating antioxidants and botanicals.
I never leave the house without applying sunscreen as I am very cautious when it comes to sun exposure. Therefore, I very much appreciate this convenient spray. It's something I will use often, and I might even throw it in Steven's diaper bag just so I have it with me at all times.
MerSea & Co. Saltaire: Mineral, Jasmine, Bamboo Candle – $16
The healing power of rich salt air, restoring the soul. Drawing from the elements of life outdoors, this mineral scent celebrates the alluring rhythm of the sea. Our Petite Candle – small but mighty – is a 4-ounce candle that will still fill a room with our iconic signature At Home Scents.
This pale blue candle is giving me ocean vibes (perfect for Summer) and the scent is lovely. I'm picturing this on our patio. I think it will make a great outdoor decor piece.
Skinnies Cocktail Mixers – $5
Skinnies are made with real fruits and plant-based ingredients, minus the sugars, plus a hint of stevia. Currently available in 4 flavors, simply mix with your favorite beverage.
Such a fun idea for a Summer subscription box. I've never heard of these Skinnies Cocktail Mixers before but I am very excited to give them a try. They are making me want to get out one of my fancy cocktail glasses, a generous helping of ice, and make myself a little afternoon pick-me-up 🙂
Oceanista Review Summer 2021 – Final Thoughts
I'm SO happy to be back on track with my Oceanista reviews, especially starting with the Summer 2021 box because it is absolutely amazing! It's definitely one of my favorite Oceanista boxes to date, I would have be so sad if I missed out on this one. The adorable little romper is by far my favourite item, with the earrings being a very close second. They put together the perfect collection of items for a Summer box. This is Oceanista at it's best!
-AYOB Sarah