Oh Mother Care Kits Review September 2016
Oh Mother Care Kits Review September 2016
How much do you really know about Oh Mother Care Kits? This Canadian subscription box is still very new, so I bet most of you aren't familiar with it. I'm here to tell you that if you live in Canada, you NEED to know about this subscription. I LOVED their first box and couldn't wait to get my hands on their second box……..#love
Oh Mother Care Kits Details
If you aren't familiar with Oh Mother Care Kits it is a new Canadian subscription box curated seasonally and packed with beautiful, natural care products designed to treat moms. Oh Mother Care Kits is a labour of love, from one mother to another. An offering of solidarity and maybe even a gentle nod of encouragement to help moms bring a little focus onto themselves.
The Box: Oh Mother Care Kits
Cost: $79.95 per quarter
What You Get: Each quarter's care kit will vary but you can expect to see between 8 and 10 different products. To ensure you get this variety, most of these products will be sample size items. Each quarter will consistently feature a tea, a sweet treat or snack item, inspiring mantra and recipe cards and a bath or shower product.
Ships to: Canada
Shipping Cost: FREE
Subscription Details
Oh Mother Care Kits is technically a subscription box for Mom's, but that doesn't stop me from loving it. I'm not a Mom and I adore this subscription just the same. I love the items they include, I love the recipe cards, I love the inspirational quote cards, I basically love everything. Let's have a closer look at the items in the Fall box…..
Flora Hue Meditation Candle
100% soy wax candle made with pure, therapeutic-grade essential oils to help you RELAX, RELEASE and MANIFEST. Each candle is hand poured in small batches into 4oz tin containers — perfect for travel, sacred spaces, bed side tables and bath tubs!
What is it about candles! Someone please tell me! I NEVER get sick of seeing them in my boxes. There's just something so nice and comforting about a burning candle. Especially in the Fall and Winter. I have a candle burning almost every day.
Lavami Everyday Shampoo Bar
This shampoo bar will cleanse your hair and leave it soft and manageable. Comes in two different scents: lemongrass and a subtle, neutral rosemary-lavender.
Have you ever tried a shampoo bar before? I never have, and I am so intrigued by them. My hair responds best to natural shampoo so I think I am going to like this one. Not to mention the fact that it smells like heaven. I wonder if the scent will linger on your hair?
LURE caramels – Salted Caramels
I think these tasty morsels are pretty self explanatory. I doubt they will last very long.
Ahh, now we are talking. In the last box we received the most amazing chocolate bar. I kept it in the freezer and saved it for a day when I really needed a little treat. I will do the same with these.
Made with Local – Chocoberry Bliss Bar
Boom!   Like the noontime cannon firing on Halifax's Citadel Hill, this chewy treat is a flavour explosion in your mouth. Chunks of dark chocolate and dried cranberries unite to please your sweet tooth and quash your hunger!
Two treats this month! This makes me very happy. I've received one of these bars before, but not this flavour. Chocolate/cranberries is the perfect combination for Fall.
NB Naturals – Orange Spice Aromatherapy Room & Linen Spray
A warm blend of sweet orange, clove, fennel and benzoin to uplift and invigorate any room. Spritz generously in the air and/or on linens for a fresh fall scent that quickly brings you to your happy place.
Full size available from NB Naturals in October, 2016.
Umm… this is probably the most amazing product I have ever received, well maybe not really, but it's pretty darn close. This smells like Fall and Christmas had a baby, and I love it. I walked around my house, spraying it everywhere, as soon as I took it out of the box. Best smell ever! I think I will need to purchase a couple more bottles.
Red Lemon – Detox Bath Soak Lemongrass Ginger
Our Detoxifying Bath Soak, infused with fragrant Lemongrass and Ginger. This soak is both refreshing and deeply relaxing. And I do mean deeply. We recommend using this right before bed. Lay back for 20 minutes, breathe in the rich, aromatic steam, and then grab a big glass of water and head to bed.
This has a really strong smell, but I am loving it! I am curious to see just how relaxing it is. I can't wait to try it.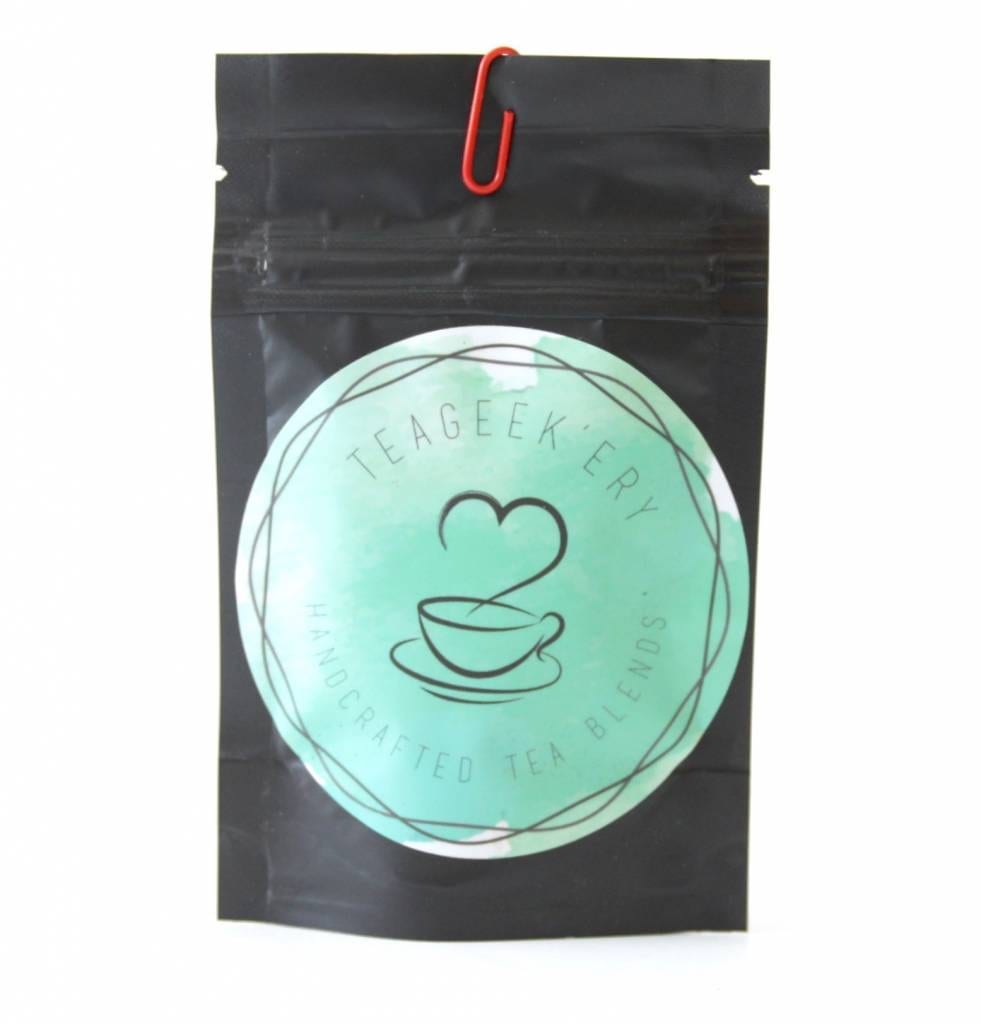 Teageekery Tea – Herbal Harvest Pumpkin Chai
A delicious decaffeinated tea blend that is lovingly hand-crafted in the beautiful Annapolis Valley, Nova Scotia. It features organic rooibos tea with Nova Scotia pumpkin and organic spices.
Pumpkin Chai! Seriously! I'm having a little freak out right now. The box just keeps getting better and better. They get HUGE bonus points for including a pumpkin product.
Flora Hue Lavender Cuticle Balm
This is a super hydrating cuticle butter full of moisturizing oils and pure, therapeutic-grade lavender essential oil. Lavender essential oil is antibacterial, anti-fungal and anti-inflammatory. It helps soothe dry, cracked cuticles and promotes the growth of healthy, strong nails!
This little guy was hiding down the side of the box. I almost missed it. So it kind of feels like a bonus item. I was extremely happy with the box already and now I have this. Cuticle balm is something I carry with me all the time. I will definitely be using this.
Oh Mother Care Kits Review September 2016 – Final Thoughts
OMG! The Fall Oh Mother Care Kit is absolute perfection! I am seriously loving everything about this box. I feel like we received a little bit of everything, and the fact that they included Fall themed items makes me so darn excited. We got tea, we got yummy snacks, we got a candle, and we got amazing little self-care items. For me personally, it really doesn't get any better. This box has my name written ALL over it. Oh Mother Care Kits know what they are doing. But then again, I had a good feeling about this box from the start. This is definitely one to keep an eye on.
XOXO