Once Upon a Book Club Review July 2021
Once Upon a Book Club is a unique, interactive online community that offers a monthly subscription service where readers will receive a monthly box in the mail containing a newly released book to read for the month, along with 3-5 individually wrapped gifts. These gifts are curated by the Once Upon a Book Club team to enhance the reading experience.
They kindly sent us this box for review.
Subscription Details
You can choose between a Young Adult (ages 14+) or Adult (ages 18+) subscription when signing up. Boxes cost $49.99 for a monthly subscription. You may choose a month-to-month, 3-month, 6-month, or annual subscription with savings for longer term subscriptions.
Each Once Upon a Book Club box contains the book of the month, 3-5 individually wrapped gifts with page numbers from the book, a 5×7 quote print featuring a quote from the selected book, and a booklet with discussion questions and read-a-long dates for live discussions with fellow Book Club members.
Sisters of the Resistance by Christine Wells
"Paris, 1944: The war is nearly over, but for members of the resistance in occupied France, it is more dangerous than ever before. Gabby Foucher loathes the Nazis, though as the concierge of number 10 rue Royale, she does her best to avoid conflict – unlike her bolder sister, Yvette, who finds trouble at every turn."
"Then both sisters are recruited into the resistance by Catherine Dior and swept into a treacherous world of spies, fugitives, and intrigue. While Gabby risks everything for the man she is hiding from the Nazis, Yvette must decide whether to trust an enigmatic diplomat who seems to have guessed her secret. As the threat of betrayal draws ever closer, one slip could mean the deaths of many, and Gabby and Yvette must make choices they might regret."
"Paris, 1947: Yvette returns from New York to reunite with Gabby and to begin life anew as a mannequin for Christian Dior, who is revolutionizing fashion with the New Look. But first she must uncover the truth behind Catherine's terrible fate, while Gabby finds that there are many kinds of courage, and that love is always worth fighting for."
Book Club Kit
The book club kit contains an interview with the author, read-a-long-dates with other book clubbers, and discussion questions for the book club's Facebook group. This month's kit also contains a template for a decoder wheel that you can use to write your own coded secret messages.
Book Quote
This month's book quote print simply reads "Courage, my dear".
This month's Once Upon a Book Club box contains 4 individually-wrapped gifts. Readers will open the gift when they reach the particular page indicated on the gift wrap to fully experience the box. This whole interactive experience is what sets this subscription apart from other book subscriptions.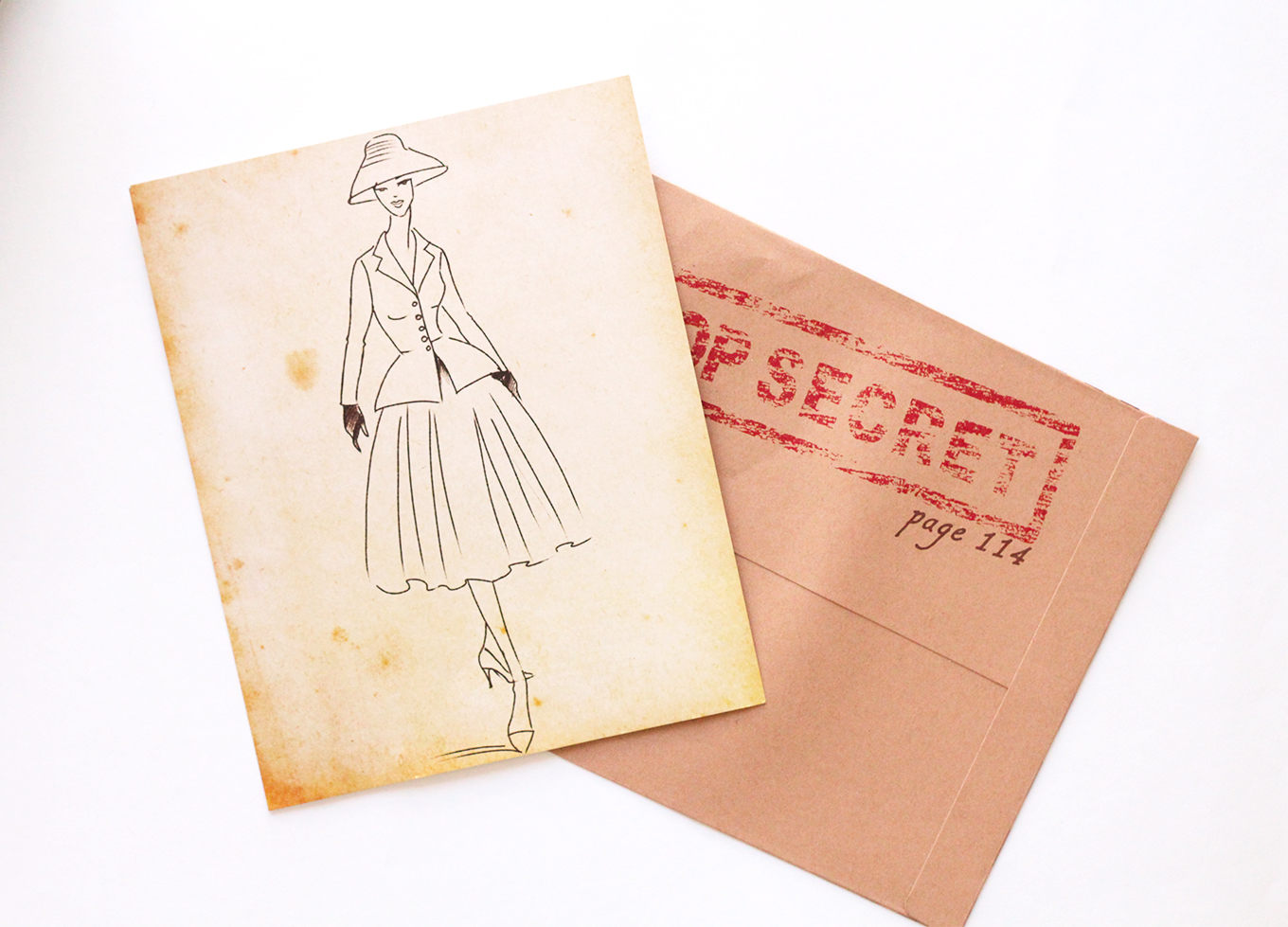 Page 114 – Dress Sketch
On page 114, Yvette examines pages and pages of Dior dress sketches that Gabby made, including one of Yvette modelling a dress.
Page 213 – Purse and Ring
On page 213, Gabby takes out a velvet pouch from her purse that contains a ring from her grandmother's jewelry box.
Page 256 – Satin Covered Case
On page 256, Louise hides a message in the lining of the jewel box where her pearls are kept.
Lifting the base of the box reveals a secret message that you can try to decode!
Page 310 – Bird Trinket
On page 310, Gabby cries over a message and jewel covered bird trinket Jack left to her.
Once Upon a Book Club Review July 2021 – Final Thoughts
I am so excited for this month's book! Love a good spy thriller to immerse myself into over a lazy weekend. The gifts are so thoughtfully put together to enhance the whole interactive experience – the secret message to decode is such a fun touch! The jewelry pieces are so pretty, especially the little silver bird. I always enjoy my entire experience with Once Upon a Book Club. If you are looking for a book subscription, this is a great one to try!
Toby & Rocket – http://www.tobyandrocket.com
Explore.
Save.
Enjoy!
Sign up for a free account on A Year of Boxes to receive exclusive offers, be added to our monthly mailing list, and much more! We are always adding features to improve the experience for our users, from their valuable feedback!
Join Today!