Once Upon a Book Club Review October 2019
If you've ever wanted your books to come to life, this is the subscription box for you! Once Upon a Book Club is an interactive online community that offers a unique reading experience like no other. Each month brings a newly released fiction book, 3-5 individually wrapped gifts meant to be opened on specific pages (yay, surprises!), a 5 x 7 quote print featuring a quote from the chosen book, discussion questions, and read-a-long dates for live discussions and gift openings that contribute to the book club experience. They kindly sent us this box for review.
Subscription Details
When you sign up for Once Upon a Book Club, you'll have two options:
Young Adult Subscription (Geared towards young adults ages 14+)
Adult Subscription (Geared towards adults 18+)
Each subscription starts at $34.99 per month. There are other options too: 3 month prepay ($100.99), 6 month prepay ($199.00), 12 month prepay ($390.00).
*Once Upon a Book Club boxes are curated by women and the majority of their books include strong female characters.
To fully experience the box, readers are not meant to open each gift until they have reached the corresponding gift page. SPOILERS AHEAD!
Today We Go Home by Kelli Estes
"Seattle, Washington – Larkin Bennett has always known her place, whether it's surrounded by her loving family in the lush greenery of the Pacific Northwest or conducting a dusty patrol in Afghanistan. But all of that changed the day tragedy struck her unit and took away everything she held dear. Soon after, Larkin discovers an unexpected treasure―the diary of Emily Wilson, a young woman who disguised herself as a man to fight for the Union in the Civil War. As Larkin struggles to heal, she finds herself drawn deeply into Emily's life and the secrets she kept."
"Indiana, 1861 – The only thing more dangerous to Emily Wilson than a rebel soldier is the risk of her own comrades in the Union Army discovering her secret. But in the minds of her fellow soldiers, if it dresses like a man, swears like a man, and shoots like a man, it must be a man. As the war marches on and takes its terrible toll, Emily begins to question everything she thought she was fighting for."
Page 74
On page 74 two of the characters are sorting through boxes and find a tube of dark pink lipstick that holds fond memories for one of them. Readers received a tube of dark pink lipstick to represent the lipstick that was used in each of the character's makeovers.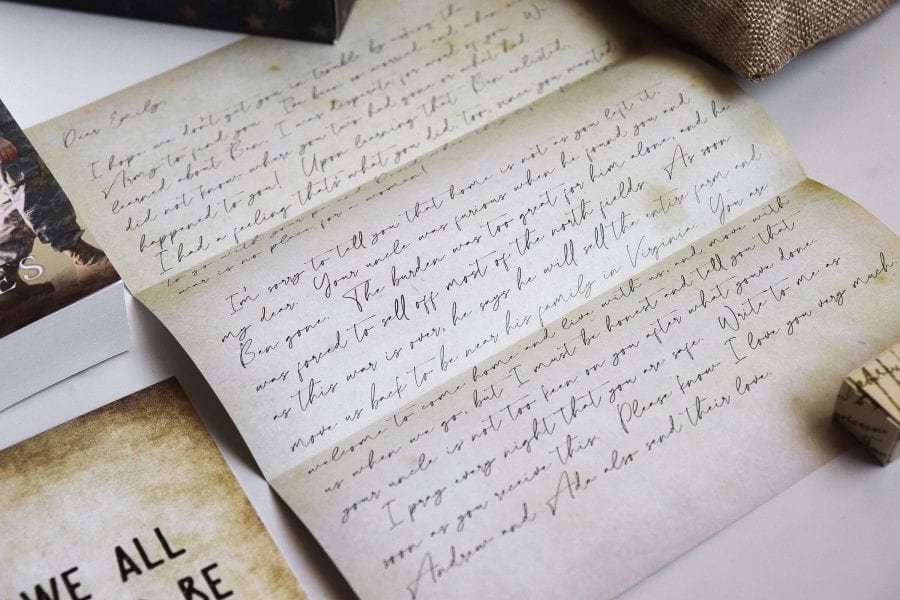 Page 291
On page 291 one of the characters receives a letter from her aunt and realizes nothing is left for her back home. Readers received a letter to represent the letter addressed to Emily from her Aunt Harriet.
Page 316
On page 316 one of the characters finds another character in the kitchen cooking what looks to be yellow pancakes: "Hey, whatcha makin'?" "Johnnycakes." Readers received a bag of Johnnycake Mix, instructions on how to make them, and a spatula.
This gift is a little different from previous gifts because it is a food item. I look forward to making my own Johnnycakes!
Page 343
On page 343 one of the characters is reunited with her diary, a treasure that kept her company in camp. Readers received a beautiful leather diary to represent Emily's diary. The diary includes a single entry, and in the side pocket readers find a handkerchief and a ring.
I think these are the perfect interactive gifts to include with this month's book because they hold a lot of sentimental value for the character. The journal itself is beautiful, and I am excited to make it my own!
Once Upon a Book Club Review October 2019 – Final Thoughts
I love receiving Once Upon a Book Club because I'm always impressed with the way the books come to life with the interactive gifts. This month's book is one I look forward to reading because it's different from the books I normally read. I love the connection between the past and the present, the war insight, and I know this will be a very touching story.
Kierra Pierre – Miss Reviews A Lot