Panty by Post Review April 2022
Panty by Post is a subscription that sends you new luxury underwear every month. You will receive a gorgeous, sexy, and super comfortable panty or panty and bra matching set from top Canadian brands and designers.
They kindly sent us this box for review.
Subscription Details
When you sign up for a Panty by Post subscription, you can choose from 5 style options:
Everyday Basics – Comfortable styles in colours like beige, black, purple, green, and blue (CAD $18/month)
Signature Line – Panty by Post's most popular patterns and colours (CAD $22/month)
Premium Luxe – Panty by Post's most luxurious line, lace, super sexy, and empowering (CAD $35/month)
Naughty but Nice – Naughty, sassy, and sexy (CAD $24/month)
Bra and Panty matching set – Favourite panty style with a matching bralette (CAD $48/month)
Shipping is free in North America and US $8 for all other countries.
You can then select your size (XS, S, M, L, or XL), preferred fit (thongs only, briefs only, or a surprise!), and the number of panties you want to receive each month. If you have specific notes or preferences, just add a comment in the "Order Notes" section.
Panty by Post ships in a gorgeous red mailer ready for gifting. For those who prefer some privacy, there is the option to ship your subscription in a plain envelope. Inside the mailer is a card with handwritten details about the month's panty. I love the personal touch! This month, I received a panty from the premium subscription.
This month's panty is this gorgeous lace affair from the new to me brand Montelle. This is a Canadian brand based out of Montreal.
The brand's logo is represented on the panty with this cute little silver charm.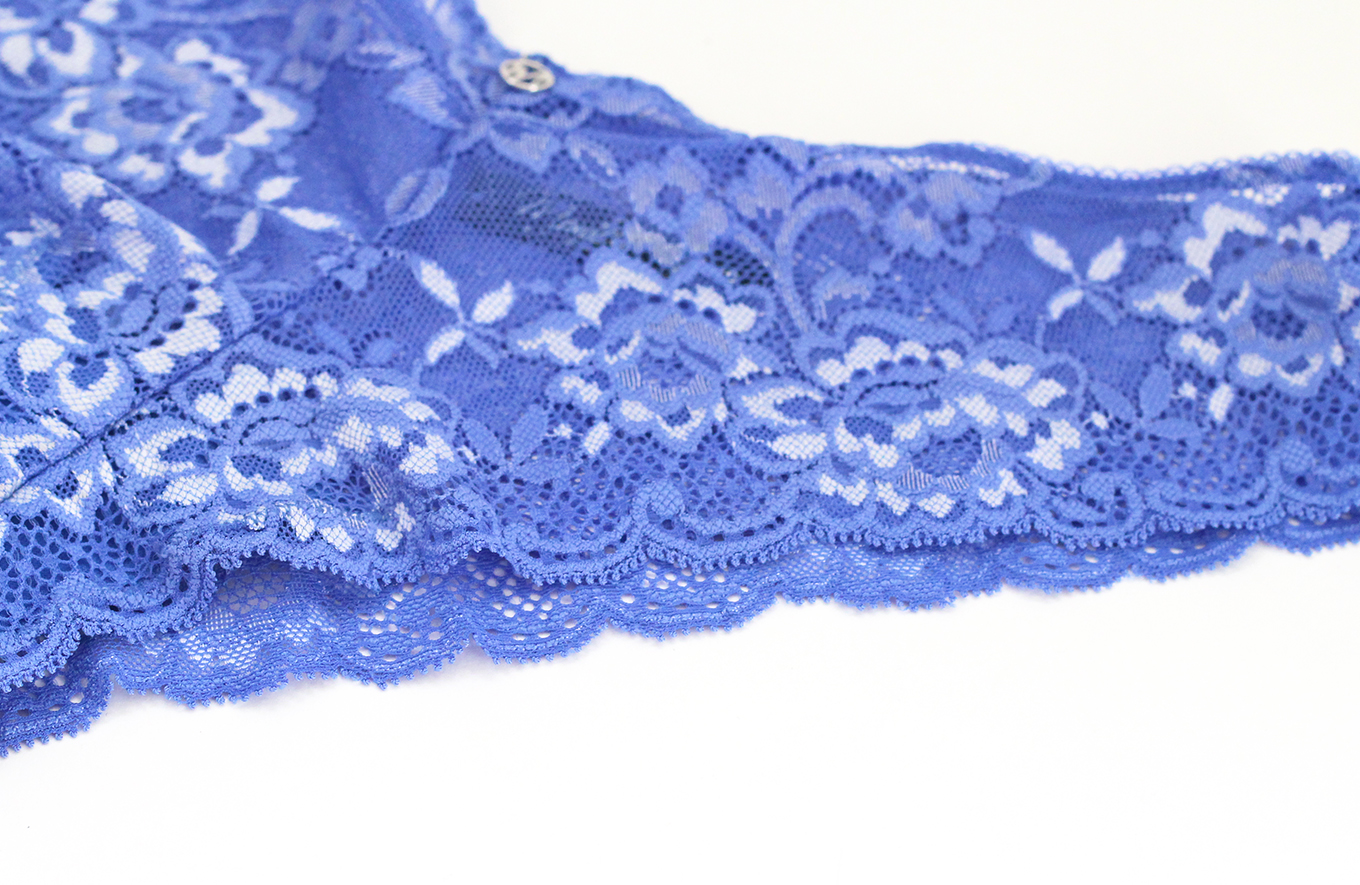 This panty is described as a Brazilian style. Now, this is a style that is completely new to me. Upon looking it up, it is a bikini type panty with a narrow cut that helps give the appearance of longer legs. Good to learn something new!
The floral lace fabric is simply gorgeous. The blue-purple colour is bright and pretty. It is likely not a colour I would select for myself, but now that I have it, I can see myself wearing this often. This really illustrates the whole point of a subscription like this – being taken out of my comfort zone and discovering something I love.
Panty by Post Review April 2022 – Final Thoughts
I may sound like a broken record by now, but this month's panty is absolutely gorgeous! So happy to get to know a new brand and style.This style of panty is super comfortable to wear, offering more coverage than a bikini while still remaining really flattering. It is no surprise that Panty by Post is one of my favourite subscriptions – it's truly like receiving a prettily wrapped gift from a special someone every month.
Toby & Rocket – http://www.tobyandrocket.com