Panty by Post Review February 2019
Panty by Post offers a subscription box that ships to you a new panty or bra and panty matching set every month. It is a company that I like for the quality of their products but also for their choice of manufactures who supports women who are at a disadvantage.
I received the Premium luxe box from Panty by Post to review, and I am happy to share with you my thoughts on the product I received.
Subscription Details
First, when you sign up for a Panty by Post subscription you have 5 options to choose from, depending on your favorite style and budget.
Everyday Basics: $15
Signature Line: $22
Naughty But Nice: $24.99
Premium Luxe: $35
Bra and Panty Matching Set: $49.99
*Shipping is free in Canada and $5 for international addresses.
Once you selected your size, favorite style and paid for your subscription, simply wait for your surprise in the mail.
I received my panty in this cute little box. The panty was carefully wrapped in white silk paper and came with a card with some details about what I got (style, color, subscription).
I loved the first two panties I received and this month, I was happy to see a brand I had never seen before. Purpuratta is a Colombian brand that started from two friends who were looking for a way (at first) to finance their travel to Brazil.
They decided to create underwear that was not only sexy but also comfortable. The kind you do not want to throw away at the end of the day but a panty or bra that make you feel attractive and feel good about yourself.
I found this model very elegant. The bikini style just shows enough butt cheeks and gives a classic but sexy look.
The fabric is made of: 85% nylon and 15% elastane and the gusset is 100% cotton. The texture of the fabric is silky and the seams look very well-made. The top is wavy and has really nice detail and the lace on the thigh has cute mini flowers.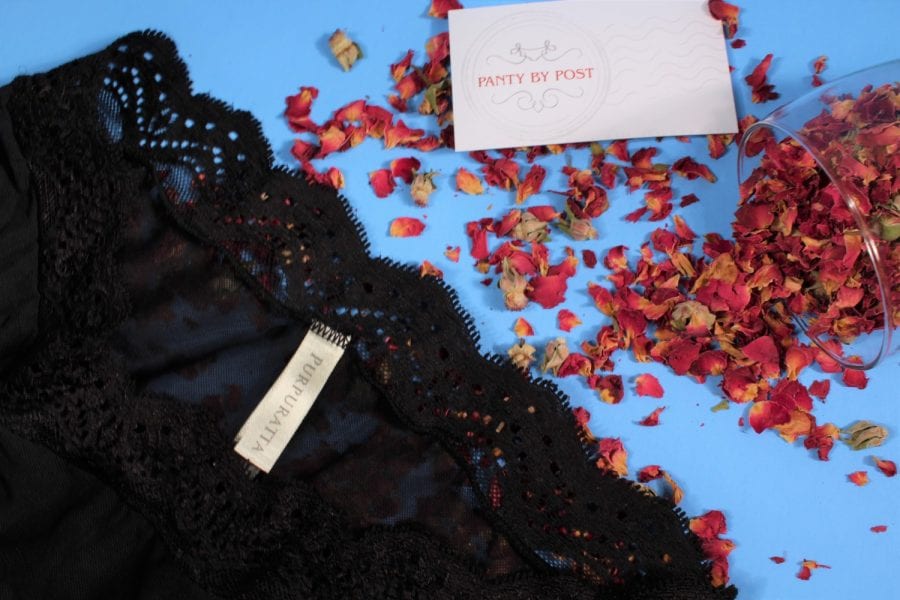 Fit and Sizing
To give you an idea about the sizing: my waist size is 30 inches and my hip size is 35 inches. I opt for my usual medium size and once again, it was perfect.
The part around the waist does not leave any marks; it feels like I am wearing nothing.
Panty by Post Review February 2019 – Final Thoughts
Purpuratta is another great addition to my panty drawer. I must admit, since I started to review Panty by Post, I made a drastic change to my habits related to my underwear. My panties are now in four specific piles, folded, and I make sure I keep only the panties that are in good shape. A subscription that makes you keep things organised, that is a great bonus!
Finally, if you are looking for a gift for yourself or your loved one for Valentine's Day, I definitely recommend Panty by Post. You can't go wrong with this subscription.
Jacynthe Létourneau – https://www.instagram.com/miss_minamie/