Panty by Post Review July 2022
Panty by Post is a subscription that sends you new luxury underwear every month. You will receive a gorgeous, sexy, and super comfortable panty or panty and bra matching set from top Canadian brands and designers.
They kindly sent us this box for review.
Subscription Details
When you sign up for a Panty by Post subscription, you can choose from 5 style options:
Everyday Basics – Comfortable styles in colours like beige, black, purple, green, and blue (CAD $18/month)
Signature Line – Panty by Post's most popular patterns and colours (CAD $22/month)
Premium Luxe – Panty by Post's most luxurious line, lace, super sexy, and empowering (CAD $35/month)
Naughty but Nice – Naughty, sassy, and sexy (CAD $24/month)Bra and Panty matching set – Favourite panty style with a matching bralette (CAD $48/month)
Shipping is free in North America and US $8 for all other countries.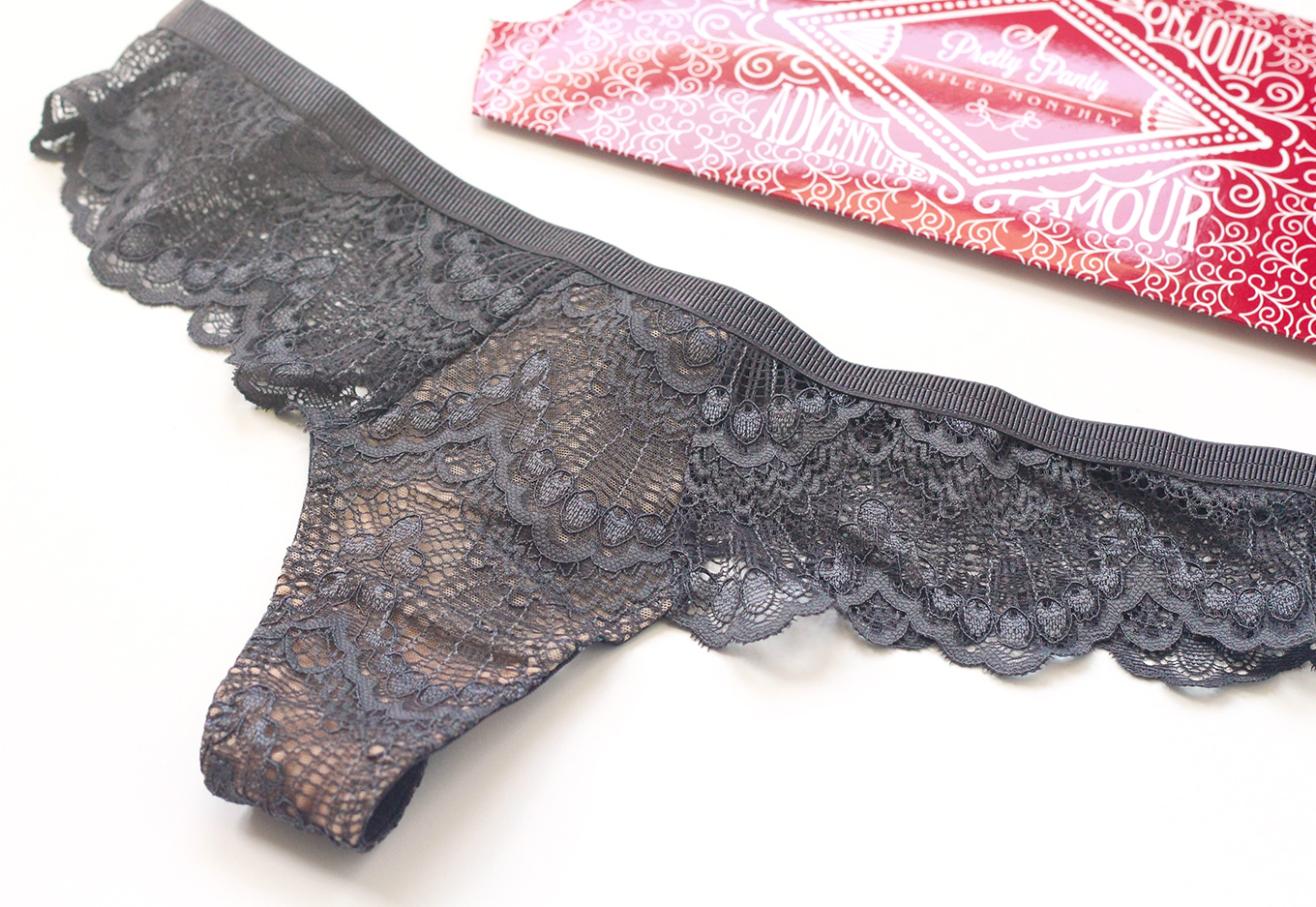 You can then select your size (XS, S, M, L, or XL), preferred fit (thongs only, briefs only, or a surprise!), and the number of panties you want to receive each month. Any specific notes or preferences can be indicated in the "Order Notes" section.
This month's panty arrived at my doorstep beautifully packaged in Panty by Post's gorgeous signature red mailer. If you are considering gifting this subscription, the mailer is gift ready. You can even have a handwritten message to the recipient included on the accompanying card, which is a really nice touch!
This month, I received a panty from the premium subscription. The panties I receive from this subscription are always so pretty, but this month I actually gasped when I opened the package. There is something about the dark grey lace with the beige peeking through that is absolutely gorgeous!
The panty is from the Canadian brand Blush, one of my favourite lingerie brands. It is a thong made from the most gorgeous dark grey lace fabric with a beige lining. I am not one who wears thongs a lot, so now I really want a matching panty in a bikini or hipster cut.
I will just leave you with a few more shots of this gorgeous design. The panty is so much more striking and gorgeous in person, and these photos absolutely do not do it justice.
Panty by Post Review July 2022 – Final Thoughts
I am just repeating myself, but I can't get over how stunning this month's panty is. There is just something about that grey lace that I find really gorgeous. For me, wearing a gorgeous piece of lingerie like this really gives me a confidence boost even though no one else but me (and maybe sometimes my husband) knows I am wearing it. Highly recommend a Panty by Post subscription for the high quality pieces they consistently send.
Toby & Rocket – http://www.tobyandrocket.com