Panty by Post Review June 2020
Panty by Post is a Canadian company who offers a subscription for women. Make some place in your drawer for brand new panty or bra and panty matching sets every month. It is a subscription that I like for the quality of their products, the variety of models, patterns and colours, but also for their choice of manufactures who support women and are mostly Canadian companies.
Subscription Details
First, here are some details about the subscription's options. When you sign up for a Panty by Post subscription, you have 5 options to choose from, depending on your favorite style and budget.
Everyday Basics – Simple, soft and stylish ($15)
Signature Line – Lots of gorgeous colours, patterns and variety ($22)
Naughty but Nice – To add a little bit of naughtiness in your life ($24)
Premium Luxe – Fashionable, super soft panties with lace ($28)
Bra and Panty Matching set – A perfect matching set ($48)
*Prices shown are in Canadian dollars. Shipping is free in North America and $8 USD for international orders.
Once you have selected your size, favorite style and paid for your subscription, simply wait for your box in the mail. A great surprise awaits you every time! If you saw a specific model or style you would like, just add a comment in the "Order note" section and you might get exactly what you want next month. Also, if you like to mix it up sometime, you can always change your subscription.
Your panty or bra and panty matching set will come in this nicely designed box. There are two models of box and I received this vibrant red this month. This cute box is a keeper if you like to reuse boxes to make gifts.
The panty is usually wrapped in white silk paper and for the first time, the colour changed for this lovely dark magenta. Beautiful color! Loved the classic white, but this color makes your precious package pop. Inside, with the panty, comes a card detailing what you received (style, color, subscription plan). This month, Panty by Post kindly sent me the Signature Line subscription to review. I always like the beautiful patterns I receive. Let's see more of this beauty…
It is the micro lace trim hipster from Blush Lingerie, one of my favourite Canadian companies. It is one of their classic panties sold in many different colours and patterns. I already own a few underwear from Blush (3 of those have the same cut with different patterns) and I love them all.
The hipster cut shows a little bit of the butt cheeks and makes the panty comfortable but also sexy. The pattern is beautiful. The cute fishes really make me think of a Japanese pond in a garden. Totally my style.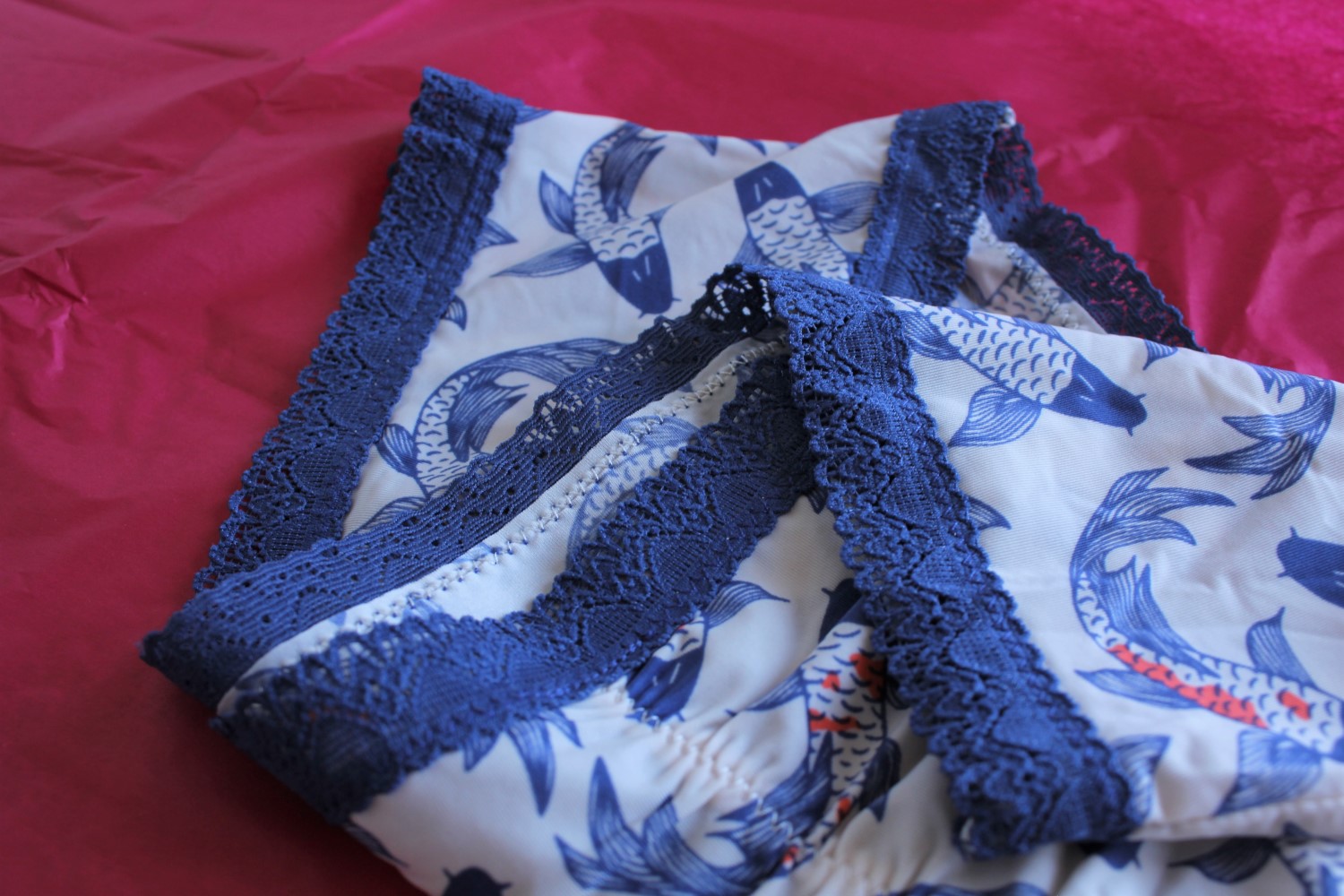 There is a delicate blue lace trim that completes the look of this beautiful panty. The silky fabric made of microfibre (mix of polyamide and elastane) is super soft and super comfortable. For added comfort, there is also a cotton gusset.
Panty by Post June 2020 Review – Final Thoughts
Beautiful choice from Panty by Post! I received similar panties in the past and I love them so much I could never have enough. The pattern of this panty is pretty with calming colours and a peaceful look. The cut is perfect, and I like how comfortable and soft the fabric is. Plus, you cannot go wrong with Blush Lingerie. Such an amazing brand. I cannot wait to wear it!
Jacynthe Létourneau – https://www.instagram.com/miss_minamie/