Panty by Post Review March 2020
Panty by Post is a Canadian company who offers a subscription box that ships to you a new panty or bra and panty matching set every month. It is a subscription that I like for the quality of their products, the variety of models, patterns and colours, but also for their choice of manufactures who supports women who are at a disadvantage.
Panty by Post kindly sent me the Everyday Basics subscription to review, and I will share my thoughts with you on the product I received.
Subscription Details
First, here are some details about the subscription's options. When you sign up for a Panty by Post subscription, you have 5 options to choose from, depending on your favorite style and budget.
Everyday Basics – Simple, soft and stylish ($15)
Signature Line – Lots of gorgeous colours, patterns and variety ($22)
Naughty but Nice – To add a little bit of naughtiness in your life ($24.99)
Premium Luxe – Fashionable, super soft panties with lace ($28)
Bra and Panty Matching set – A perfect matching set ($49.99)
*Prices shown are in Canadian dollars. Shipping is free in North America and $8 USD for international orders.
Once you have selected your size, favorite style and paid for your subscription, simply wait for your box in the mail. A great surprise awaits you everytime! You would like a specific style or model? Just add a comment in the "Order note" section and you might get exactly what you want next month.
Your Panty by Post panty or bra and panty matching set will come in this nicely designed box. It is carefully wrapped in white silk paper and comes with a card with some details about what you received (style, color, subscription plan).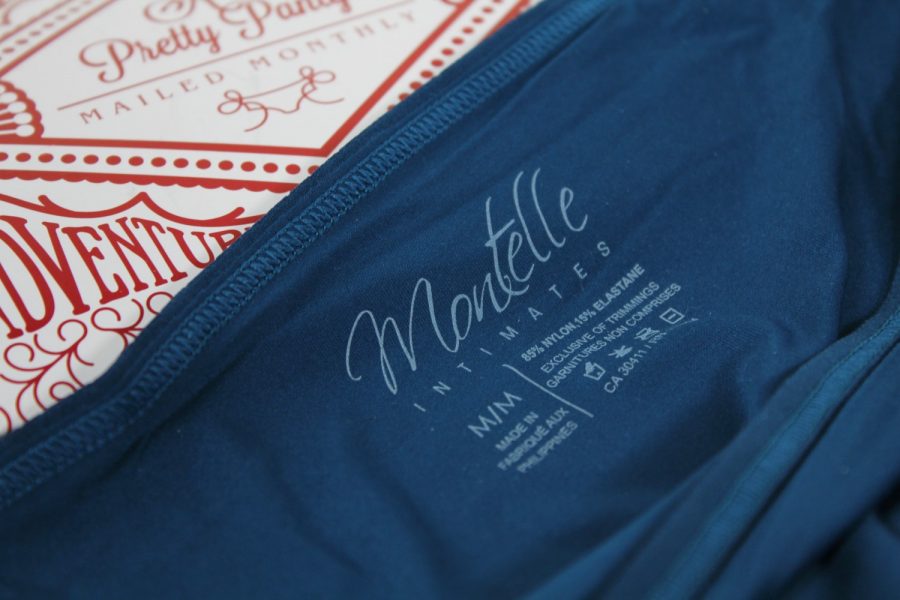 One of the things that I like with Panty by Post, apart from receiving beautiful panties every month, is trying new lingerie brands. I had not seen the brand Montelle before and I looked at their website to learn a bit more.
The company is powered by women and the product development is made close to the head quarter of PbP in Montreal, Canada. They make their own models to create well thought bra and other lingerie pieces.
This month, Panty by Post sent me this boy short type panty in a vibrant blue.
Here is the description I found on Montelles' website:
"With moderate coverage and a sporty, playful look, the Boyleg panty is ideal for everyday wear. Ultra-soft microfiber and flat elastic around the legs and along the top keep your look line-free."
It looks very well-sewed and made to last. The panty does not look too fragile, but it is recommended to hand-wash it and hang to dry. I personally think it looks sturdy enough for the delicate cycle. 😉
I received a size medium (the usual), but unfortunately, it was not a good fit. It looked too tight (I might have a little too much booty for this one) and it was simply not flattering. The "Boyleg" model might not be the right style for me. The fabric is soft, and you can see how well-made the panty is, but it just did not work for me.
Panty by Post March 2020 Review – Final Thoughts
I have received many panties from Panty by Post and it is the first time it is not love at first sight. I did not like the fit of the panty on me, but I wish it worked because I love the color, the texture of the fabric and it looked so comfy. On a good note, I got to discover Montelle Lingerie and I hope I will have the chance to see more from them. They have lots of amazing models and I would love to give it another try.
Jacynthe Létourneau – https://www.instagram.com/miss_minamie/