Panty by Post Review September 2020
Panty by Post is a Canadian company who offers a subscription for women. Make some place in your drawer for brand new panty or bra and panty matching sets every month. It is a subscription that I like for the quality of their products, the variety of models, patterns and colours, but also for their choice of manufactures who support women and are mostly Canadian companies.
Subscription Details
First, here are some details about the subscription's options. When you sign up for a Panty by Post subscription, you have 5 options to choose from, depending on your favorite style and budget.
Everyday Basics – Simple, soft and stylish ($18)
Signature Line – Lots of gorgeous colours, patterns and variety ($22)
Naughty but Nice – To add a little bit of naughtiness in your life ($24)
Premium Luxe – Fashionable, super soft panties with lace ($28)
Bra and Panty Matching set – A perfect matching set ($48)
*Prices shown are in Canadian dollars. Shipping is free in North America and $8 USD for international orders.
Once you have selected your size, favorite style and paid for your subscription, simply wait for your box in the mail. A great surprise awaits you every time! If you saw a specific model or style you would like, just add a comment in the "Order note" section and you might get exactly what you want next month. Also, if you like to mix it up sometime, you can always change your subscription.
Your panty or bra and panty matching set will come in this nicely designed box. There are two models of box and I received the white box with burgundy details this month. If you like to reuse your boxes, this one is a keeper for little gifts like jewelry, sunglasses, a scarf, etc. They can also be redecorated and used to store little toys.
The dark magenta wrapping for the panty looks luxurious! Inside, with the panty, comes a card detailing what you received (style, color, subscription plan). This month, Panty by Post kindly sent me the Premium subscription to review.
One of the things that I like with Panty by Post, apart from receiving beautiful panties every month, is trying new lingerie brands. I have only received one panty made by Montelle Intimates before. Here is a little bit of info about this company:
It is powered by women and the product development is made close to the head quarter of Panty by Post in Montreal, Canada. They make their own models to create well thought bras and other lingerie pieces.
The panty I received is the Sweet Encounter High Cut Brief and the color is Chantilly/Blue Bells. It is offered in one color and in different sizes from small to XXL. I normally wear medium and this one fits exactly right on me. The style and cut are not exactly what I prefer, but the quality of this panty is undeniable.
Here is what is says on Montelle Intimates website:
"This delicately designed high-waist panty comes in Chantilly-hued lace with a touch of blue. The high back provides additional comfort and support […]. Dotted stretch mesh in the front panel increases comfort, while the matching satin bow adds an elegant touch. Perfect for wedding attire, everyday outfits, and every occasion in between."
The details on this panty are impressive and the floral lace makes it look very fancy. Also, even if it is not my style, I must admit comfort and support are there and the fit is right.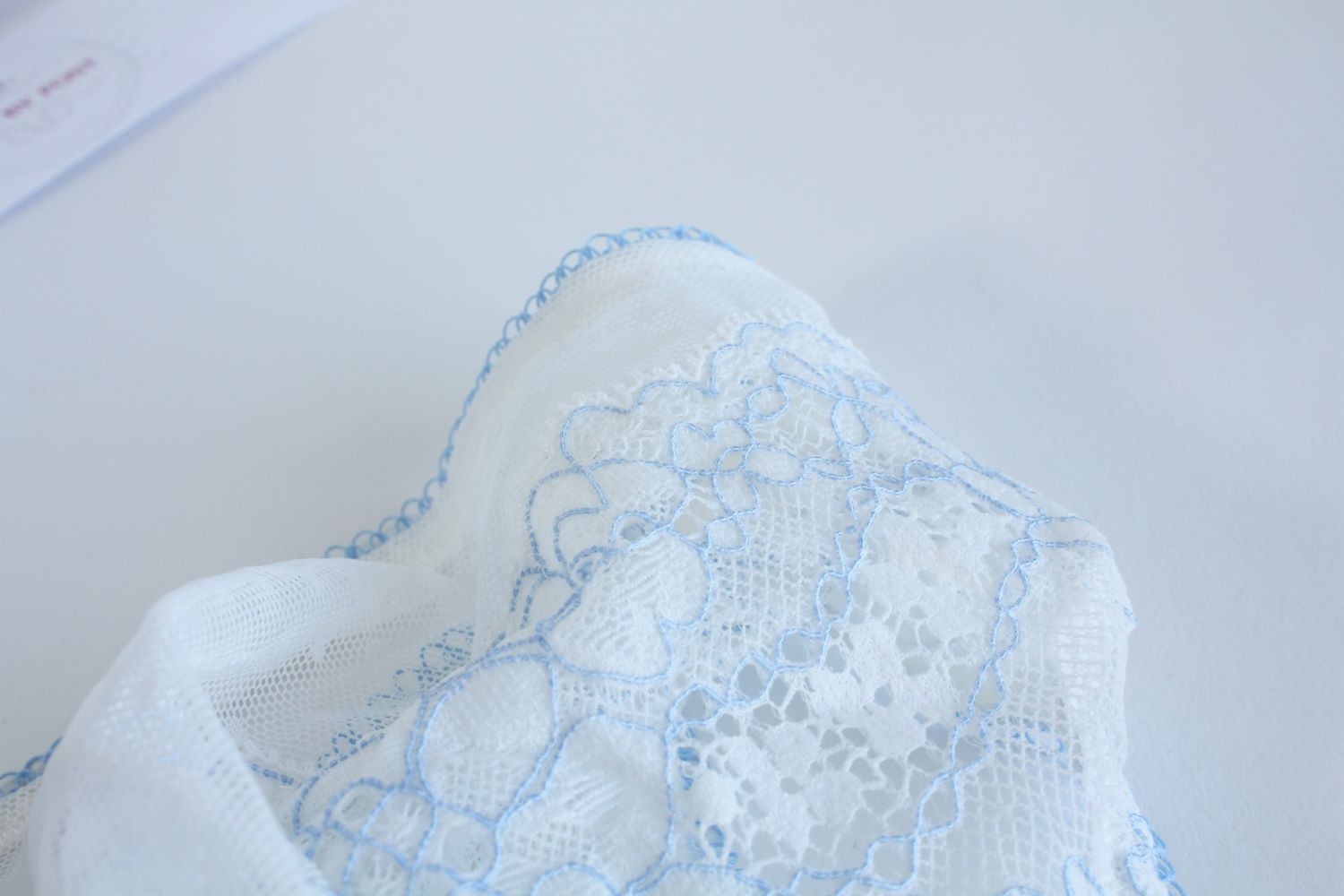 Panty by Post September 2020 Review – Final Thoughts
I received another high-quality panty this month from a company I had the pleasure to try before. Like I said, this panty may not be my type, as I do not particularly like high waist panties and there are a little bit too many details and frills for my taste, but that is only a question of preferences. I like that I had the opportunity to review a new style that I had not reviewed before. Panty by Post really has something for everyone's taste and everything they send is from well known companies that create underwear well thought for women and with high quality standards. Always a must to refill your panty drawer!
Jacynthe Létourneau – https://www.instagram.com/miss_minamie/