Panty by Post Review February 2018
Panty by Post is a monthly subscription service delivering a curated selection of luxe Parisian underpinnings right to your door. It's a little taste of monthly glamour for about as much as your Netflix! They kindly sent us this box for review.
I have been reviewing subscription boxes for over 5 years now and I feel like I've learned a lot about myself and the type of boxes that appeal to me most. I went through a phase where I thought that the biggest boxes with the most items were the best. But, now that I've had a chance to review almost every kind of subscription box on the market I've come to discover that I actually prefer the simple boxes. Boxes that contain 1-4 items. Boxes that are done well and provide me with items I use on a regular basis. This is where Panty by Post comes in……it's simple, pretty, consistent and provides me with my essentials.
Panty by Post Details
If you aren't familiar with Panty by Post it is a monthly subscription to receive a pretty panty or matching set in the mail. It's a gift for yourself or a friend. The panty comes in a beautiful package and it's different every month. You choose or it's a surprise.
Cost:
Everyday Basics – $15 per month
Signature Line – $22 per month
Premium Luxe – $35 per month
Naughty But Nice – $24.99 per month
Matching Set – $49.99 per month
Ships to: US & Canada
Shipping Cost: Shipping is free for North America! It's only $5 per panty for International addresses.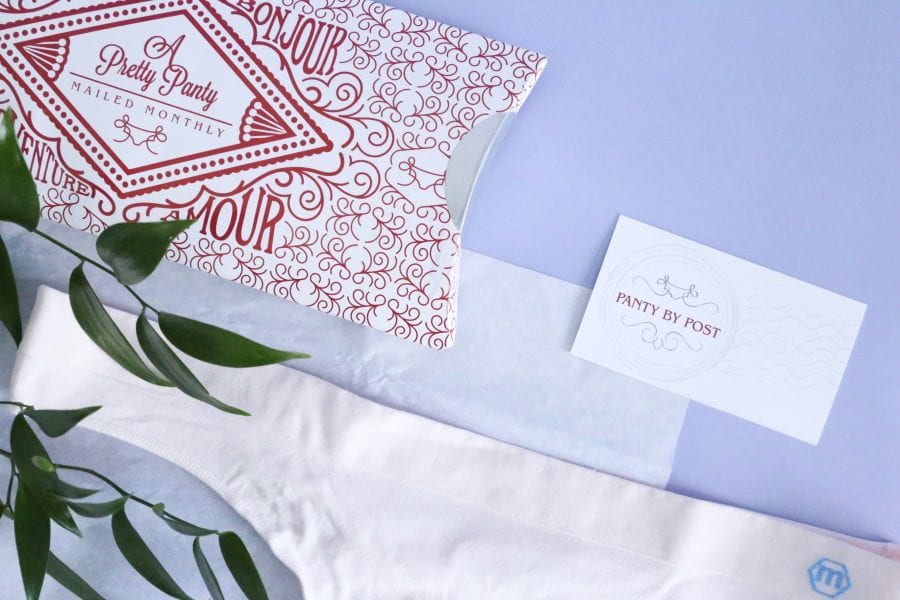 This month we are reviewing the Everyday Basics Box, here's a closer look…..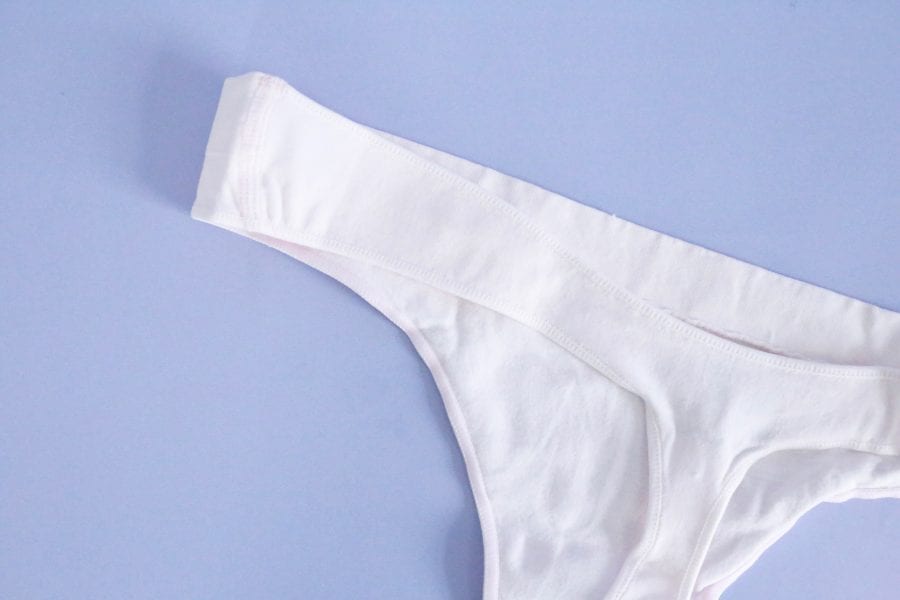 Miel Thong Palest Pink
Say adios to panty lines! Not only is our seamless LUNA mid-rise thong super comfortable, it is virtually invisible under clothes. Perfect all day, every day. You can't go wrong with this cheeky thong!
Always Sexy – Flattering feminine cut
Super Comfy – Soft breathable microfiber and Spandex blend with cotton gusset, wicks away moisture and dries quickly
Extra Fresh – Guardin™ built-in botanical antimicrobial protection against stains and odors
Perfect Fit – Seamless and flat-seam design won't dig in or bunch up
Panty by Post Review February 2018 – Final Thoughts
Eeekkk!!! Oh my goodness!! I am in love with this month's Panty by Post delivery. More so than any other delivery I have received from them. This is a new brand for me and I have a feeling it is going to become a favourite. I love everything about this Miel Sisters Luna Thong. At first glance it had me thinking it would be perfect as a workout panty, but after doing a little research I'm thinking it will be a perfect everyday panty – workouts, date night, you name it. Not only is it the most comfortable thong ever, but it's also seamless, and it's mid-rise. I don't know about you but I can't stand low-rise thongs. This gorgeous little panty is made out of the most amazing fabric, it protects against stains and odors and it wicks away moisture and dries quickly. So my workout panty idea was spot on. Now that I have quite a few Panty by Post reviews under my belt I've come to the decision that the Everyday Basics subscription is my favorite. But……I'm also thinking that I would love for them to add a Performance option to their subscription lineup. How great would it be to receive workout panties every month. Just throwing it out there.
XOXO