Paradise Delivered Review December 2020
Paradise Delivered is a subscription box company that will send you 6-8 paradise inspired full size products every month! Inspired by tropical vacations at some of the most beautiful and picturesque destinations throughout the world! Every box has a $200+ retail value! They kindly sent us this box for review.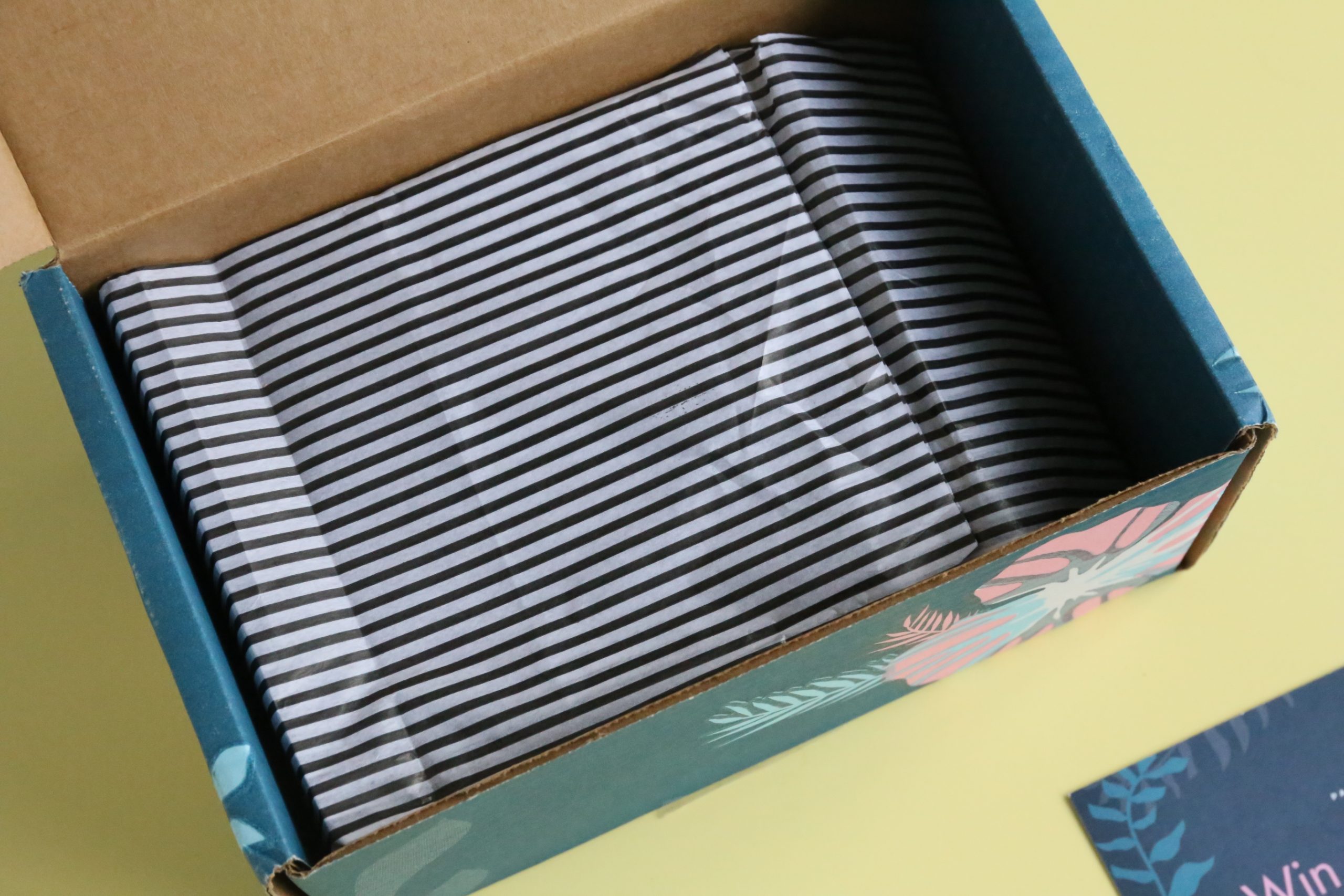 Subscription Details
Paradise Delivered subscribers will receive 7-8 full-sized, hand selected, vacation-inspired products every month! Every box has a retail value of $200+! Enjoy bath and beauty products, trending fashion accessories, best-selling books and more exciting surprises just for you.
There are three subscription options to choose from:
monthly
3-month subscription
6-month subscription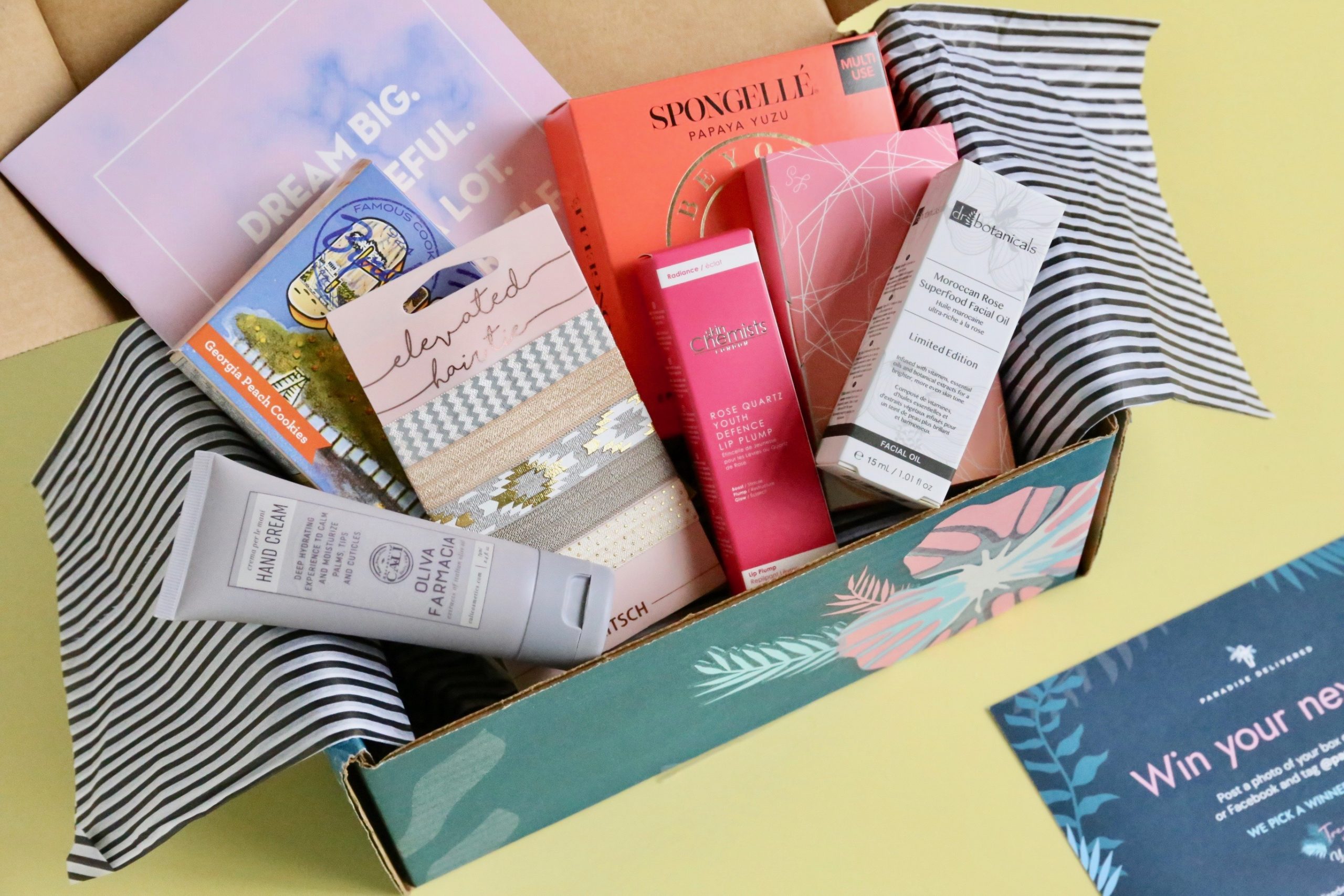 Here's a closer look at the items we received in the December Paradise Delivered box….
Skin Chemists Rose Quartz Lip Plump ($25)
Visibly improve the shape, texture and volume of your lips with this all-in-one product, combining the benefits of lip gloss and lip balm, with an active plumping effect for hydrated lips and a fuller pout. Antioxidant-rich vitamin E will fight inflammation and protect skin from damaging UV rays. 
Lip Plump is something I've never used before but am open to trying. I'm becoming more adventurous with skincare and makeup, and I have to say…..it's pretty darn fun.
Spongelle Infused Buffer ($20)
Love your skin with this body wash infused buffer designed to cleanse, moisturize, rejuvenate and restore every inch of your body. The product is dermatologist-tested, vegan friendly, cruelty-free and made with love in the USA. 
This is hands-down one of my favorite products to receive in subscription boxes. I always have a Spongelle Sponge in the shower, and I also like to have one in my travel bag.
Dr. Botanicals Superfood Facial Oil ($30)
This all-natural, award-winning product is packed full of vitamins and minerals, all working together to rejuvenate, renew, and protect skin. The antioxidant-rich formula will leave your skin hydrated and protected. 
I've received this facial oil a few times over the last year but am yet to try it. I'm taking this as a sign that I need to give it a whirl. I am reorganizing my skincare this weekend and will make sure this one is front and centre.
Lily Sky Necklace & Earrings Set ($64)
Make a statement with this fun, stylish long necklace + earrings set in gold. Necklace measures 30" with 3" extender. 
I love, love, love this necklace and earring set. We received it in a previous SinglesSwag box and I wear the earrings almost daily.
Mollie Jacob 2021 Planner ($24)
2021 is almost here! Stay organized and keep track of all your activities and important dates with this planner featuring monthly overview pages and two lined pages behind each month for additional notes. Produced with high-quality weighted paper. Throw this planner in your handbag, or keep on your desk at home or the office for everyday use. 
I love starting the year off with a new planner, it just makes me so darn happy. I like this one for keeping track of monthly dates like birthdays, appointments, anniversaries, etc….
Kitsch Hair Tie Set ($12)
These must-have accessories are sweet, simple and easy to wear year-round. Kitsch hair ties are gentle on the hair and are the perfect addition to your ponytail or wrist. 
Love, love, love these hair ties! I can never have enough of these because I am always misplacing them. I also really love the neutral colors. Perfect for my neutral wardrobe.
Baronessa Cali Hand Cream ($22)
This lush, moisturizing hand cream made with extracts from Italian olive oil will calm and moisturize your skin while leaving it silky smooth and bursting with vitality. For a deep hydrating experience, massage lotion into hands, paying close attention to the cuticle areas. 
Hand cream is something I use every single day. In fact, I keep it with me most of the time. I have some in my office, purse, car and beside the bed.
Byrd's Famous Cookies ($5)
Indulge in these delectable bite-size, award-winning cookies baked in small batches in Savannah, Georgia USA.
Our treat this month isn't necessarily my favorite, but it's a fun treat nonetheless. It's always a good idea to have cookies in the pantry:)
Paradise Delivered Review December 2020 – Final Thoughts
The December Paradise Delivered brought with it some really useful products. I will get a lot of use out of the hair ties, Spongelle, hand cream and planner. The lip plump will be nice to have and I'm looking forward to trying the facial oil. Overall we received great value and a great selection of products.
-AYOB Sarah