Paradise Delivered Review November 2020
Paradise Delivered is a subscription box company that will send you 6-8 paradise inspired full size products every month! Inspired by tropical vacations at some of the most beautiful and picturesque destinations throughout the world! Every box has a $200+ retail value! They kindly sent us this box for review.
We always post spoilers for Paradise Delivered and oddly enough, I totally forgot what was in this month's box. It was a pleasant little surprise when it arrived because it actually includes a few items I was in need of. How great is that?! I love it when my subscription boxes include items I was planning on going out and purchasing myself. It saves me a trip to the store, not to mention time and money!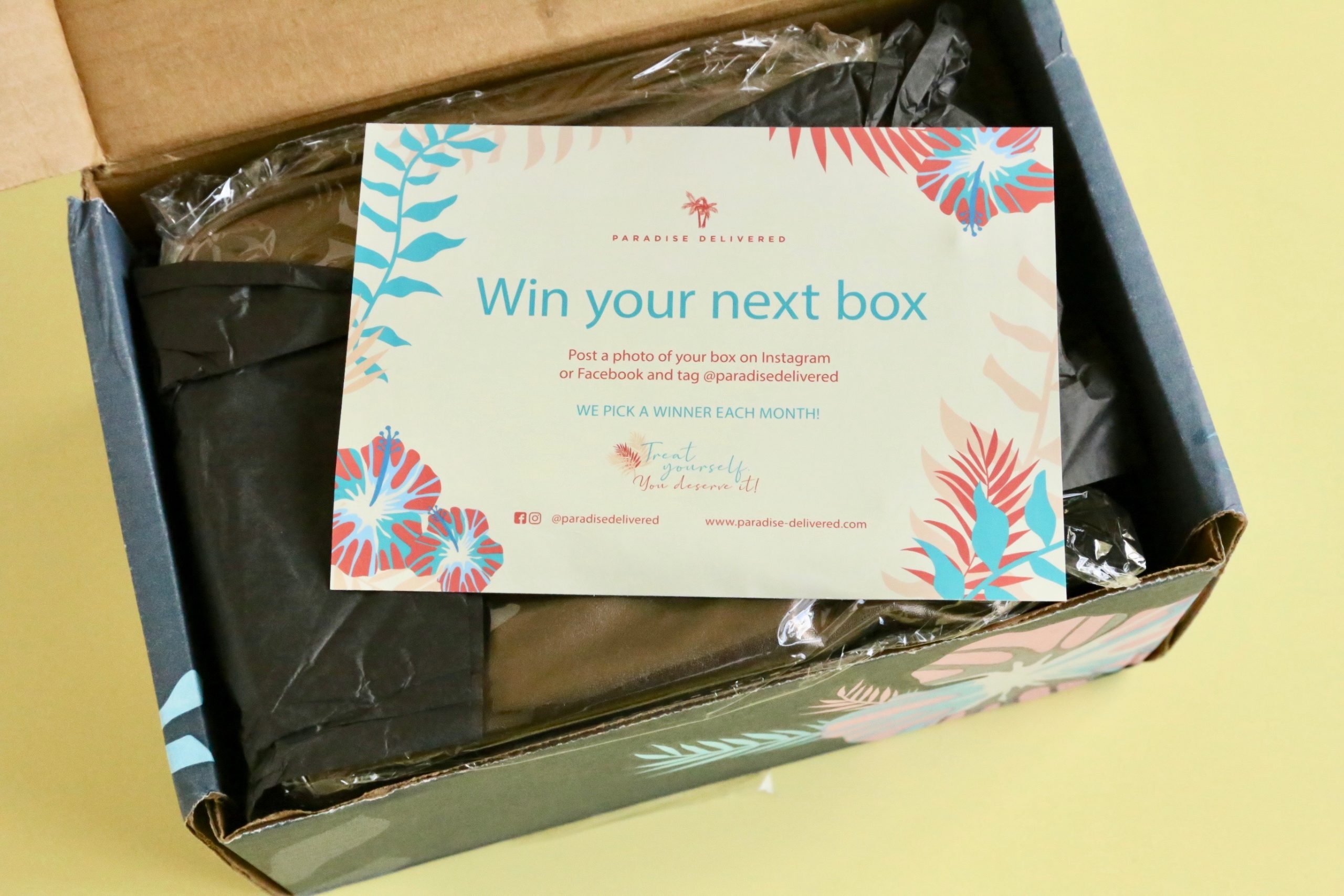 Subscription Details
Paradise Delivered subscribers will receive 7-8 full-sized, hand selected, vacation-inspired products every month! Every box has a retail value of $200+! Enjoy bath and beauty products, trending fashion accessories, best-selling books and more exciting surprises just for you.
There are three subscription options to choose from:
monthly
3-month subscription
6-month subscription
Here's a closer look at the items we received in the November Paradise Delivered box….
We Live Like This Body Lotion ($12)
Pamper yourself and your skin with this nourishing, light-weight scented body lotion. Vegan and cruelty-free.
You know how I mentioned above that the November box included a few items I was in need of? Well this is one of them. I usually have body lotion on hand but I must have gifted all my extras so this arrived at the perfect time. And, I actually really love the smell of grapefruit. Bonus points for it being cruelty-free!
Indigo Authority Chain Bracelet ($58)
Add style and elegance to your collection with this chic, delicate bracelet. Use the sliding clasp closure to adjust the tightness to wear loose or close to the wrist.
This is maybe the only item in the box that I'm not excited about. I just can't seem to get in the habit of wearing bracelets. I really should give it a try because this one is gorgeous, but they usually get in the way or get snagged on something.
Purlisse Green Tea Sheet Masks ($38)
Love your skin with these soothing, firming, natural-fibre masks infused with restorative Asian botanicals. The powerful blend of all-natural ingredients will moisturize, fight harmful free radicals and reduce inflammation – leaving your skin healthy, beautiful and radiant. Effective on all skin types.
This is an item I have received before and absolutely LOVE! I don't alway get a chance to test out my subscription box items but this is one I have used time and time again. I love Purlisse masks. They are great for my sensitive skin, and they always leave it feeling so soft.
Scrumptious Cookies Cookies & Cream ($4)
Indulge in these delicious, melt-in-your mouth cookies coated in white cream with vanilla filling. We dare you to only treat yourself to one at a time.
Oddly enough I've had a weird craving for cookies and cream flavoured things over the last little while. I'm not even sure where the craving came from, but it's there nonetheless, and for that reason I am very happy to see this snack in the November box!
Sienna Mae Nora Zipper Pouch ($48)
Way more than just a cosmetics bag, this sleek travel-friendly pouch with a tassel zipper will keep your everyday essentials safe and secure.
This is another one of the items I was in need of. I give my makeup bag a makeover ever few months and the time to do it again is here. I like to switch out my bag, clean out all the products a buy a few new goodies. This bag has the right amount of space, it's pretty and I love the tassel zipper. I'm very excited to use it.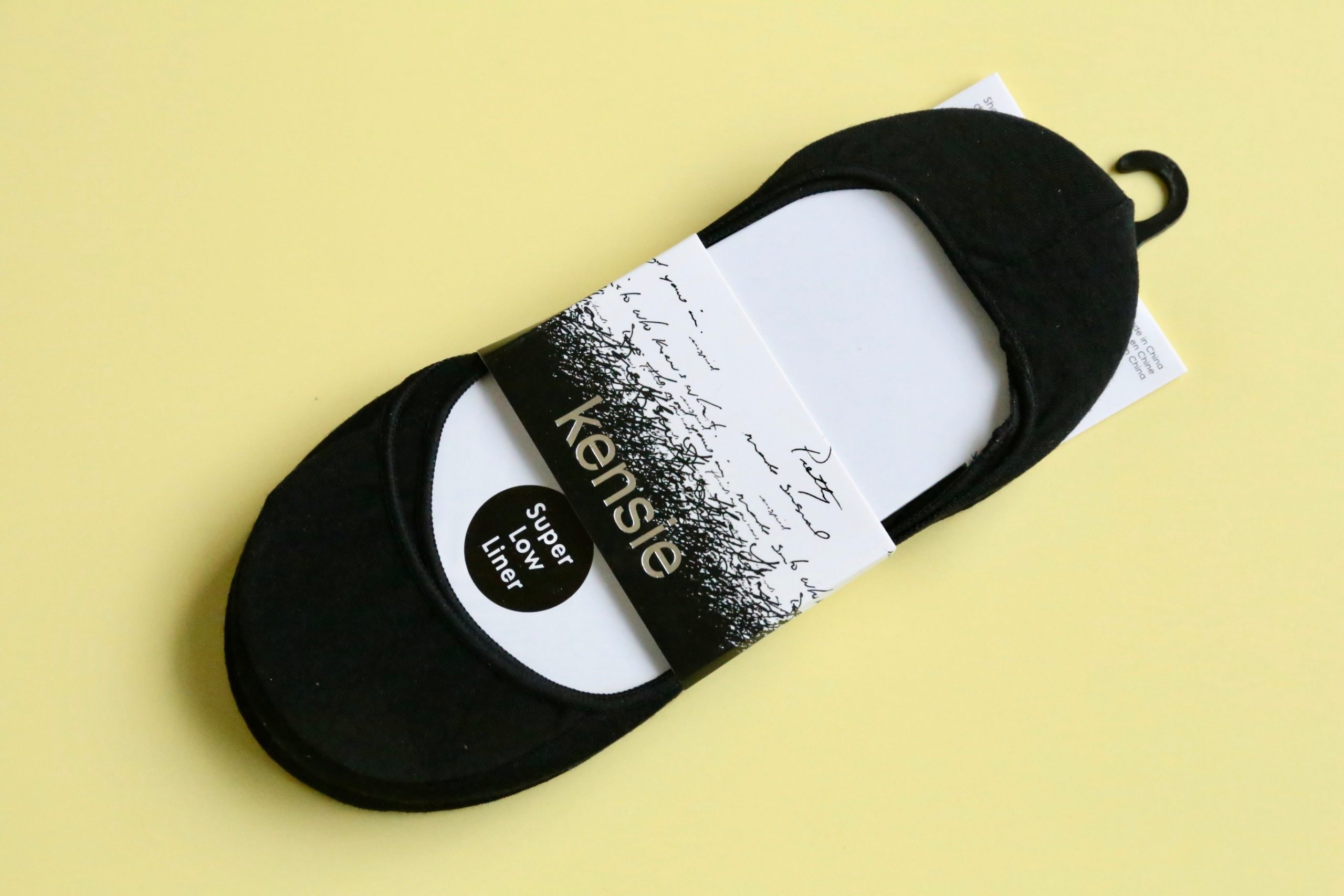 Kensie Ultra Low Liner Socks ($16)
These ultra comfortable cotton-blend socks have a super low profile to avoid being seen under shoes and grippy soles to prevent slippage on slick surfaces.
This is an item I am always happy to receive. It's a wardrobe essential if you don't like your socks showing above your shoes, which I don't. I haven't tried them yet so I'm not sure how effective they are at staying in place, but I have high hopes!
Naobay Recovery Mask ($29)
Love your skin with this ultra-moisturizing, soothing blend of antioxidant-rich Vitamin E, orange floral water, apricot oils and other all-natural ingredients. Certified organic, vegan, paraben and cruelty free.
I have received this brand a few times in the past but am yet to test it out. I like the sound of the mask and really love the ingredient list so I just might have to give it a try. Apricot oil is one of my favorite skincare ingredients.
Big Magic by Elizabeth Gilbert ($18)
This New York Times bestselling book from Elizabeth Gilbert, author of Eat, Pray, Love will inspire you, encourage you to embrace your curiosity and uncover the "strange jewels" hidden within each of us.
This sounds like such a good read and so perfect this time of year. "Gilbert encourages us to uncover the "strange jewels" that are hidden within each of us. Whether we are looking to write a book, make art, find new ways to address challenges in our work, embark on a dream long deferred, or simply infuse our everyday lives with more mindfulness and passion."
Paradise Delivered Review November 2020 – Final Thoughts
The November Paradise Delivered is quite lovely. It provided me with a few items I was in need of and, for me personally, that adds value to the box. I always appreciate the boxes that include books, and I am very excited about the cookies and cream snack – HA! It really is a great box given the price point and the value we receive. It would make a wonderful gift!
-AYOB Sarah