PelikanBox Review September 2016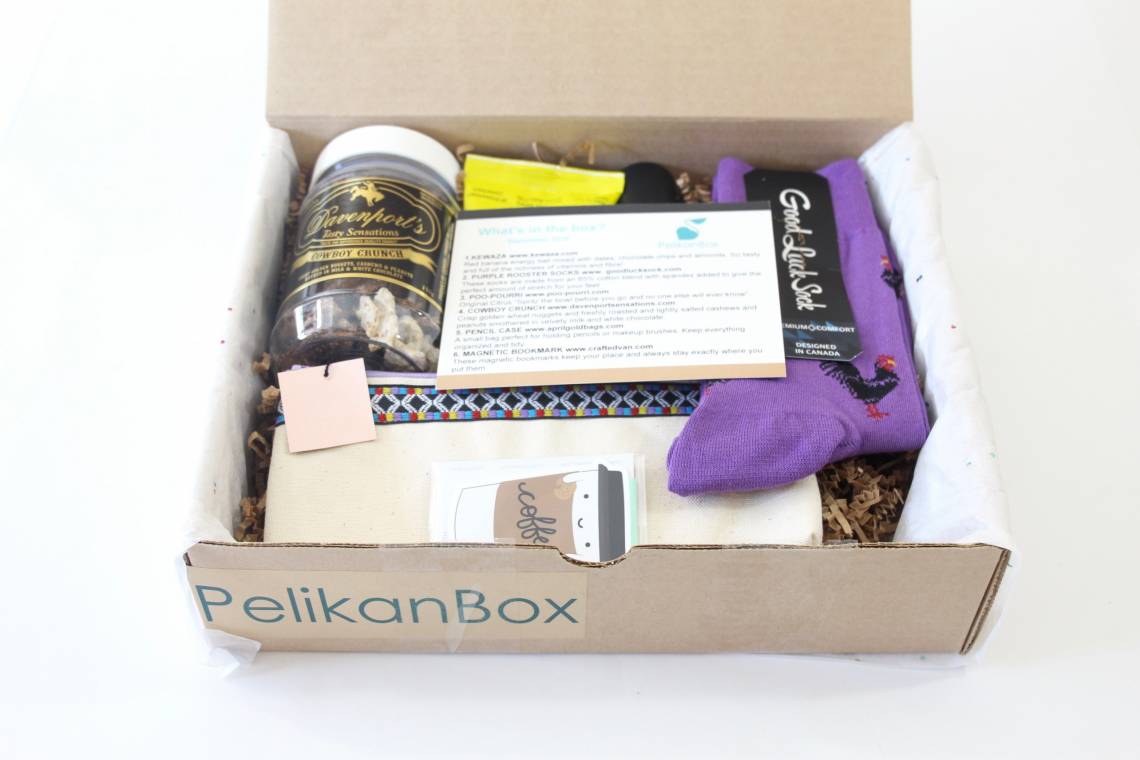 PelikanBox Review September 2016
Even though my college days are far behind me, I secretly love College Subscription Boxes. Maybe it's because they bring back memories, or maybe it's because they include such fun items. Either way, I love reviewing them. Today we are looking at PelikanBox, a brand new Canadian subscription box for college students. This is their very first box……so exciting!
PelikanBox Details
If you aren't familiar with PelikanBox it is a monthly college care package. Each box contains all the things a student needs to show you care! Pelikan Box ships from September to April each year, taking the summer semester off.
The Box: PelikanBox
Cost: $34.99
What You Get: Each box contains at least 5 items hand-picked for Canadian college and university students. Every box includes a snack, a treat, school supplies, and other surprise  items.
Ships to: Canada
Shipping Cost: $9.99
YouTube Unboxing: CLICK HERE
Subscription Details
When you sign up for a PelikanBox you can choose a male or female box. Other than that, things are pretty straight forward. They offer monthly subscription plans, and ship boxes from September to April each year. Let's have a look at what we received in the very first box:
Kewaza Energy Balls
Red banana energy ball mixed with dates, chocolate chips and almonds. So tasty and full of the richness of vitamins and fibre. 
Energy snacks are a must for any college box. Perfect for late night study sessions, long days in the library, early mornings, etc. These little bites only contain 4 ingredients. Seriously, only 4! I love it!!
Purple Rooster Socks – Good Luck Socks
These socks are made from an 85% cotton blend with spandex added to give the perfect amount of stretch for your feet. 
Normally I'm not a fan of socks like this, but these ones are actually kind of fun. Rooster socks have huge potential to be ugly, but the purple/black combination definitely makes them a little more stylish. And…..socks are a great idea for college boxes. New socks are always appreciated.
Po0-Pourri Before You Go Toilet Spray
Original Citrus "Spritz the bowl before you go and no one else will know".
This is hilarious, but I love it. First of all, it smells really, really good. I have been spraying it in the bathroom all day today, just because. And secondly, this is perfect for dorms, shared bathrooms, etc.
Cowboy Crunch – Tasty Sensations
Crisp golden wheat nuggets and freshly roasted and lightly salted cashews and peanuts smothered in velvety milk and white chocolate. 
If there's one thing I know, it's that a chocolatey snack is the best motivation for long study sessions. And this chocolatey snack, in particular, is deadly. I had a little taste even, though I'm on a no-sugar diet, and let me tell you, it is A.M.A.Z.I.N.G.
April Gold Pencil Case
A small bag perfect for holding pencils or makeup brushes. Keep everything organized and tidy.
Personally, I think every college box should include some sort of office supply item. Whether it be notebooks, pens, highlighters, or in this case a pencil bag.  And the nice thing about this one is the fact that it is a multi-tasker. If you don't need a pencil-case you can use it for your makeup.
Magnetic Bookmark
These magnetic bookmarks keep your place and always stay exactly where you put them. 
I have received a bookmark from Crafted Van before, but this one is WAY cuter. The Kawaii style coffee cup was a great idea. Who doesn't love cute little coffee cups. Perfect for keeping your place in text books. I am going to use it in my day planner.
PelikanBox Review September 2016 – Final Thoughts
For a first box I think they are off to a great start! We received snacks, school supplies, and essentials. All the things I like to see in my college subscription boxes. They included a product card, packaged things nicely, and introduced me to some new products – Poo-Pourri…..#awesome. I also really like the idea that they take the summer off. It really makes it feel like school box,  and I don't know of any other college boxes with the same shipping schedule. In regards to the products specifically, I really like all of them. The snacks are really good, the bookmark is too cute for words, the pencil-case is practical yet stylish, and socks are always appreciated. Definitely looking forward to seeing more from this box.
XOXO
Explore.
Save.
Enjoy!
Sign up for a free account on A Year of Boxes to receive exclusive offers, be added to our monthly mailing list, and much more! We are always adding features to improve the experience for our users, from their valuable feedback!
Join Today!