Penny + Grace Review August 2021
Penny + Grace is a monthly jewelry subscription. For $24.99 they'll send you a trio (3) of their hottest, trendiest jewelry picks. Share your new accessories with friends, or keep them all to yourself! All items are yours to keep, and every order has a guaranteed retail value of $55.00+. They kindly sent us this box for review.
I've mentioned this a few times in previous reviews, but Penny + Grace is a special little treat to myself. It's different from other subscriptions I receive which provide me with fun new products, daily essentials, things to use around the house, etc….. Penny + Grace is purely a gift, and a fun way to brighten my day. Do I NEED a new necklace every month? Not necessarily, but it's an inexpensive way to make me feel special. New jewelry is a great way to dress up an outfit and make yourself feel put together. That right there is one of the reasons I LOVE this subscription so darn much!
Subscription Details
Penny + Grace subscriptions are available in 18k Yellow Gold, Silver, + 18k Rose Gold options. Your color preference can be changed at any time throughout the life of your subscription within your account portal.
Each monthly order comes neatly packed in a convenient signature faux leather clutch.
Fear of commitment? No problem, you can skip or cancel your deliveries at any time.
All jewelry is 100% Lead and Nickel Free – Perfect for those with sensitive skin.
As mentioned above, each monthly order comes neatly packed in a convenient signature faux leather clutch. This month we received beige. I would LOVE to see some seasonal color options in the future:)
Here's a closer look at the pieces I received in the August Penny + Grace package…..
Ring
I love, love, love this month's ring! They are definitely starting to branch out in regards to ring styles. They used to focus on small, delicate rings and we are slowly starting to see some bigger statement pieces. I love a mixture of the two!
Necklace
I am also really loving this necklace. It's beautiful in gold and it's something I can wear daily. It's not too dainty or two blingy….it's just right. I could even wear it with leggings and a tee. I love versatile pieces!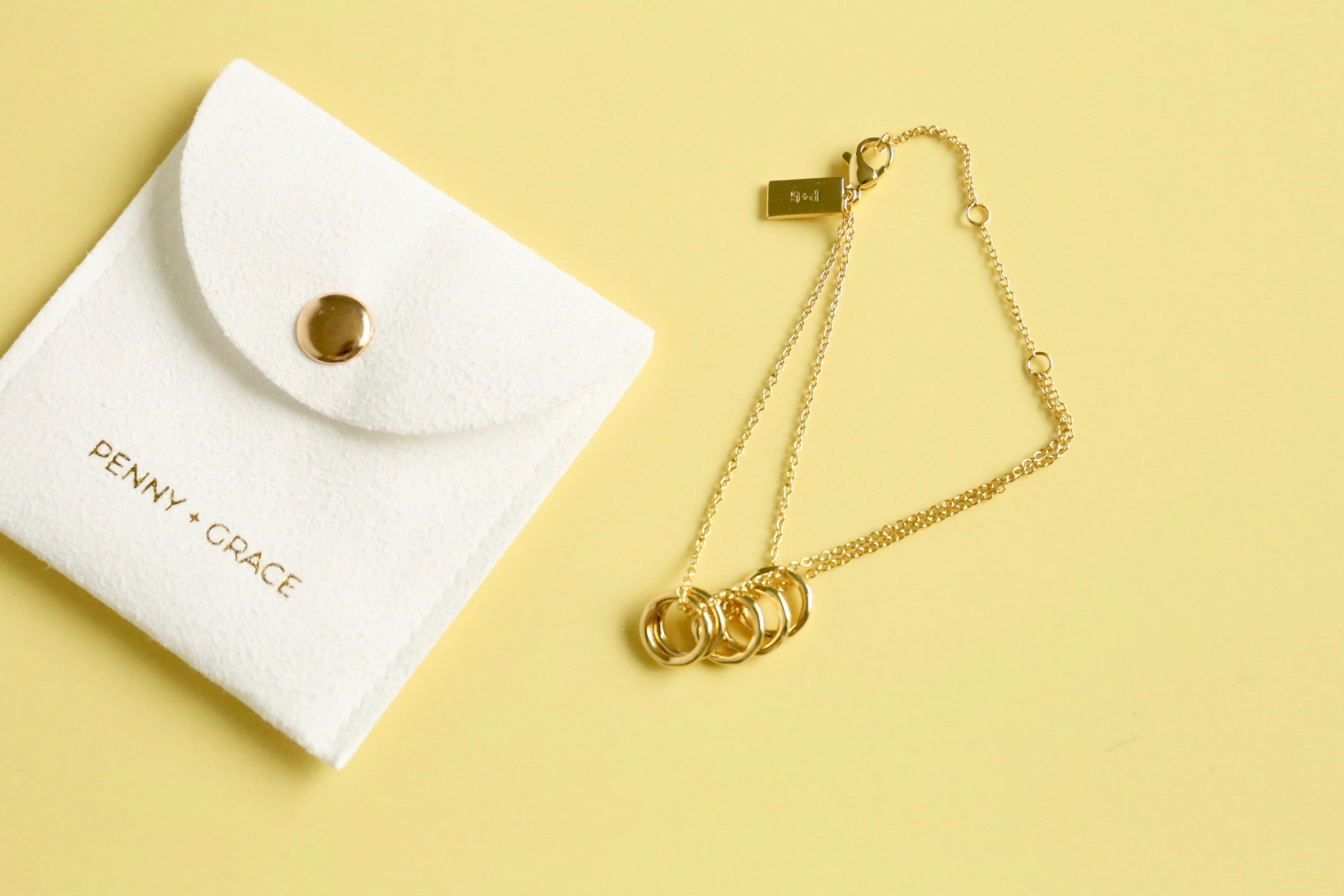 Bracelet
I'm not a huge fan of bracelets and would have loved to see a pair of earrings in its place, but I am certainly not complaining. I am well aware of the fact that we often receive bracelets in our Penny + Grace boxes and even if I'm not a fan, it's kind of nice to have a few options in my jewelry collection….just in case.
Penny + Grace Review August 2021 – Final Thoughts
My August Penny + Grace delivery brought with it two LOVES and one maybe. The necklace and the ring are absolutely perfect for my style preferences. The bracelet on the other hand, isn't something I am in love with, but I'm still happy to add it to my jewelry collection.
Keep this one on your list, whether it be a gift for yourself or your best friend. It's reasonably priced and jewelry always makes a great present.
-AYOB Sarah