Penny + Grace Review December 2021
Penny + Grace is a monthly jewelry subscription. For $24.99 they'll send you a trio (3) of their hottest, trendiest jewelry picks. Share your new accessories with friends, or keep them all to yourself! All items are yours to keep, and every order has a guaranteed retail value of $55.00+. They kindly sent us this box for review.
Penny + Grace is currently my go-to jewelry subscription. I am yet to find one that compares…..though I am on the hunt. When it comes to Penny + Grace, I love the price point, I love the minimalist designs, and I love that we receive 3 pieces in each collection.
Subscription Details
Penny + Grace subscriptions are available in 18k Yellow Gold, Silver, + 18k Rose Gold options. Your color preference can be changed at any time throughout the life of your subscription within your account portal.
Each monthly order comes neatly packed in a convenient signature faux leather clutch.
Fear of commitment? No problem, you can skip or cancel your deliveries at any time.
All jewelry is 100% Lead and Nickel Free – Perfect for those with sensitive skin.
As mentioned above, each monthly order comes neatly packed in a convenient signature faux leather clutch. This month we received beige.
Here's a closer look at the pieces I received in the December Penny + Grace package…..
Necklace
I am SO in love with the necklace this month. It's definitely one of my favourites to date. The circular pendant is gorgeous and something I will wear on a regular basis. This fits my style preferences perfectly.
Earrings
Each month we either receive earrings or a bracelet and my favorite collections are those that include earrings because I LOVE the styles we receive, and the December earrings are no exception. These are absolutely perfect! Bigger than your typical stud, but small enough to wear daily.
Ring
This ring……this ring! It is so pretty and so perfect. I love the style, I love the width of the band, and I am loving it in gold! This is something I would wear as a wedding band when I don't want to wear my actual engagement ring.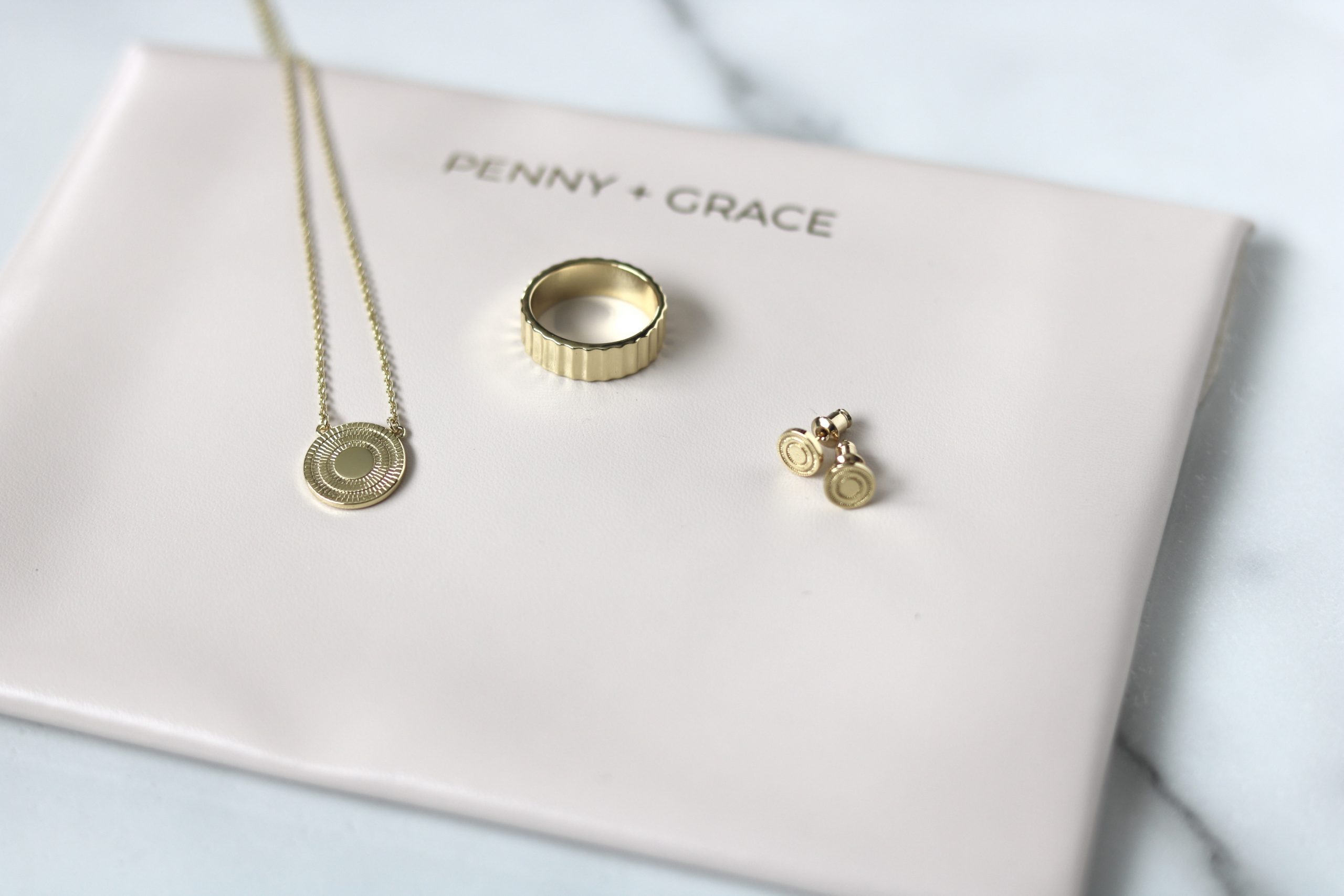 Penny + Grace Review December 2021 – Final Thoughts
The December Penny + Grace collection is definitely a favorite. All three pieces will be part of my regular jewelry rotation. I can actually see myself wearing these daily for the next little while. The styles are subtle enough to go with casual outfits yet pretty enough to pair with dresses and skirts. I absolutely love this month's selection, it will be hard to top this one.
-AYOB Sarah