Penny + Grace Review February 2019
Looking for jewelry that shines like the stars? Look no further than the February 2019 Penny + Grace box. Penny + Grace is a super neat subscription box that sends you three pieces of minimalistic jewelry every month! For $19.99 (USD) a month you get over $55+ (USD) worth of jewelry. You can also customize box. This includes your jewelry metal colour so it's the perfect fit for you, what ring size you are, and if you would like earrings or not.
Each month your jewelry comes in a super cute envelope. This is what you get:
Black Penny + Grace zippered pouch (doubles as a great makeup pouch)
What' Inside This Month? product card
3 pieces of jewelry (could include a necklace, bracelet, ring, or earrings)
3 smaller white pouches (perfect spot to keep your jewelry while traveling.
In the February box, I got three pieces of jewelry that are part of an adorable collection.
Starry Night Necklace – $26 USD
First up in the box was this gorgeous Starry Night Necklace in gold. The necklace is a beautiful delicate chain with two stars. One star is in the center of the necklace and is solid, and the other star is off to the side with a little stone in the center of it. I just love how gorgeous and delicate this necklace looks and the second little star gives it a unique touch!
Starry Night Bracelet – $22 USD
Next up is the matching bracelet to the Starry Night Necklace. The Starry Night Bracelet in gold has the two same stars as the necklace and is made with the same chain. I think this piece looks simply stunning on it's own, but would also work well paired with other bracelets or your favourite watch.
Starry Night Stud Earrings – $18 USD
To top off this starry collection is the Starry Night Stud Earrings in gold. These tiny little star studs are so dainty and sweet. How cute would these earrings look in a second or third earring hole and paired with some dangly or hoop earrings? Seriously SO precious.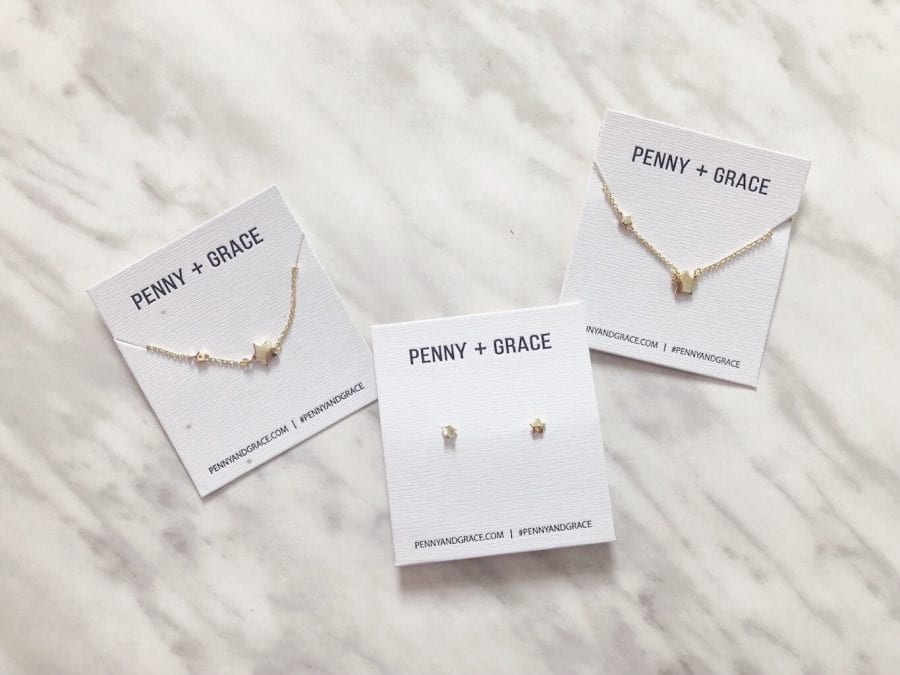 Penny + Grace Review February 2019 – Final Thoughts
I always look forward to the Penny + Grace box. First off it's dainty, modern style is exactly the type of jewelry I love. Secondly, it's the most simple way of updating your jewelry collection on the regular. Lastly, the quality is wonderful and stands up with time. This is a must-have box if you are a minimalistic jewelry fan!
The Trendy Files – www.thetrendyfiles.com