Penny + Grace Review July 2018
For only $19.99 USD a month Penny + Grace sends you at least $55 USD worth of gorgeous, minimalistic jewelry each month. Talk about a great deal! I absolutely love the style of their jewelry and that you can customize what colour metal you would like. In my July subscription box, I received three gorgeous pieces that are a matching set!
The subscription box doesn't technically come in a box, but rather a cute envelope. In that is a black pouch that has 'Penny + Grace' embroidered on it. Inside that pouch each piece of jewelry comes in a small white bag that are perfect for packing your jewelry for traveling afterwards.
Vero Dot Stud Earrings – $16 USD
This first piece in the July box are these adorable Vero Dot Stud Earrings in gold. These tiny earrings are the perfect pair of everyday studs. If you have multiple earring holes how cute would these look in the second hole with maybe a pair of gold hoops in the first? Great mix and match earrings!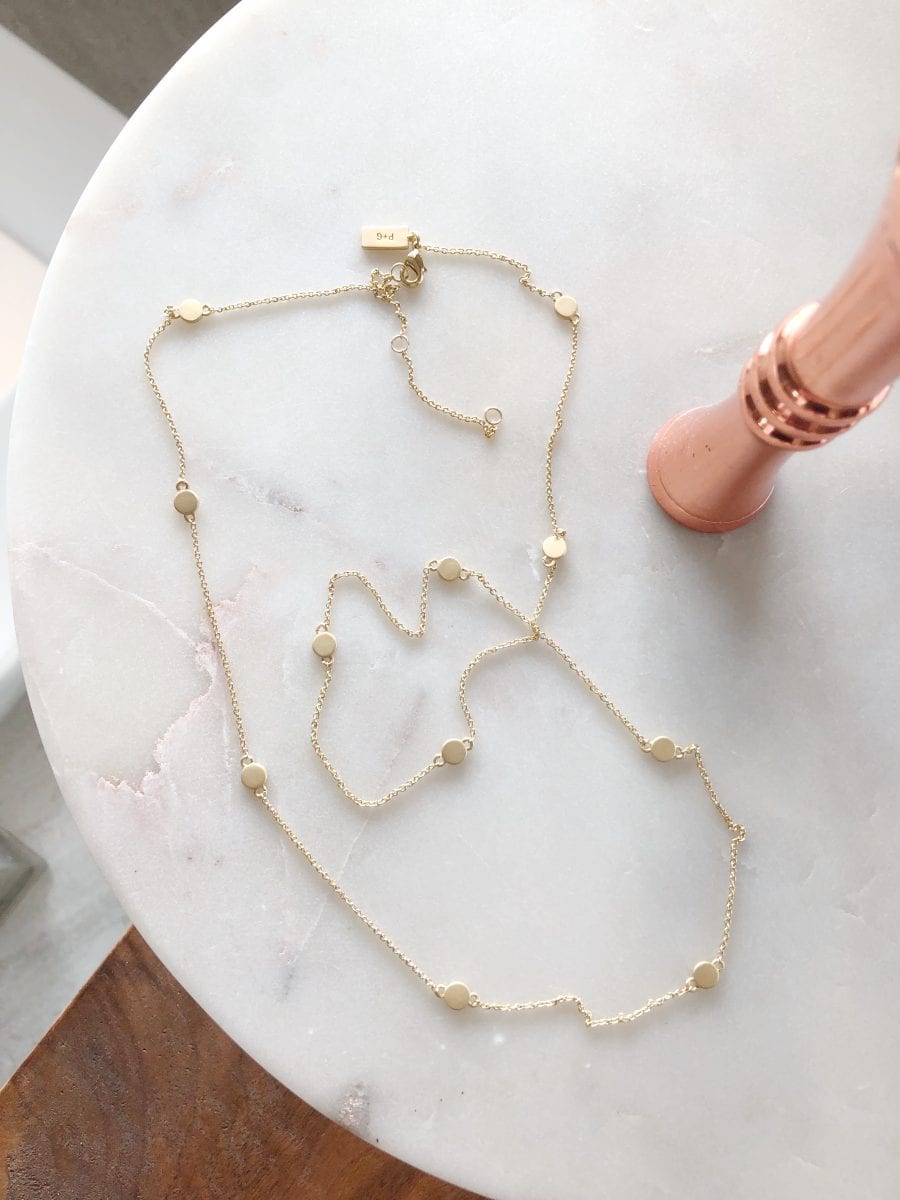 Vero Dot Necklace – $28 USD
My favourite jewelry item to receive are necklaces and I'm obsessed with this Vero Dot Necklace in gold. Not only is the style simply gorgeous, but it's super versatile. You can wear this either as a long single strand necklace or double it up and it becomes a super cute choker! A really great piece.
Vero Dot Ring- $18 USD
Last but certainly not least is the matching ring to the necklace and earrings. This adorable Vero Dot Ring is totally simple, but very detailed at the same time. I love the 'scalloped' edges of this ring. It's great for stacking or just wearing it on its own.
Penny + Grace Review July 2018 – Final Thoughts
I love this matching jewelry set from Penny + Grace. Each piece is extremely gorgeous and good quality. Plus, who doesn't love getting surprise jewelry sent to you each month in cute packaging. I highly recommend checking this box out for yourself!
The Trendy Files – www.thetrendyfiles.com