Penny + Grace Review November 2018
Penny + Grace's November 2018 subscription box totally has all the nature vibes. But before I dig into exactly what you get let's go over how the Penny + Grace subscription box works.
Penny + Grace is a monthly subscription box that sends you three beautiful, minimalist pieces of jewelry. Each piece is packed in small individual white baggys that are all put in a convenient black carrying pouch. You pay only $19.99 USD / month and you receive at least $55 USD worth of product! You can customize your profile by choosing if you want earrings, what's your ring size, and what metal colour you'd like. For the metal you can choose Gold, Silver, Rose Gold, or Surprise Me to get a random colour each month. And there's no risk as you can cancel at any time.
In the November 2018 box I received two necklaces and one bracelet all in Gold.
Campfire Stamped Necklace – $22
One of Penny + Grace's staple pieces are their stamped necklaces. In the November box I received this adorable gold necklace with a campfire on it. This piece would work perfectly with your favourite cozy outdoor outfits. I can totally see it paired with a cute plaid top and some blue jeans!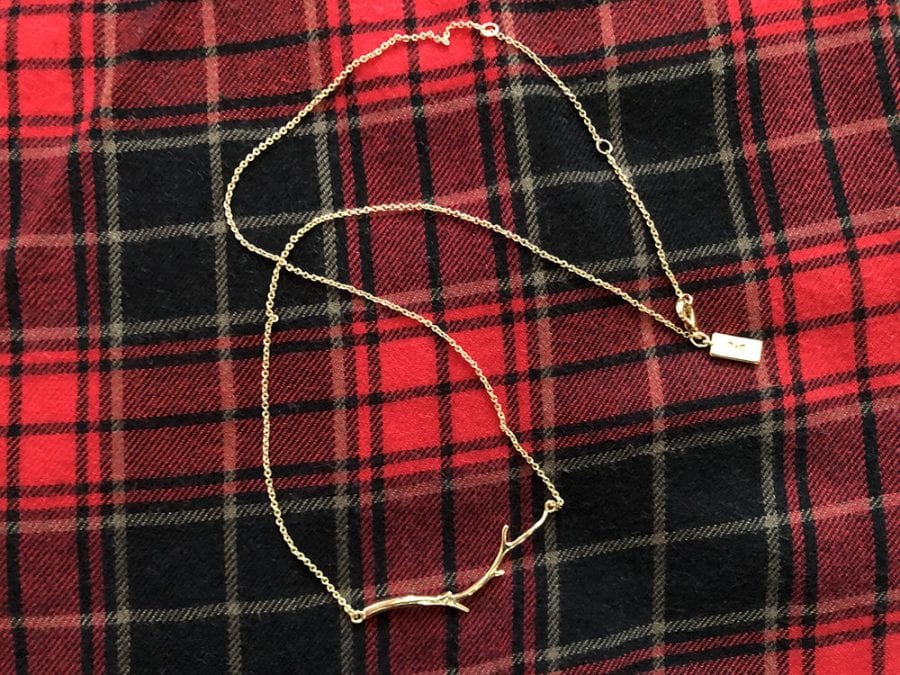 Isabella Branch Necklace – $26
The next piece in the box is actually part of set. This piece is the Isabella Branch Necklace in gold. This necklace is a dainty gold chain with a gorgeous branch design in the center. I absolutely love this necklace and think it would look lovely paired with the campfire stamped necklace.
Isabella Branch Bracelet – $22
Last up is the matching bracelet to the Isabella Branch Necklace. This bracelet is made with the same gold chain and branch design. I think this piece is just so gorgeous and looks so dainty and delicate on. It would also look great stacked with any of the other Penny + Grace bracelets.
Penny + Grace Review November 2018 – Final Thoughts
Overall this box has a great theme and I love each piece. As always the quality of the jewelry is wonderful and I love how easily you can mix and match piece from previous boxes. If you're looking to update your jewelry collection I'd definitely recommend Penny + Grace!
The Trendy Files – www.thetrendyfiles.com