Penny + Grace Review September 2018
Penny + Grace's September 2018 subscription box is seriously giving me all the magical / Halloween vibes. If you haven't come across them before, for only $19.95 USD a month Penny + Grace will send you a pouch with three jewelry pieces valuing at least $55 USD. And you can customize your selection with what colour metal you would like. Choose from Rose Gold, Silver, Gold, or if you want something different each month pick Surprise Me!
Each 'box' actually comes in an envelope with a black Penny + Grace pouch inside. Inside the pouch you'll receive a "What's inside this month?" item card with the name and value of each piece and three smaller white pouches with a piece of jewelry in each.
Salem Stamped Cat Necklace – $22 USD
The first item I pulled out was the Salem Stamped Cat Necklace in Silver. This adorable piece totally reminds me of Sabrina the Teenage Witch and I'm LOVING that. The silver circle pendant is stamped with an adorable cat outline and hung on a pretty silver chain. It really is the perfect piece to wear all of October leading up to Halloween.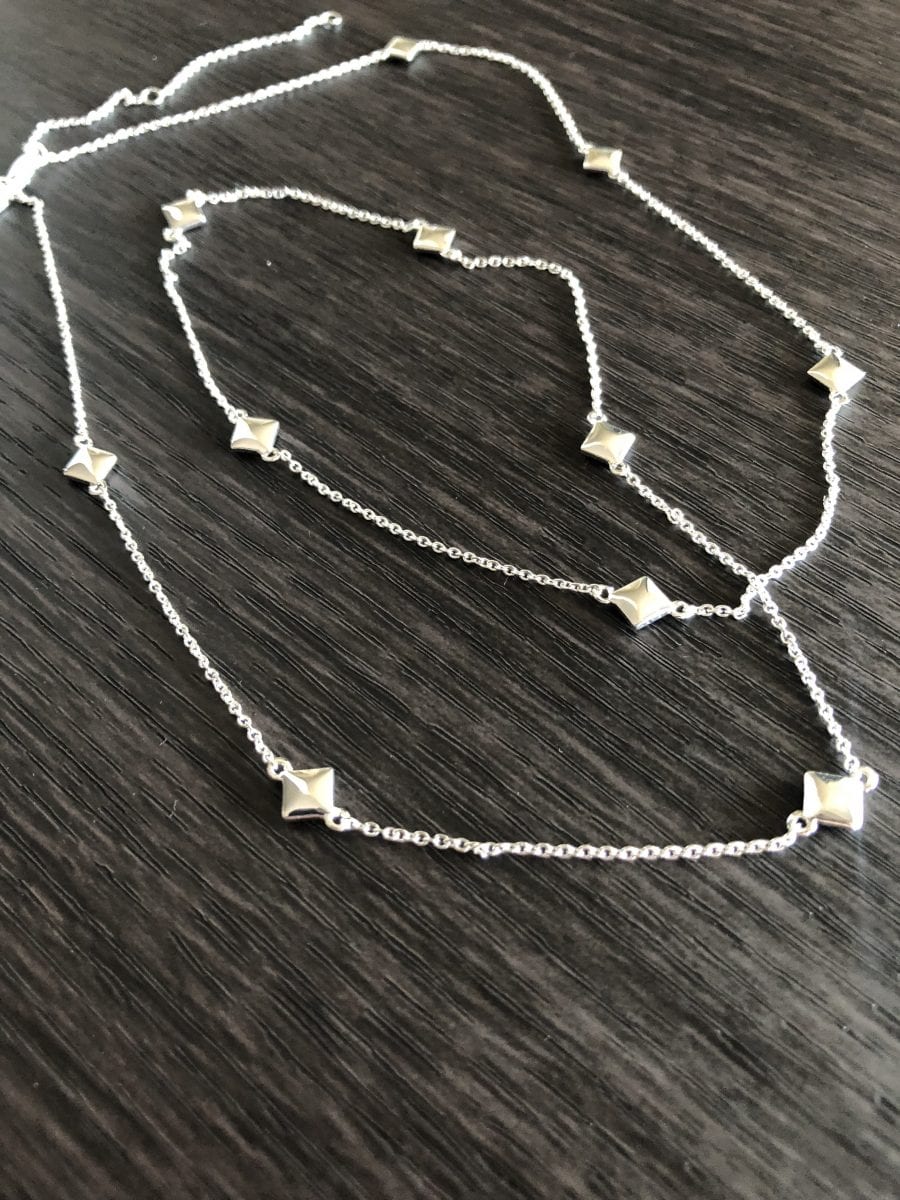 Mia Square Necklace – $26 USD
Next up is a piece that is part of a set, the Mia Square necklace in silver. This long delicate necklace is decorated in little squares that could totally pass as magical sparkles! This necklace is also long enough to double up and wear as a choker.
Mia Square Bracelet – $18 USD
Lastly, is the matching Mia Square Bracelet in Silver to the necklace. This bracelet has the same little silver squares and is the perfect match to the Mia Square Necklace. I think this bracelet would look super cute paired with other bracelets or alone for just a touch of sparkle.
Penny + Grace Review September 2018 – Final Thoughts
As someone who loves to wear jewelry, but can get bored with the same thing everyday, Penny + Grace is a great box to choose. I am a big fan of dainty, modern jewelry and that is exactly the Penny + Grace style. I love the September box in the silver colour as I think it's the perfect fit for the jewelry designs. Gorgeous jewelry for a great price! Can't wait to see October's collection.
The Trendy Files – www.thetrendyfiles.com