Pipsticks Kids Sticker Club Review April 2022
Pipsticks is a monthly five-star subscription for sticker lovers of all ages! Pipstickers are the hottest new stickers on the market and each month they unveil a new collection of designs to thousands of subscribers across the world! Pipsticks offer subscriptions for both kids and adults because stickers aren't just for kids!
What You Get: Pipsticks subscribers will receive a sparkly pack with a reusable holographic storage pouch, an issue of Pippy (a zine for sticker lovers), +7 sheets (depending on subscription) of the dreamiest stickers you can imagine, and other paper goodies. Pipsticks subscribers also receive a 5% discount on the online shop, a ticket to the subscriber raffle, exclusive coupons, and printables. You'll also get access to their VIP Sticker Club Facebook group where you can connect with other sticker lovers, get DIY and craft ideas, weigh in on Pipstickers that are being designed, and swap stickers for your collection!
Get over $45 of stickers for $17.95 with their Pipsticks Classic pack, or choose their Petite pack for $11.95! They also offer printable subscriptions for kids, pros, and planners.
The stickers are different between the two packs and are curated specifically to the target age groups.
All Sticker Packs ship worldwide from San Luis Obispo, CA starting at $2 US
*They kindly sent us this Kids Sticker Club Classic Subscription Pack to review*
I am always so excited to receive the Kids Pipsticks pack as their stickers are so unique and special. I have always been sticker-obsessed and love to stick them to everything, share them with others (especially my nieces and students) and of course, collect them! I have encouraged many friends and colleagues to get back into stickers thanks to this fabulous subscription! I (we) are smitten with Pipsticks!
Each month Pipticks delivers their special stickers in a mesmerizing yellow holographic envelope with "Today just got awesome!" written in big letters on one side, and my mailing address on the other. Also, their hashtag #PIPSTICKS is written underneath, most likely placed as a reminder to tag any photos you take or to connect with other Pipstickers subscribers.
First, I found an issue of Little Pippy (Your Guide to Stickerland). I am obsessed with the rainbow almost leopard print design on the cover. They have the BEST designs!
April Sticker Club
First, we see an "April Sticker Club Meeting Agenda" with some suggestions on what you can do with your stickers when meeting up with friends. Also, there's a letter from the founder, Mo. Here's an excerpt: "Happy Spring! What are you doing now that the season is changing? Is it rainy where you are? Is it still cold? Even though we're lucky enough to go to the beach year-round in California, we're looking forward to the weather warming up so we don't have to wear our coats. These days, we've been spending time digging in the sand and "excavating" anything we find (or burying ourselves to find later!) There's such a fun sense of discovery and it's made me think a lot about just how incredible it must be to dig up things from pre-historic times. This month's stickers are all about that era, and we can't wait to see the things you create as you let your imagination run wild with them… Have fun!"
I am so excited to see prehistoric icons like dinosaurs in this pack! Who doesn't love dinosaurs?!
Spot the Difference & Coloring Contest
"Look at the two pictures below and spot 5 differences between them. Color the dinosaur above."
There's a "spot the difference" activity, a fun maze, some jokes and a cute dino to color.
Sticker Pics Page
"Show us your sticker pics!"
I think this page fits the theme perfectly and it will be a neat place to test out some new stickers.
"Use the symbol key below to write the correct letter to each line and decode the secret message."
The theme for April's Pipsticks Kids Pack is…
"The April Kids Sticker Club is guaranteed to inspire a sense of discovery! Dig up some prehistoric fun with disco woolly mammoths, the cutest rainbow volcanos, and so many fun primordial creatures! Your kids will giggle and squeal at these silly and fun super fresh designs!"
Dinosaurs… disco woolly mammoths… I am so excited!!
Now on to the most fun part – stickers!
Rawr-Fully Cute Stickers & Color-in Postcard
This month's paper goodie is a postcard! I love the sparkle of the postcard and the matching stickers are so cute. How sweet are these kiddos dressed up as dinos?!
Puffy Dinosaur Stickers
These Puffy dinosaurs are both cute and awesome, and remind me of my collection from when I was a kid! I love that they are shiny too. Adorable! I am obsessed with the flying pterodactyl and the itty-bitty brontosaurus! Annnnd there's a comet!
Go Bananas Scratch 'n Sniff (Banana Scent)
Scratch n' sniff stickers are still my favourite stickers because who doesn't love to smell deliciousness?! Mmm, these smell just like bananas! I love that this dino is wearing a tropical fruit hat and that the bananas have the cutest lil' faces!
Diggin' This Place & Cave Couture
I love that you can dress up these cave kids and small archeologists however you'd like! The cave couture cuties give me Flinstone vibes and I am obsessed with the baby sabre tooth tiger.
Triassic Troop & Prehistoric Pictures
I am obsessed with the names Pipstciks give their sticker sheets each month. These dinos are sweet and almost look cuddly! I love the prehistoric pictures, including the funky rainbow and stars! I am obsessed with this color palette too!
Bone-afied & Fantastic Fossils
Neon dinosaur bones are my favourite! The fantastic fossils are beautiful with their golden details.
Primordial Life & Lava At First Sight
These ancient insects are stunning! Lava, at first sight, is a play on 'love at first sight' and I am here for it! These stickers have to be my favourite as they are not only adorable, they have the cutest lil' faces and all the details down to the rock and leaves, or the sweetest rainbow volcano!
Open Wide & Afternoon Tea-Rex
These roaring dinosaur faces are so fun and they would be a fun filler to add to a calendar or agenda! I love that the 'tea-rexes' are having high tea! I love the 'lady' tea-rex donning her finest formal tea attire and the gentleman tea-rex with his eyeglass.
Woolly Good Time & We Shell Swim Minis
I am here for the woolly mammoths and their rollerskates!! I love their pastel coloring as they are so much cuter this way! And these tiny turtles… I love turtles!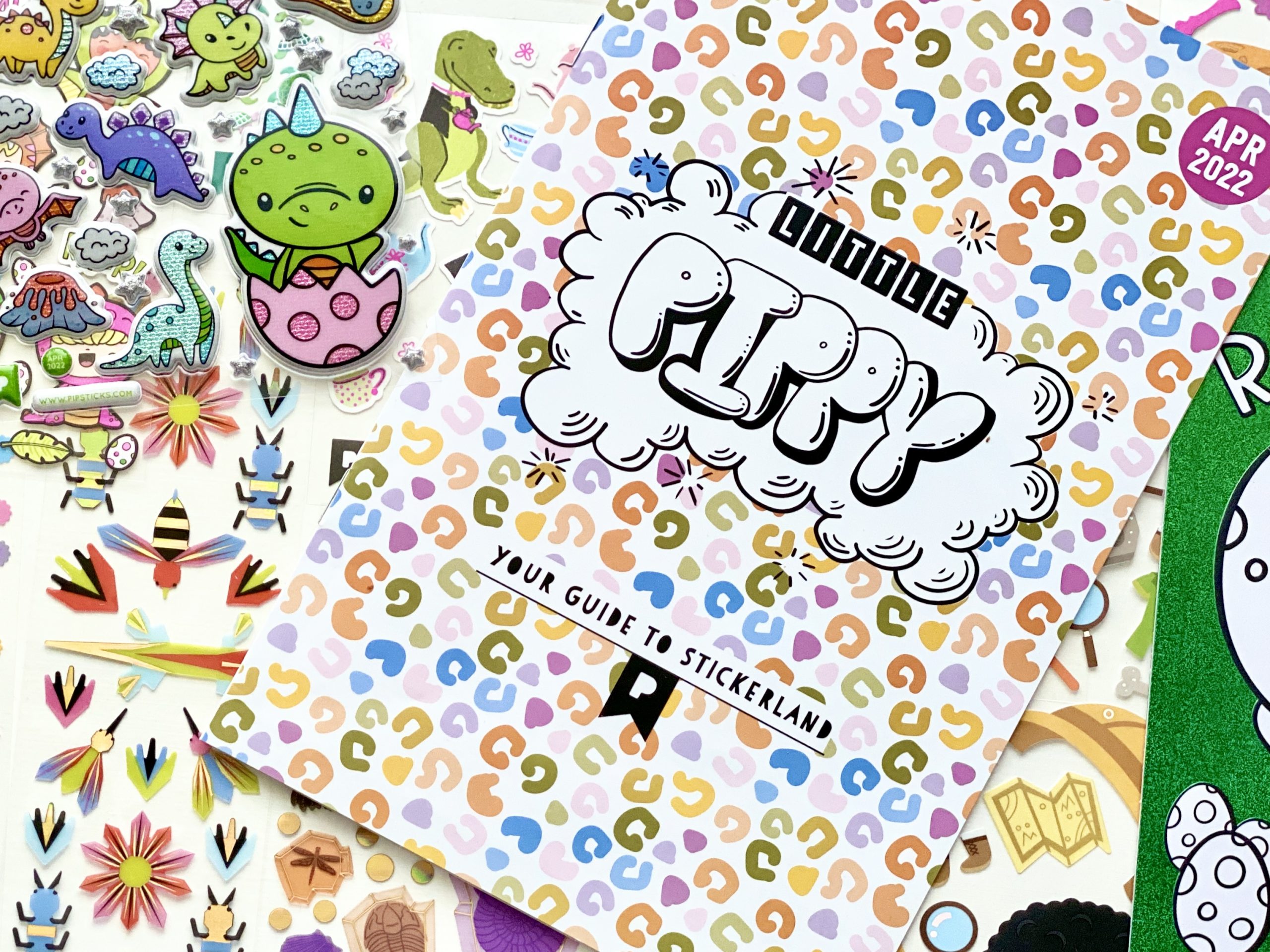 This Prehistoric-themed April Kids Pipsticks Subscription contained fifteen sheets of unique and high-quality stickers as well as a zine with activities and a postcard. I cannot tell you how much joy this subscription brings to my life (and those around me)! I adore their pun-ny sayings for stickers and sticker sheets and of course, their incredible artistic creations. These stickers always provide a chance for me to engage in conversation with my students or put a smile on someone's face. It's hard to choose a favourite sticker sheet this month but I adore the 'Lava at first sight' and 'Woolly good time' sheets! This is the perfect subscription for any-aged sticker lover in your life and I know that my students, family and myself are always excited to receive this package! Shall we start a sticker club?
Hayley Savanna – https://www.instagram.com/hayleysavanna/