Pipsticks Kids Sticker Club Review December 2021
Pipsticks is a monthly five-star subscription for sticker lovers of all ages! Pipstickers are the hottest new stickers on the market and each month they unveil a new collection of designs to thousands of subscribers across the world! Pipsticks offer subscriptions for both kids and adults because stickers aren't just for kids!
What You Get: Pipsticks subscribers will receive a sparkly pack with a reusable holographic storage pouch, an issue of Pippy (a zine for sticker lovers), +7 sheets (depending on subscription) of the dreamiest stickers you can imagine, and other paper goodies. Pipsticks subscribers also receive a 5% discount to the online shop, a ticket to the subscriber raffle, exclusive coupons, and printables. You'll also get access to their VIP Sticker Club Facebook group where you can connect with other sticker lovers, get DIY and craft ideas, weigh in on Pipstickers that are being designed, and swap stickers for your collection!
Get over $45 of stickers for $17.95 with their Pipsticks Classic pack, or choose their Petite pack for $11.95! They also offer printables subscriptions for kids, pros, and planners.
The stickers are different between the two packs and are curated specifically to the target age groups.
All Sticker Packs ship worldwide from San Luis Obispo, CA starting at $2 US
*They kindly sent us this Kids Sticker Club Classic Subscription Pack to review*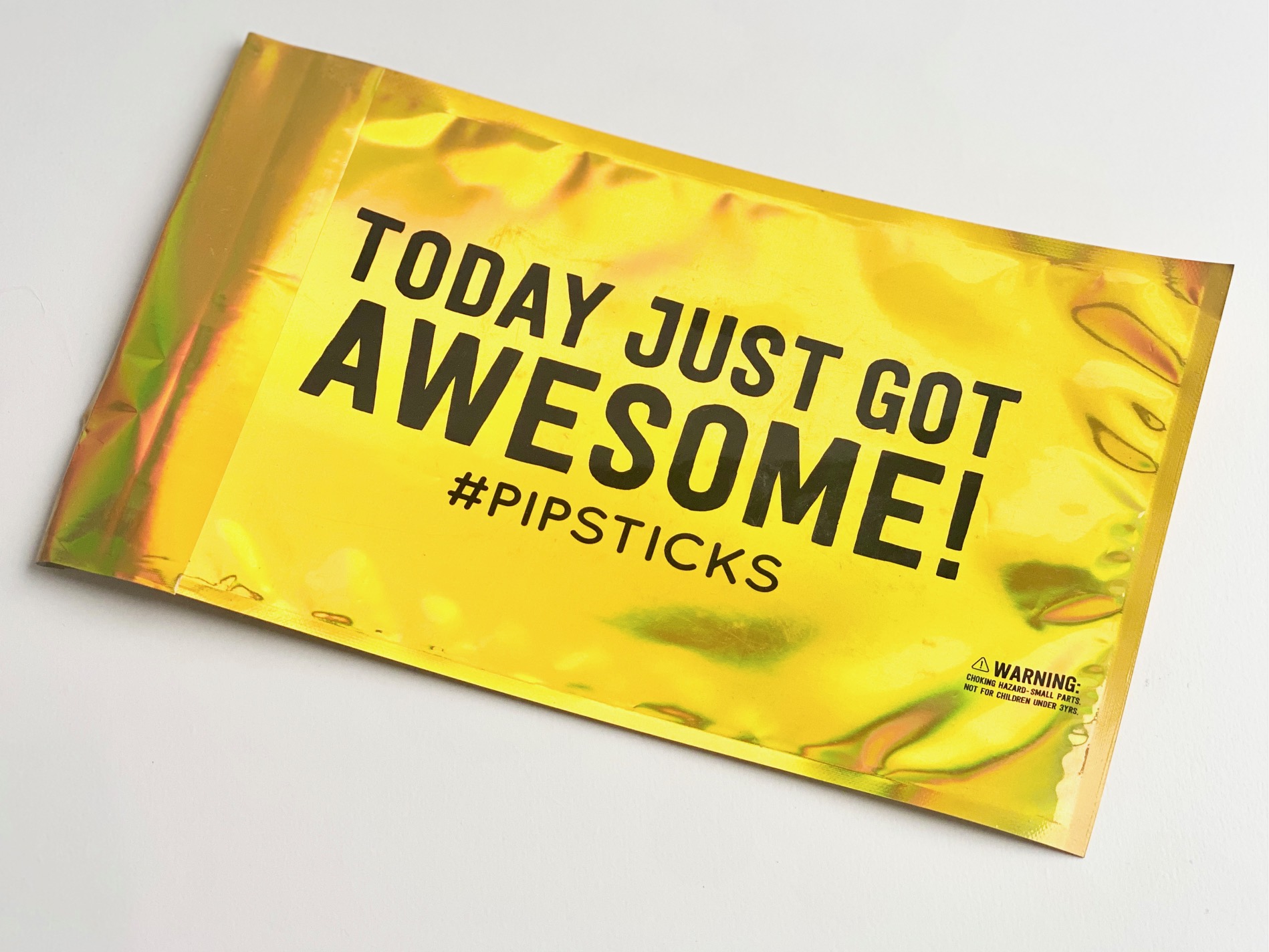 I was excited to receive the December Kids Pipsticks pack as their stickers are in a league of their own. I am sticker-obsessed and love to share them with others, especially my nieces and students.
My Kids Pipticks pack was delivered in a mesmerizing yellow holographic envelope with "Today just got awesome!" written in big letters on one side, and my mailing address on the other. Also, their hashtag #PIPSTICKS was written underneath, most likely placed as a reminder to tag any photos you take or to connect with other Pipstickers subscribers.
First, I found an issue of Little Pippy (Your Guide to Stickerland).
December Sticker Club
First, we see a "December Sticker Club Meeting Agenda" with some suggestions on what you can do with your stickers when meeting up with friends. Also, there's a letter from the founder, Mo. Here's an excerpt: "Happy December! Things around here are rocking and rolling as we get ready for the holidays and ship out thousands of sticker gifts to sticker lovers around the world! At home, the kids and I are hard at work, making gifts, and singing along to our favorite DollyParton Holiday record. This month's stickers are wacky and wild – just the thing to get your creativity flowing for the holidays!"
Each month Pipsticks sends out one pink ticket and two silver tickets in randomly-chosen Kids Sticker Packs! If subscribers receive any of those tickets, they win the listed prizes.
Spot the Difference & Coloring Contest
"Look at the two pictures below and spot 5 differences between them. Color the snails above."
There's a spot the difference activity, a fun maze, some jokes and some snails to color.
Sticker Pics Page
"Show us your sticker pics!"
I think this page is awesome and a nice place to test out some new stickers.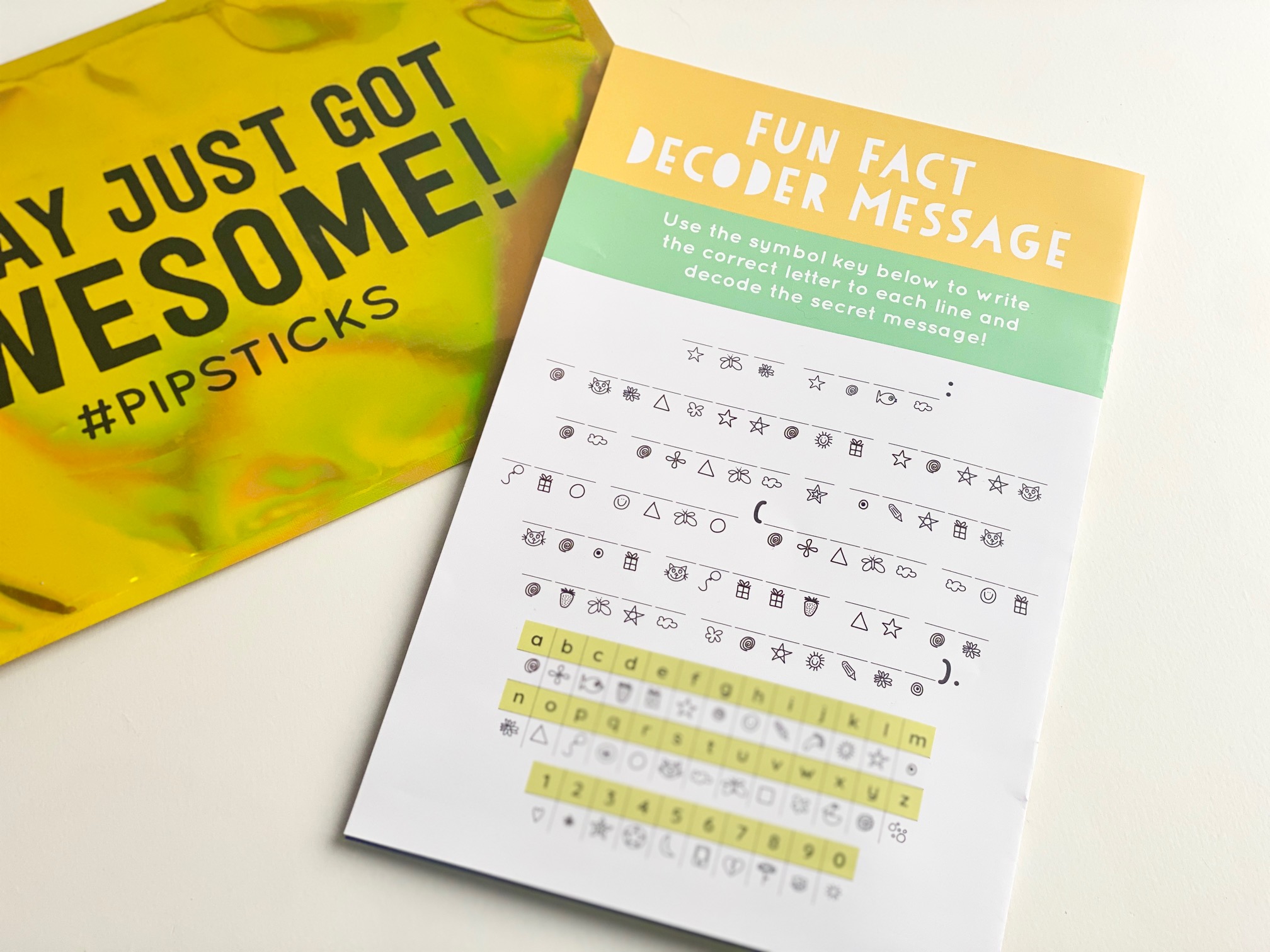 "Use the symbol key below to write the correct letter to each line and decode the secret message."
Now on to the most fun part – stickers! The theme for December's Pipsticks Kids Pack is…
"The December Kids Sticker Club is wacky and wild and packed with 🌮🐩🍓 15 of the shiniest, happiest sticker sheets (worth over $50!)Th ese colorful snow monsters and wonky houses are going to make your kids giggle and inspire their imaginations (not to mention get them off screens!)."
Puffy Skating Elephants
These Puffy Skating Elephants are so cute and awesome! I love that they are shiny and the sweaters have texture. Adorable!
Hippo A-Go-Go Stickers & Color-in Postcard
This month's paper goodie is a postcard! I love the shimmer of the postcard and the matching hippo stickers are iridescent. How sweet are their disco outfits?!
Instant Happiness Scratch 'n Sniff (Strawberry Scent)
I am here for these scratch n' sniff stickers! Mmm, these ones smell just like strawberries! I love that these instant ramen noodles are rainbow-coloured and happy! I am going to give these to a student I know will appreciate them.
Striking Symmetry & Polka Dot Alphabet
Perfect stickers to jazz up my planner and calendar, I can use them to make a card for someone!
Sluggish Weather & Dancing Dwellings
The slugs are too cute!
Pampered Poodles & Silly Mar-sip-ials
These poodles are so stylish with their rainbow space hair! Kangaroos and milkshakes?! So cute!
Saucy & Sassy & Monster Snow Day
These are so fun! I love spicy food and tacos are a favourite in hour house! I love all of the details they put into these. These snow monsters take me back to my childhood and make me want to run outside and jump in the snow right now!
Block Party & Cheeky Cheetahs
These shapes match the cover details of the Pippy magazine! They totally give me 90s 'Saved by the Bell' vibes! These cheetahs are neon pinkish-orange and they are stunning!
I See The Signs & Camera Minis
Oh my goodness these hand sign stickers are so cool! I also appreciate the play on the Ace of Base song title, "I Saw The Sign." These camera minis remind me of growing up and having to develop film.
This Wacky and Wild-themed December Kids Pipsticks Subscription contained fifteen sheets of unique and high-quality stickers as well as a zine with activities and a postcard. If you were to price out each sheet individually on the Pipsticks website you would be paying far more than the low monthly subscription fee. I love that all the stickers fit the theme perfectly. I am still in awe of the high-quality, well-designed, and colorful stickers I received and cannot wait to give them to friends (young and old), upcycle, send snail-mail and craft with them. This is the perfect subscription for any-aged sticker lover in your life and I sure know that my partner, son and I were excited to receive this pack!
Hayley Savanna – https://www.instagram.com/hayleysavanna/