Pipsticks Kids Sticker Club Review March 2022
Pipsticks is a monthly five-star subscription for sticker lovers of all ages! Pipstickers are the hottest new stickers on the market and each month they unveil a new collection of designs to thousands of subscribers across the world! Pipsticks offer subscriptions for both kids and adults because stickers aren't just for kids!
What You Get: Pipsticks subscribers will receive a sparkly pack with a reusable holographic storage pouch, an issue of Pippy (a zine for sticker lovers), +7 sheets (depending on subscription) of the dreamiest stickers you can imagine, and other paper goodies. Pipsticks subscribers also receive a 5% discount to the online shop, a ticket to the subscriber raffle, exclusive coupons, and printables. You'll also get access to their VIP Sticker Club Facebook group where you can connect with other sticker lovers, get DIY and craft ideas, weigh in on Pipstickers that are being designed, and swap stickers for your collection!
Get over $45 of stickers for $17.95 with their Pipsticks Classic pack, or choose their Petite pack for $11.95! They also offer printables subscriptions for kids, pros, and planners.
The stickers are different between the two packs and are curated specifically to the target age groups.
All Sticker Packs ship worldwide from San Luis Obispo, CA starting at $2 US
*They kindly sent us this Kids Sticker Club Classic Subscription Pack to review*
I was excited to receive the March Kids Pipsticks pack as their stickers are in a league of their own. I am sticker-obsessed and love to share them with others, especially my nieces and students.
My Kids Pipticks pack was delivered in a mesmerizing yellow holographic envelope with "Today just got awesome!" written in big letters on one side, and my mailing address on the other. Also, their hashtag #PIPSTICKS was written underneath, most likely placed as a reminder to tag any photos you take or to connect with other Pipstickers subscribers.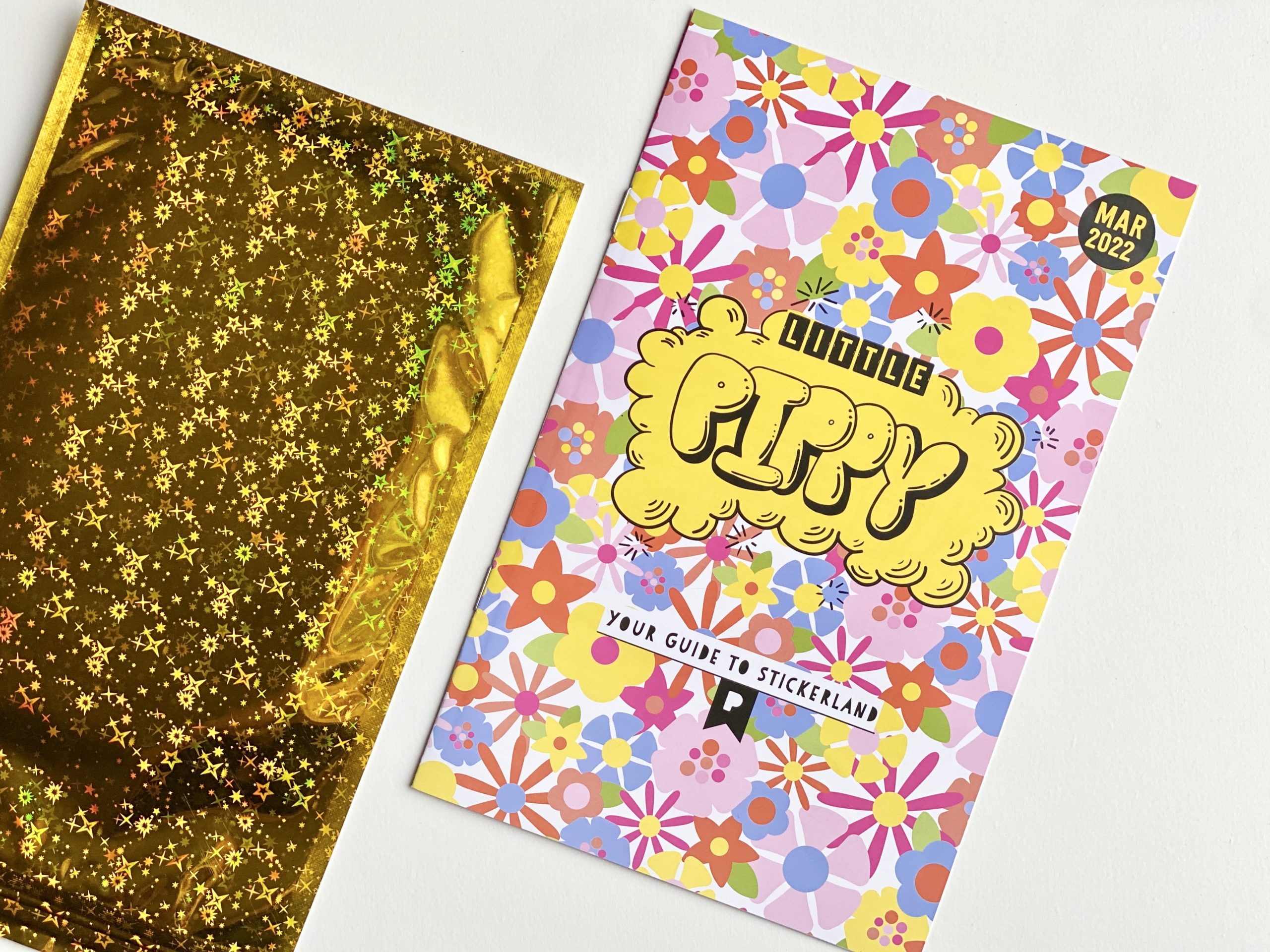 First, I found an issue of Little Pippy (Your Guide to Stickerland).
March Sticker Club
First, we see a "March Sticker Club Meeting Agenda" with some suggestions on what you can do with your stickers when meeting up with friends. Also, there's a letter from the founder, Mo. Here's an excerpt: "I love longer days (and more time to play outside) and new flowers – it feels like a little miracle any time I see something new bloom in our garden. We're starting to plant seeds and I'm already feeling a little impatient to see what's going to come from them! This month's pack is full of springtime stickers! I can't wait to see what kind of silly bugs you will invent. Have fun!"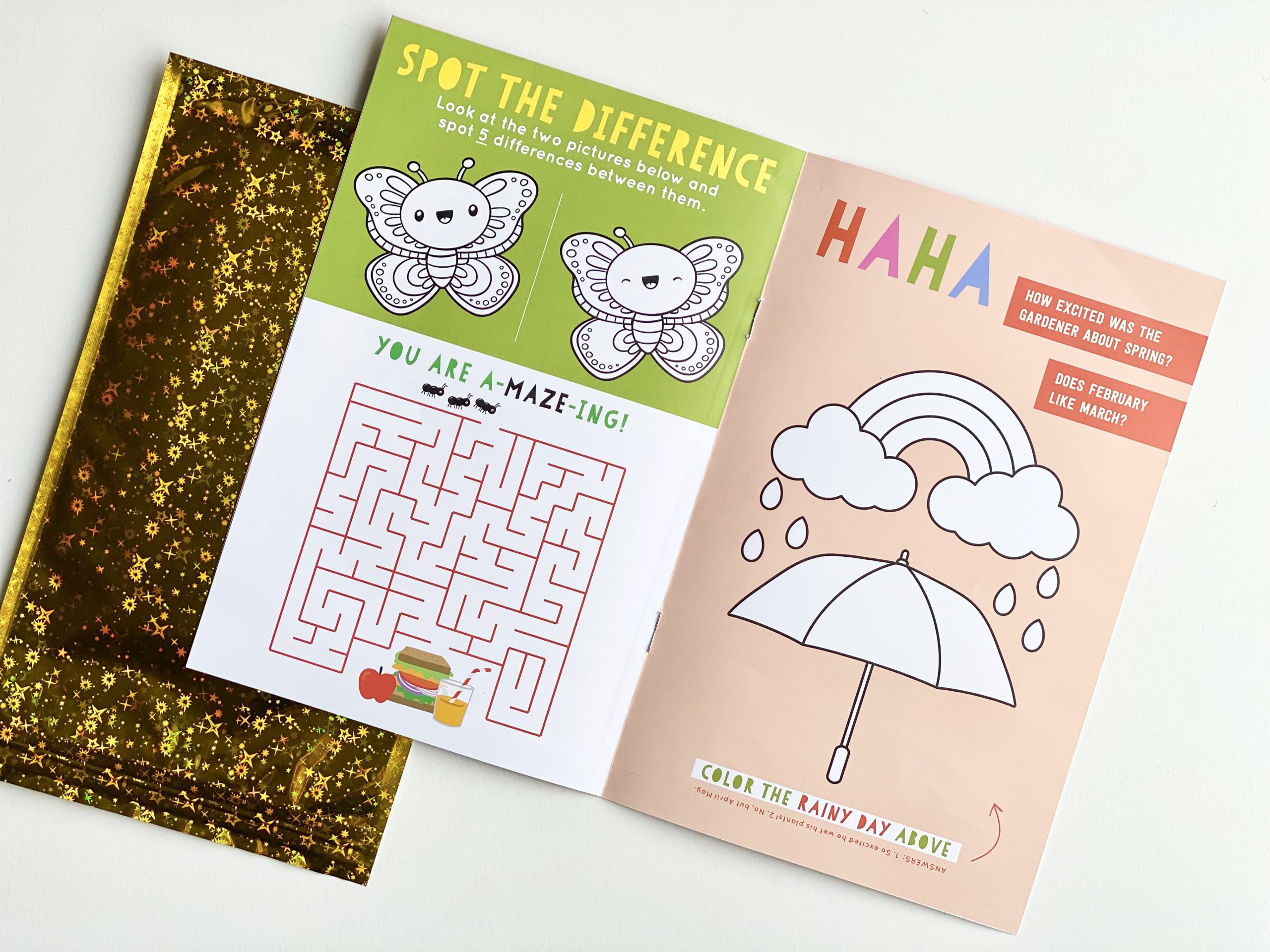 Spot the Difference & Coloring Contest
"Look at the two pictures below and spot 5 differences between them. Color the rainy day above."
There's a "spot the difference" activity, a fun maze, some jokes and some butterflies, a rainbow and umbrella to color.
Sticker Pics Page
"Show us your sticker pics!"
I think this page is awesome and a nice place to test out some new stickers.
"Use the symbol key below to write the correct letter to each line and decode the secret message."
Now on to the most fun part – stickers! The theme for March's Pipsticks Kids Pack is…
"The March Kids Sticker Club theme is perfect for springtime! This month's sticker sheets are colorful and fun with loads of stickers to keep you inspired and creative. You'll get fun little bugs (the classics – ladybugs, butterflies, and bees!), funny alligators, Puffy mushrooms, scratch n sniff coconut bubble tea, dress your own bunny, and lots more! Perfect for springtime crafting and card making!"
Bees & Butterflies Stickers & Color-in Kawaii Butterfly Postcard
This month's paper goodie is a postcard! I love the shimmer on the postcard and the matching bees and butterflies stickers are iridescent. How sweet are the faces on the flowers?!
Puffy Fancy Mushrooms & Frisky Fairies
These Puffy Fancy Mushrooms and Frisky Fairies are so cute and awesome! I love that they are shiny and whimsical. Adorable! My students will love these!
Bubbly Best-Teas Scratch 'n Sniff (Coconut Scent)
Scratch n' sniff stickers have to be my absolute favorite type of sticker! Mmm, these ones totally smell just like coconuts! I love that these are bubble teas with personalities, different characters and are happy! I am going to give these to my best-tea!
Croc-A-Smile & Just Ducky
These crocodiles are cute and not scary at all – a perfect addition to add to your agenda, spring card or calendar. These ducks are adorable and bring a smile to my face. I love their floral crowns and adornments.
Buzzin' Around & Bugged Out
The bugs are too cute! I am going to give my niece the Bugged Out sticker sheet so she can create her own cute bugs!
Got You Covered & Too Hip To Hop
I am obsessed with the names Pipstciks give their sticker sheets. These umbrellas are perfect for April in your agenda, and the bunny will be a lot of fun for my nephew to decorate.
Tons Of Fun & Dazzling Digits
These are so fun! My nephew will have 'tons of fun' with these trucks! These digits will be perfect for cards and my calendar.
Panda Minis, Don't Bug Me & Perfect Picnic
These pandas are so darn sweet! These beetles are beautiful and I love the unique designs on them. This picnic set will be so fun to give my niece as she is big into drawing a scene and using stickers are the final details. They have included everything you need for the perfect picnic, right down to the ants!!
This SpringTime themed March Kids Pipsticks Subscription contained fifteen sheets of unique and high-quality stickers as well as a zine with activities and a postcard. If you were to price out each sheet individually on the Pipsticks website you would be paying far more than the low monthly subscription fee. I love that all the stickers fit the theme perfectly. I am still in awe of the high-quality, well-designed, and colorful stickers I received and cannot wait to give them to friends (young and old), upcycle, send snail-mail and craft with them. This is the perfect subscription for any-aged sticker lover in your life and I know that myself, students and niece/nephew were excited to receive this pack!
Hayley Savanna – https://www.instagram.com/hayleysavanna/