Pipsticks Kids Sticker Club Review May 2022
Pipsticks is a monthly five-star subscription for sticker lovers of all ages! Pipstickers are the hottest new stickers on the market and each month they unveil a new collection of designs to thousands of subscribers across the world! Pipsticks offer subscriptions for both kids and adults because stickers aren't just for kids!
What You Get: Pipsticks subscribers will receive a sparkly pack with a reusable holographic storage pouch, an issue of Pippy (a zine for sticker lovers), +7 sheets (depending on subscription) of the dreamiest stickers you can imagine, and other paper goodies. Pipsticks subscribers also receive a 5% discount on the online shop, a ticket to the subscriber raffle, exclusive coupons, and printables. You'll also get access to their VIP Sticker Club Facebook group where you can connect with other sticker lovers, get DIY and craft ideas, weigh in on Pipstickers that are being designed, and swap stickers for your collection!
Get over $45 of stickers for $17.95 with their Pipsticks Classic pack, or choose their Petite pack for $11.95! They also offer printable subscriptions for kids, pros, and planners.
The stickers are different between the two packs and are curated specifically to the target age groups.
All Sticker Packs ship worldwide from San Luis Obispo, CA starting at $2 US
*They kindly sent us this Kids Sticker Club Classic Subscription Pack to review*
I look forward to receiving the Kids Pipsticks Stickers pack each month as their stickers are always high-quality, exceptionally designed and superior to others. I have always been sticker-obsessed and love to stick them to everything, share them with others (especially my nieces and students) and of course, collect them! I have connected with so many people and have got many friends and colleagues back into stickers thanks to this fabulous subscription!
Each month Pipticks delivers their special stickers in a mesmerizing yellow holographic envelope with "Today just got awesome!" written in big letters on one side, and my mailing address on the other. Also, their hashtag #PIPSTICKS is written underneath, most likely placed as a reminder to tag any photos you take or to connect with other Pipstickers subscribers.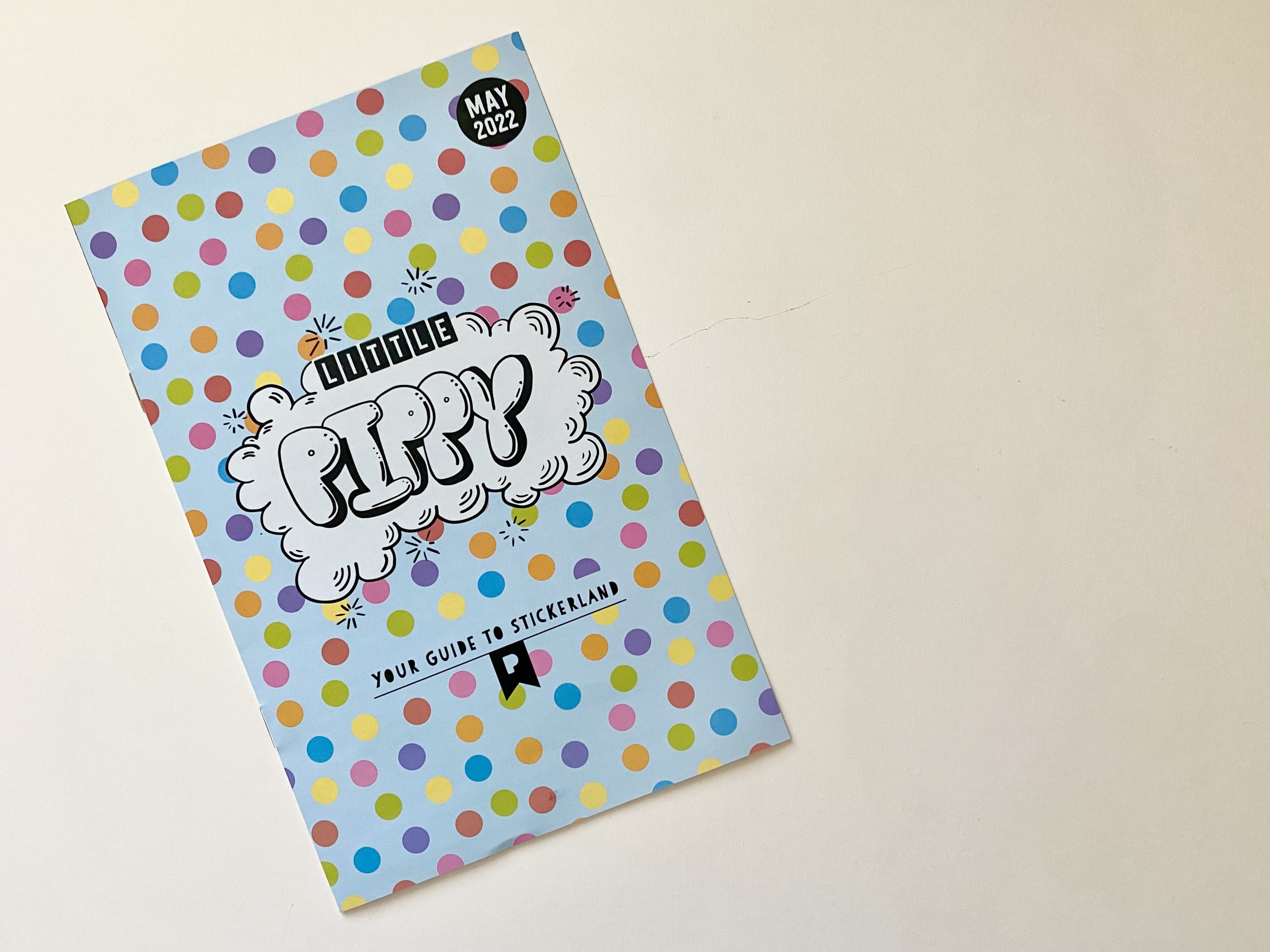 First, I found an issue of Little Pippy (Your Guide to Stickerland). I love polka dots, especially rainbow polka dots!
May Sticker Club
First, we see a "May Sticker Club Meeting Agenda" with some suggestions on what you can do with your stickers when meeting up with friends. Also, there's a letter from the founder, Mo.
Here's an excerpt: "What's your favorite color? My youngest son, Ike, always used to say his favorite color was rainbow as he just couldn't choose. My favorite color changes depending on the season, my mood, where I am and what I'm doing… Right now, it's yellow – which always makes me feel happy and sunshiney! This month's sticker designs were inspired by rainbows and the designs are perfect for creating colorful, imaginary worlds and vibrant sticker masterpieces!"
Spot the Difference & Coloring Contest
"Look at the two pictures below and spot 5 differences between them. Color the rainbow above."
There's a "spot the difference" activity, a fun maze, some jokes and a cute rainbow with clouds to colour.
Sticker Pics Page
"Show us your sticker pics!"
I think this page fits the theme perfectly and it will be a dandy place to test out some new stickers. I love the rainbows!
"Use the symbol key below to write the correct letter to each line and decode the secret message."
The theme for May's Pipsticks Kids Pack is…
"The May Kids Sticker Club is a total color explosion! From rainbow junk food to orange-scented scratch-n-sniff treats and super sweet rainbow clouds, this pack is perfect for any sticker lover no matter what their favorite color is! Kiddos will go bonkers for this SUPER bright SUPER colorful collection of stickers!"
I also might go bonkers over SUPER bright and colourful stickers! I am also rainbow-obsessed and we have pride month coming up in Alberta… perfect timing!
Now on to the most fun part – stickers!
Hanging With The 'Bows Stickers & Sleeping Sloth Color-in Postcard
This month's paper goodie is a postcard! I love the holographic shine of the postcard and the matching stickers are so cute. I already adore sloths and the ones sporting the rainbow shirts are my absolute favourite! Also, the sloths hanging from the rainbows are so cute!
Puffy Multicolor Munchies Stickers
These Puffy Munchies are both adorable and awesome, and are making me hungry as they are all my favourite snacks to grab when I have the munchies! I love that they are shiny too. I adore the noodle bowl with rainbows to represent noodles and the little rainbow fry boxes are so sweet. How about the pizza slices with polka dot rainbow pepperoni?
Anything Is Popsicle Scratch 'n Sniff (Orange Scent)
Scratch n' sniff stickers are still my favourite stickers because who doesn't love to smell deliciousness?! Mmm, these ones totally smell just like orange-flavoured candy! I love that Pipsticks always add some punny stickers in with their scratch n' sniff sets and the "just chillin'" or "anything is popsicle" have to be my fave! I also have to commend them as they think of everything – I mean look at the variety of cool summer treats here or if you look at the sheet as a whole it seems that the treats are floating in a pool with lifesavers around them. They are ingenious! The snow cones are my favourite.
Rockin' The Rainbows
I love that you can dress up these rainbow-haired kids however you'd like! There are lots of outfits to choose from and multiple rainbow-inspired accessories. I love the rainbow jeans and the rainbow dress with the sky-cloud bottom. So fun! My niece will absolutely love this set.
Technicolor Yawn & Ric-Rac Rainbows
The clouds yawning rainbows remind me of that OG Snapchat filter from back in the day! I think they are cute, peculiar and edgy, as Pipsticks often pushes limits in a tactful and creative way. The Ric-Rac Rainbows will be perfect to decorate my agenda or a handmade card with.
I'm So Jelly & Happy House
I say it often, but I am obsessed with how Pipsticks names their sticker sheets each month. These Jell-O desserts bring back major childhood memories as you knew that a party or family gathering was going to be lit if you saw a similar dessert there. I adore the jello cubes, parfaits and cups… so cute! These Happy House stickers are the sweetest and I would have loved to use these in a diorama or 2D drawing of my dream house as a child. I think I will save these for a day I am babysitting my nieces to do exactly that with them. Who doesn't love smiling pots, pans, appliances and cupboards?
Beguiling Beasts & Seas The Day
Unicorns definitely fit the rainbow theme perfectly and I love that they are different colours and some have golden embellishments. The sea creatures are cute and colourful and I love the rainbow jellyfish!
Clothes Minded & Edible Rainbows
I love these colourful clothes and perhaps the sheet name "clothes minded" is a play on closed-minded, as in, don't be close-minded? As an educator, I strive to be an ally to my LGBTQ2S+ connections. I love the rainbow T-shirt, high-top sneaker and purse! These edible rainbow treats are super fun and make me hungry. I especially love the rainbow-bun burgers with gold sesame seeds and popsicles with gold drips.
Radiant Racers, Rainbow High Tops & Crayon Minis
These rainbow racecars, high-top sneakers and mini crayons are so fun and they would be a fun filler to add to a calendar or agenda! I love that high-tops look just like Converse sneakers. I would love a rainbow pair of my own!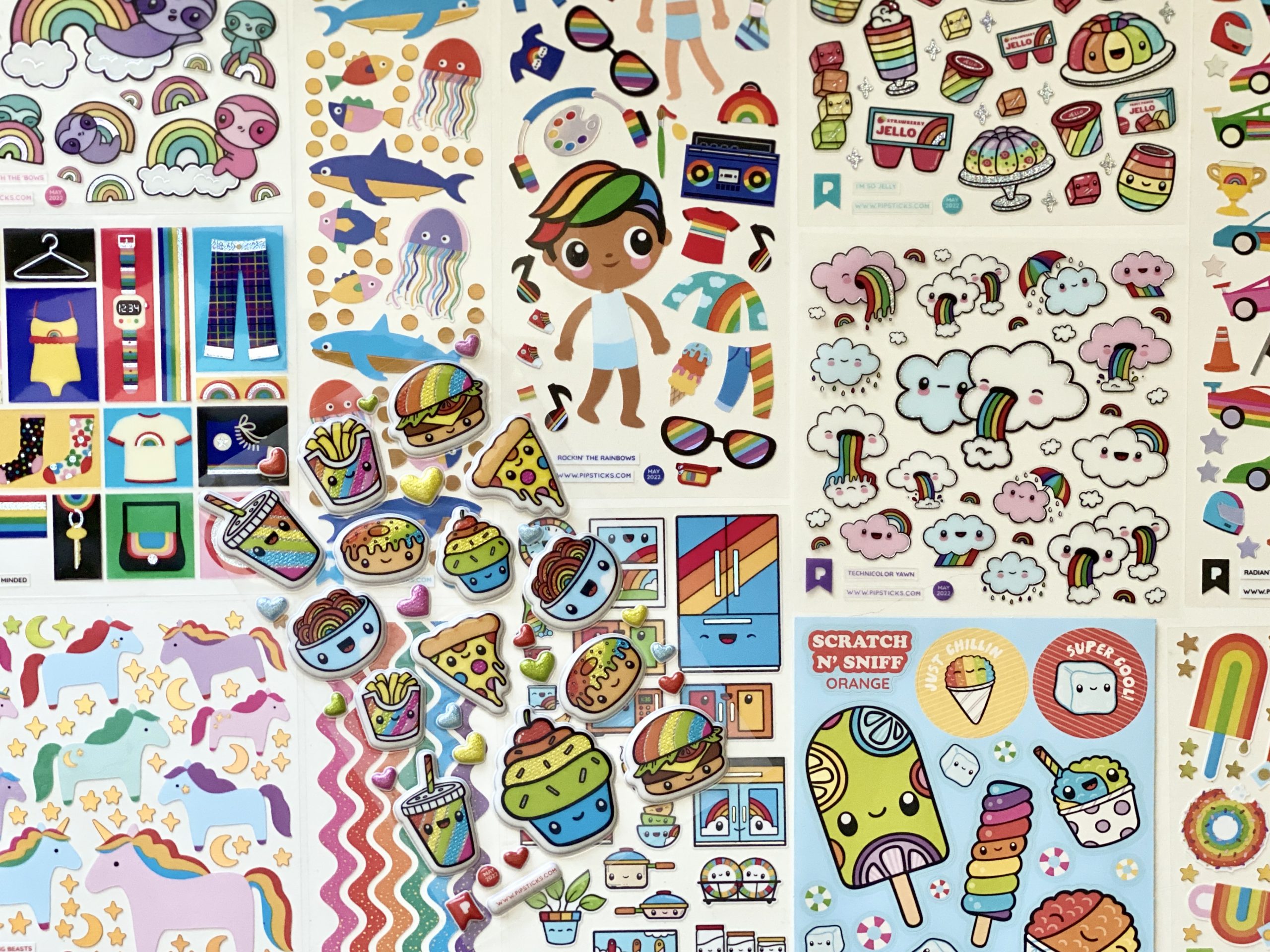 This super bright rainbow-themed May Kids Pipsticks Subscription contained fifteen sheets of extraordinary and high-quality stickers as well as a zine with activities and a postcard. It's hard to choose a favourite sticker sheet this month but I do love the Puffy Multicolor Munchies and I'm So Jelly sheets a lot! I cannot tell you how much happiness this subscription brings to my life (and those around me) as I adore their funny (punny) sayings and incredible artistic sticker designs. My neighbour, multiple colleagues and my sister-in-law all have Pipsticks subscriptions now as it is both affordable and so exciting to receive. This is the perfect subscription for any-aged sticker lover in your life and I know that my students, family and I are always excited to receive the Pipsticks package each month!
Hayley Savanna – https://www.instagram.com/hayleysavanna/