Pipsticks Pro Sticker Club Review April 2022
Pipsticks is a monthly five-star subscription for sticker lovers of all ages! Pipstickers are the hottest new stickers on the market and each month they unveil a new collection of designs to thousands of subscribers across the world! Pipsticks offer subscriptions for both kids and adults because stickers aren't just for kids!
What You Get: Pipsticks subscribers will receive a sparkly pack with a reusable holographic storage pouch, an issue of Pippy (a zine for sticker lovers), +7 sheets (depending on subscription) of the dreamiest stickers you can imagine, and other paper goodies. Pipsticks subscribers also receive a 5% discount on the online shop, a ticket to the subscriber raffle, exclusive coupons, and printables. You'll also get access to their VIP Sticker Club Facebook group where you can connect with other sticker lovers, get DIY and craft ideas, weigh in on Pipstickers that are being designed, and swap stickers for your collection!
Get over $48 of stickers for $17.95 with their Pipsticks Classic Pack, or choose their Petite Pack for $11.95! They also offer printable subscriptions for kids, pros, and planners.
The stickers are different between the two packs and are curated specifically to the target age groups.
*They kindly sent us this Pro Club Subscription Pack to review*
All Sticker Packs ship worldwide from San Luis Obispo, CA starting at $2 US.
I was excited to review Pipsticks as I have always been a little sticker-obsessed. I can recall sitting on the floor (probably 25 years ago) with my childhood best friend trading and bartering with one another for the best new stickers. I have fond memories thanks to stickers and opening the Pipsticks holographic envelope brought that familiar excitement back. Also, being trained in art, I appreciate well-created things…like these amazing stickers!
The Pipticks subscription was delivered in a mesmerizing holographic envelope with "Today just got happier!" written in big letters on one side, and my mailing address on the other. Also, their hashtag #PIPSTICKS was written underneath, most likely placed as a reminder to tag any photos you take or to connect with other Pipstickers subscribers.
"April's Pro Sticker Club theme is allllll about the happiness we create for ourselves! And what's happier than sheets of brightly colored, self-care-themed stickers! Avocados who have found the perfect work-life balance, fresh nail colours, and soothing essential oils. Bright and happy for a brand new Spring season!"
I love to show myself love through self-care!
Next, I found an issue of Pippy (a zine for sticker lovers).
First, we see some candid shots from the Pipsticks studio and a letter from the founder, Mo. Here's an excerpt:
"Here we are! Another month, another dreamy dose of sticker love:) People often chuckle or look confused when I tell them what I do. I can literally see the thoughts running through their head "Really? Stickers?!" The funny thing is that once they experience a bunch of Pipstickers, it's like a switch is flipped. They just GET IT. I've spent many hours ruminating on one big question over my career at Pips: What makes stickers so magical?
Is it the stickiness? The small size? The variety? The accessibility? I think it's all of these things. But more than that: it's how stickers make Us FEEL. Stickers are universally appealing and encompass every theme under the sun (from cats to noodles and rainbows to goats). This variety means we each collect the stickers that speak to us – it's personal!
With that in mind, stickers come in especially handy if we need an escape from the drudgery of adulting. Stickers are an awesome form of self-care – which so happens to be this month's theme!
So when it comes to self-care, don't forget: stickers aren't silly. Stickers aren't childish. Stickers are a brilliant little treasure – something that lets us channel and experience the moment happily and completely. Stickers make our hearts beat faster and have the incredible power to remind us that we are here, we can be happy, and we deserve allll the sticker love!"
I am SO excited to see this month's stickers…
Behind the scenes at the: PIPS DESIGN STUDIO & MAY STICKER SNEAK PEEK
This page outlines how their colors and ideas, illustrations, and designs come to life. I am in awe, Pipsticks are far more than just stickers and stationery! The theme for May… RAINBOW MONTH!
Creative Challenge – DIY Compliment Keeper & 30 Days of Self Love
This month's creative challenge idea is to make your own DIY Compliment Keeper with just a few basic supplies! A supply list and step-by-step instructions are included, as well as a few tips.
Pipsticks has also made this great list of self-love ideas – I can't wait to check them out!
MEET MARG!
"The definition of "self-care" has gotten way off course in the last few years (expensive spa treatments are NOT the only good thing we can do for ourselves!)! Marg has created the sweetest and gentlest self-care sheet for our Pro pack this month – her munchkins remind us to laugh, treat ourselves, and hydrate."
It's always cool to learn more about their collaboration and the inspiration and face behind it.
Now on to the most fun part – stickers!
You're on Fire Postcard
This month's paper goodie is a self-love postcard! How awesome is it?! You're on fire!
Simple Pleasures by Once More With Love
These stickers were made in collaboration with Marg from Once More With Love this month. I love these stunning self-love stickers. These have affirmations and I love the fun plant, the polaroid, frozen treat, paint set and battery. Love!
Dumpster Fires & Progress Over Perfection
Leave it to Pipsticks to embrace some humour when things don't go as planned… aka hilarious dumpster fire stickers! I also love these progress over perfection sayings as they shine a light on how it is fine to not be perfect as progress is more important than perfection.
Beauty Sleep & The Essentials
These stickers would make the perfect addition to any agenda or calendar as a perfect reminder to intentionally carve some time out for self-care. The sleep masks are the best!
Wild & Beautiful Alphabet & Emoji Rainbow
I am obsessed with these mini emoji stickers and they would be perfect to track your moods or feelings. The alphabet gives me 90s vibes and I will use them to decorate cards.
Custom Jackets & The Ripe Balance
So cool – you can totally customize your 'jacket' with affirmations and funky 'pins.' I love avocados and these cuties are the best at sporting their motivational sayings.
Ribbon Rewards & Out of Office
Okay, these tickets are the best! A nice reward for doing your best at a certain moment in time. I love the "Didn't do the thing" and "Drank a lot of water" ribbon rewards.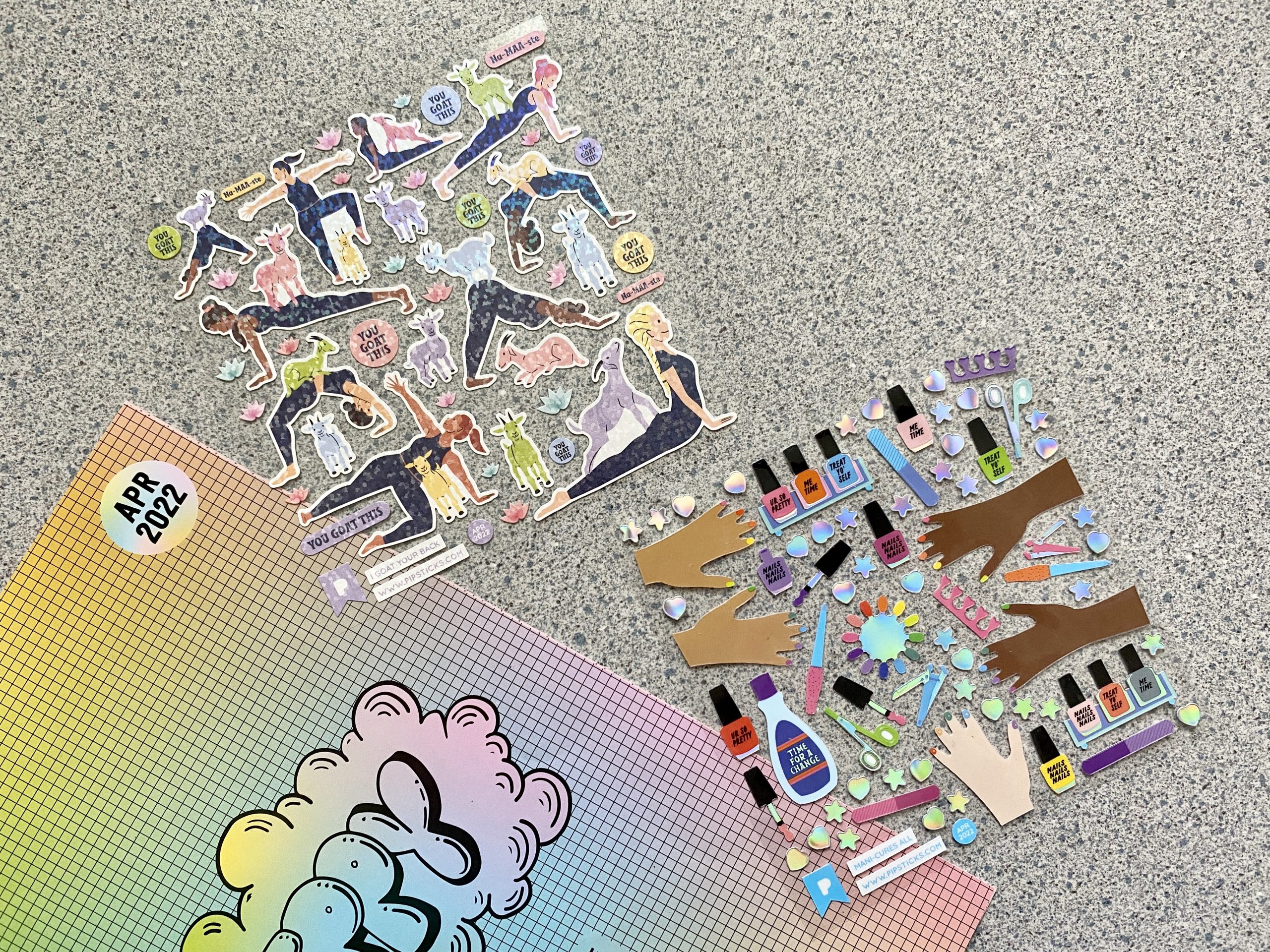 I Goat Your Back & Mani-Cures All
"I goat your back" is so pun-ny! Oh my goodness, goat yoga seems like it would bring you so much joy. "You goat this!" Also, I would have to agree that manicures do make me feel a lot better, even if momentarily.
Nurture Yourself & Good Day Cake Vinyl
This lovely 'Nurture Yourself' sticker sheet would be perfect to adorn your sticker book. This 'It's a good day for a good day' vinyl is also a fantastic reminder to adjust your mindset and would be a great addition to someone's sticker collection book or box.
This "Self Love" Themed April Pipsticks Subscription contained fifteen sheets of unique and high-quality stickers as well as zine and postcard. If you were to price out each sheet individually on the Pipsticks website you would be paying far more than the low monthly subscription fee. I am in awe of the high-quality, well-designed, and colorful stickers I received and cannot wait to scrapbook, send more snail-mail, and place these stickers on my students' work. This is the perfect subscription for any aged sticker lover in your life!
Hayley Savanna – https://www.instagram.com/hayleysavanna/
Explore.
Save.
Enjoy!
Sign up for a free account on A Year of Boxes to receive exclusive offers, be added to our monthly mailing list, and much more! We are always adding features to improve the experience for our users, from their valuable feedback!
Join Today!