Pipsticks Pro Sticker Club Review August 2021
Pipsticks is a monthly five-star subscription for sticker lovers of all ages! Pipstickers are the hottest new stickers on the market and each month they unveil a new collection of designs to thousands of subscribers across the world! Pipsticks offer subscriptions for both kids and adults because stickers aren't just for kids!
What You Get: Pipsticks subscribers will receive a sparkly pack with a reusable holographic storage pouch, an issue of Pippy (a zine for sticker lovers), +7 sheets (depending on subscription) of the dreamiest stickers you can imagine, and other paper goodies. Pipsticks subscribers also receive a 5% discount to the online shop, a ticket to the subscriber raffle, exclusive coupons, and printables. You'll also get access to their VIP Sticker Club Facebook group where you can connect with other sticker lovers, get DIY and craft ideas, weigh in on Pipstickers that are being designed, and swap stickers for your collection!
Get over $48 of stickers for $17.95 with their Pipsticks Classic Pack, or choose their Petite Pack for $11.95! They also offer printables subscriptions for kids, pros, and planners.
The stickers are different between the two packs and are curated specifically to the target age groups.
*They kindly sent us this Pro Club Subscription Pack to review*
All Sticker Packs ship worldwide from San Luis Obispo, CA starting at $2 US.
I was excited to review Pipsticks as I have always been a little sticker-obsessed. I can recall sitting on the floor (probably 25 years ago) with my childhood best friend trading and bartering with one another for the best new stickers. I have fond memories thanks to stickers and opening the Pipsticks holographic envelope brought that familiar excitement back. Also, being trained in art, I appreciate well-created things…like these amazing stickers!
The Pipticks subscription was delivered in a mesmerizing holographic envelope with "Today just got happier!" written in big letters on one side, and my mailing address on the other. Also, their hashtag #PIPSTICKS was written underneath, most likely placed as a reminder to tag any photos you take or to connect with other Pipstickers subscribers.
Next, I found an issue of Pippy (a zine for sticker lovers).
First, we see some candid shots from the Pipsticks studio and a letter from the founder, Mo. Here's an excerpt: "This month's stickers are totally dreamy! We had so much fun taking inspiration from your requests (if you're not in our VIP Facebook Group, go join!). We also partnered with one of our favorite brands of ALL time – Moxi Skates – to create a super fun sticker sheet. It's the coolest sister-owned business that thrives on brilliant design, a super engaging and inclusive community that takes roller skating to the next level!! Pinch me – working with Moxi is a dream come true :)"
Behind the scenes at the: PIPS DESIGN STUDIO & PIPSPOLL
"This month, we were inspired by mythical creatures and all things magical!"
This page outlines how their colours and ideas, illustrations, and designs come to life. I am in awe, Pipsticks is far more than just stickers and stationery!
"Every month, we poll our sticker loving community and here are some fun results…"
This is a fun way for Pipsticks to engage their community and this also gives subscribers a chance to win a studio sticker stash after taking a quiz based on the last month's results.
Creative Challenge & August VIP Ticket Prizes
This month's creative challenge idea was to make your own DIY washi-bombed binder cover with just a few basic supplies! A supply list and step-by-step instructions are included, as well as a few tips. Also, each month they send out one pink ticket and two silver tickets in randomly chosen Pro Sticker Packs! If subscribers receive any of those tickets, they win the listed prizes. As well, we see a sneak peek for September's subscription: "September's stickers harness the energy of the stars and are totally SPELLbinding." I am so excited about next month's subscription as I love stars and spooky things that come as we get closer to Halloween.
ON A ROLL
"Stickers and skates are a match made in heaven! Moxi Skates has been a brand we've adored for years – the design, quality, and color palettes of their equipment is drool worthy, and the passionate, inclusive community of skaters and skate enthusiasts that it has inspired is straight up magical. Leanna and Katie are on the Moxi team, and illustrated some awesome stickers for this month's pack!"
Moxi Skates is this month's Pipsticker collaborator brand! Follow them on Instagram @moxirollerskates, and read more about the collab on the blog! It's cool to learn more about their collaboration and the inspiration and faces behind it.
Now on to the most fun part – stickers!
The Good Times Roll by Moxies Skates
These stickers were designed in collaboration with Moxi Skates and they fit the dreamy theme. I am in love with the rollerskates, the peace sign hands, and the rabbit on skateboard stickers as they all spark excitement and bring back memories of my childhood. The nostalgia is real.
Clever Cryptids & Phoenix Arise
I love these colourful stickers representing cryptids, animals whose existence is unsubstantiated, like the Lochness Monster and Big Foot. When I travelled to Scotland I was hoping to see Nessie, but it did not happen. The phoenixes are stunning and I will have to place some of these beauties in places where I can pause for a moment and reflect on how resilient we can be.
Royal Realm Stamps & Quill Power
I love sending snail mail and how cute would these storytime stamps be to decorate the envelopes with? I adore them all but I especially love the sweet little pink castle on a hill. Quills are very cool and these stickers inspire me to learn some calligraphy.
Going Through The Potions & Happily Ever Alphabet
Can I just give a shout-out to the names of these sticker sheets? So clever, as always! I love these test tube potions and flowers as it reminds me of all my plant propagation I try to do at home. These alphabet letters are lovely and I appreciate that you get multiples of each letter!
Bedazzled & Ripple Effect
I love to draw and decorate with stars and squiggly lines. I love that these strip stickers could wrap around something or create a neat border.
Pixie Dust & Of Quartz You're Pretty
These keys and crystals are so fun – what kid or grown adult doesn't love to collect crystals and keys? I love the fairytale vibes I get from the magic wand and pixie dust!
Mythic Beauties Postcard & Stickers
This month's paper goodie is book a beautiful postcard! I love that they sent a sheet of matching stickers and I am obsessed with them! I was such a huge fan of My Little Pony back in the day and these ponies and unicorns are everything!
Swan In A Million
These black and white swans are so magical and they would make a beautiful addition to a homemade card for a baby shower or birthday. The constellations, crowns and lilypads are also unique and beautiful.
Charmed
I love these stunning charm stickers, especially the magic lamps!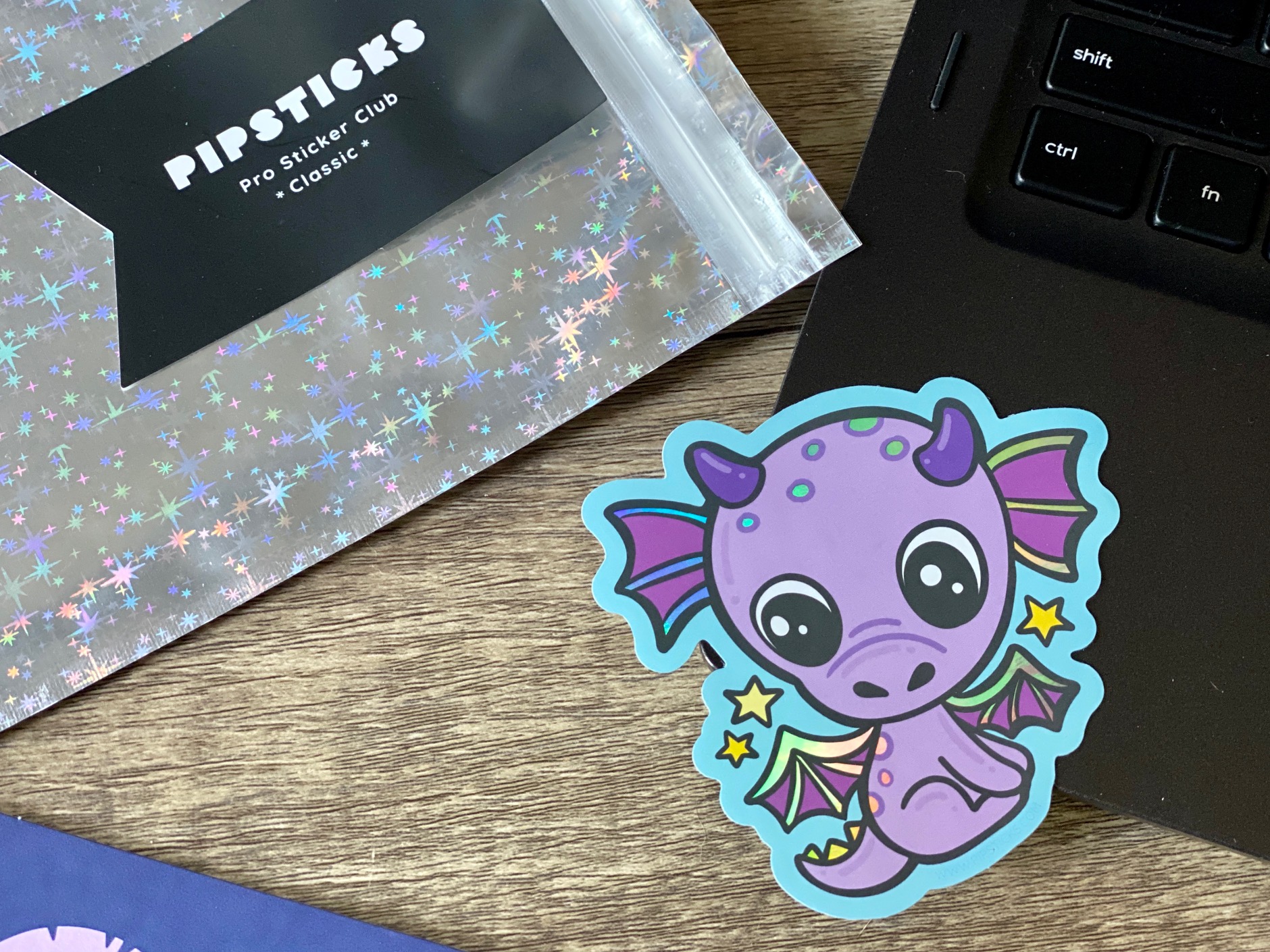 Magic Dragon Vinyl
This is a pretty amazing sticker featuring a cute magic dragon. I will most likely place it on my phone case, laptop, or water bottle… or gift it to a student!
This Magical, Dreamy Themed August Pipsticks Subscription contained fifteen sheets of unique and high-quality stickers as well as zine and postcard. If you were to price out each sheet individually on the Pipsticks website you would be paying far more than the low monthly subscription fee. I am in awe of the high-quality, well-designed, and colourful stickers I received and cannot wait to scrapbook, send more snail-mail, and place these stickers on my students' work. This is the perfect subscription for any aged sticker lover in your life!
Hayley Savanna – https://www.instagram.com/hayleysavanna/