Pipsticks Pro Sticker Club Review June 2022
Pipsticks is a monthly five-star subscription for sticker lovers of all ages! Pipstickers are the hottest new stickers on the market and each month they unveil a new collection of designs to thousands of subscribers across the world! Pipsticks offer subscriptions for both kids and adults because stickers aren't just for kids!
What You Get: Pipsticks subscribers will receive a sparkly pack with a reusable holographic storage pouch, an issue of Pippy (a zine for sticker lovers), +7 sheets (depending on subscription) of the dreamiest stickers you can imagine, and other paper goodies. Pipsticks subscribers also receive a 5% discount to the online shop, a ticket to the subscriber raffle, exclusive coupons, and printables. You'll also get access to their VIP Sticker Club Facebook group where you can connect with other sticker lovers, get DIY and craft ideas, weigh in on Pipstickers that are being designed, and swap stickers for your collection!
Get over $48 of stickers for $17.95 with their Pipsticks Classic Pack, or choose their Petite Pack for $11.95! They also offer printable subscriptions for kids, pros, and planners.
The stickers are different between the two packs and are curated specifically to the target age groups.
*They kindly sent us this Pro Club Subscription Pack to review*
All Sticker Packs ship worldwide from San Luis Obispo, CA starting at $2 US.
I have always been sticker-obsessed and have fond memories of stickers and trading them with my childhood best friend. Opening this Pipsticks holographic envelope brings back that familiar excitement each month. Pipsticks creates the best, most unique, stickers on the market!
The Pipticks subscription was delivered in a mesmerizing holographic envelope with "Today just got happier!" written in big letters on one side, and my mailing address on the other. Also, their hashtag #PIPSTICKS was written underneath, most likely placed as a reminder to tag any photos you take or to connect with other Pipstickers subscribers.
"The June Pro Sticker Club is a colorful, breezy trip down Summertime Lane! Relive those long, lazy summer days with the sweetest sticker sheets full of undersea adventures, watermelon (duh), and backyard BBQ goodies. AND…a super special collab sheet with LISA LOEB! Yes, that Lisa Loeb!"
I love Lisa Loeb and summertime as I get a break away from school!
Next, I found an issue of Pippy (a zine for sticker lovers).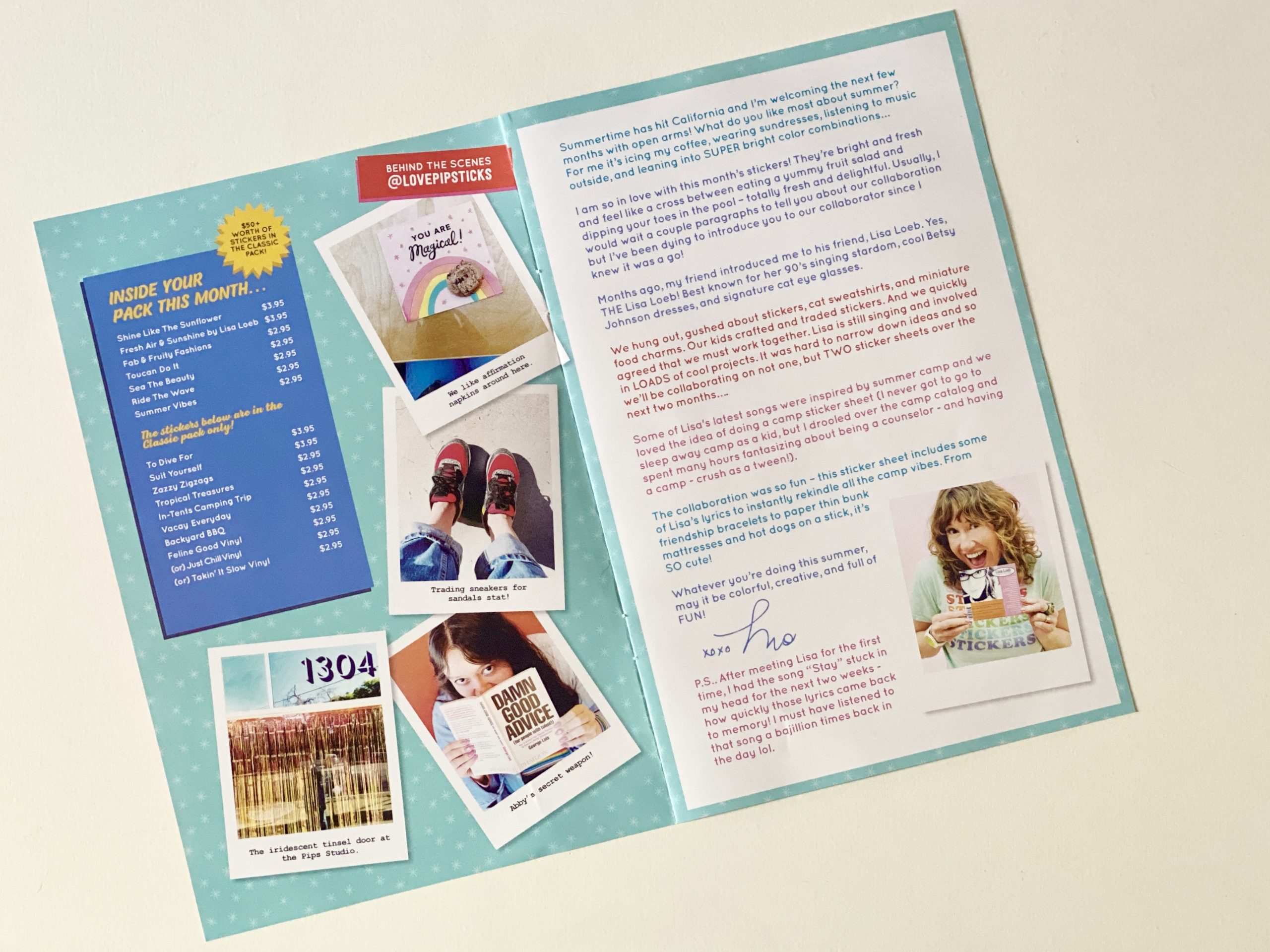 First, we see some candid shots from the Pipsticks studio and a letter from the founder, Mo. Here's an excerpt:
"Summertime has hit California and I'm welcoming the next few months with open arms! What do you like most about summer? For me it's icing my coffee, wearing sundresses, listening to music outside, and leaning into SUPER bright color combinations… I am so in love with this month's stickers! They're bright and fresh and feel like a cross between eating a yummy fruit salad and dipping your toes in the pool – totally fresh and delightful. Usually, I would wait a couple of paragraphs to tell you about our collaboration but I've been dying to introduce you to our collaborator since I knew it was a go!
Months ago, my friend introduced me to his friend, Lisa Lob. Yes, THE Lisa Lob! Best known for her 90's singing stardom, cool Betsy Johnson dresses, and signature cat-eye glasses.
We hung out, gushed about stickers, cat sweatshirts, and miniature food charms. Our kids crafted and traded stickers. And we quickly agreed that we must work together. Lisa is still singing and involved in LOADS of cool projects. It was hard to narrow down ideas and so we'll be collaborating on not one, but TWO sticker sheets over the next two months…
Some of Lisa's latest songs were inspired by summer camp and we loved the idea of doing a camp sticker sheet (l never got to go to sleep away camp as a kid, but I drooled over the camp catalog and spent many hours fantasizing about being a counselor – and having a camp – crush as a tween!)"
I am so excited to see this month's summery stickers!
Creative Challenge – DIY Stickerbombed Luggage Tags & PIPSPOLL
"This month's creative challenge idea is to make your own DIY Stickerbombed Luggage Tags with just a few basic supplies! A supply list and step-by-step instructions are included, as well as a few tips."
Behind the scenes at the: PIPS DESIGN STUDIO & JULY STICKER SNEAK PEEK
MEET LISA!
"OMG! OMG! We're collaborating with my childhood idol THE musician Lisa Loeb! She's made music for decades and is a sticker lover to boot!"
Excited to see the collaboration… I love Lisa Loeb!
Now on to the most fun part – stickers!
Time For An Adventure Postcard
This month's paper goodie is a beautiful postcard! How awesome is this postcard?! I can't wait to send it to a friend while on vacation this summer!
Fresh Air & Sunshine by Lisa Loeb
"This collaboration is so fun – this sticker sheet includes some of Lisa's lyrics to instantly rekindle all the camp vibes. From friendship bracelets to paper-thin bunk mattresses and hot dogs on a stick, it's SO cute!"
These stickers were made in collaboration with musician Lisa Loeb this month, inspired by some of her latest songs about the magic of summer camp – log cabins, letters home, and campfire songs. I love that these stickers include lyrics from her songs. These take me right back to my childhood at a summer camp with the fun bunks, songs, campfire, weiners and marshmallows.
To Dive For & Sea The Beauty
Umm, how cute are these divers? (snorkelers?) I love the sea creatures and colorful hair on the divers. The seashells are stunning!
Fab & Fruity Fashions & Toucan Do It
I am swooning over these fruity fashions as they give me tropical, warm, sunshine vibes! The toucans are colorful and are squeaking an important message, "Toucan do it!"
Shine Like The Sunflower & Tropical Treasures
These stickers would make the perfect addition to any agenda or even a birthday card. The sunflowers are the best and bring a smile to my face!
Suit Yourself & Vacay Everyday
I love all the summer wear and could totally see my nieces 'suiting' the people they draw with these trendy outfits. The Vacay Everyday sticker sheet gives me road trip and 70s flower-power vibes! Love!
In-Tents Camping Trip & Backyard BBQ
Okay, in-tent camping is where it is at in Alberta! We have beautiful mountains and freshwater lakes, perfect for hikes, campfires and maybe an encounter with a friendly bear. We also BBQ in Alberta year-round, but especially during the summer months. I love these stickers and will be gifting them to a friend who camps and hikes year-round.
Summer Vibes & Ride The Wave
These lovely neon stickers would be perfect to adorn your calendar or agenda as they scream summer vibes and time to enjoy it! I love the variety of bodies represented with the surfer stickers and they make me want to try surfing!
Feline Good Vinyl & Zazzy Zigzags
This Feline Good vinyl is a fun, punny vinyl to add to your skateboard, lunchbox or water bottle. Zazzy Zigzags are fun borders to add to any card, calendar, agenda or art project!
This "Summertime" Themed June Pipsticks Subscription contained fifteen sheets of unique and high-quality stickers as well as zine and a postcard. I adore each sticker sheet I received but the Summer Vibes and Fresh Air & Sunshine by Lisa Loeb sheets have to be my favorites. If you were to price out each sheet individually on the Pipsticks website you would be paying far more than the low monthly subscription fee. As always, I am in awe of the high-quality, well-designed, and colorful stickers I received and cannot wait to scrapbook, send more snail-mail, and place these stickers on my students' work. This is the perfect subscription for any aged sticker lover in your life!
Hayley Savanna – https://www.instagram.com/hayleysavanna/