Pipsticks Pro Sticker Club Review November 2021
Pipsticks is a monthly five-star subscription for sticker lovers of all ages! Pipstickers are the hottest new stickers on the market and each month they unveil a new collection of designs to thousands of subscribers across the world! Pipsticks offer subscriptions for both kids and adults because stickers aren't just for kids!
What You Get: Pipsticks subscribers will receive a sparkly pack with a reusable holographic storage pouch, an issue of Pippy (a zine for sticker lovers), +7 sheets (depending on subscription) of the dreamiest stickers you can imagine, and other paper goodies. Pipsticks subscribers also receive a 5% discount to the online shop, a ticket to the subscriber raffle, exclusive coupons, and printables. You'll also get access to their VIP Sticker Club Facebook group where you can connect with other sticker lovers, get DIY and craft ideas, weigh in on Pipstickers that are being designed, and swap stickers for your collection!
Get over $48 of stickers for $17.95 with their Pipsticks Classic Pack, or choose their Petite Pack for $11.95! They also offer printable subscriptions for kids, pros, and planners.
The stickers are different between the two packs and are curated specifically to the target age groups.
*They kindly sent us this Pro Club Subscription Pack to review*
All Sticker Packs ship worldwide from San Luis Obispo, CA starting at $2 US.
I was excited to review Pipsticks as I have always been a little sticker-obsessed. I can recall sitting on the floor (probably 25 years ago) with my childhood best friend trading and bartering with one another for the best new stickers. I have fond memories thanks to stickers and opening the Pipsticks holographic envelope brought that familiar excitement back. Also, being trained in art, I appreciate well-created things…like these amazing stickers!
The Pipticks subscription was delivered in a mesmerizing holographic envelope with "Today just got happier!" written in big letters on one side, and my mailing address on the other. Also, their hashtag #PIPSTICKS was written underneath, most likely placed as a reminder to tag any photos you take or to connect with other Pipstickers subscribers.
November's Pro Sticker Club theme is All Bundled Up – including a super fun collab with Planet Cat by Angie Rozelaar! Her scarf-clad cats are purrrfect for all of your crafting and journaling. Fair isle fauna, wintery foliage, hedgehog & holly – all of the coziest scenes of the season!
These stickers are perfect for decorating your journal, planner, and snail-mail or crafting the most festive party invite.
The Pro Club is perfect for sticker-loving teens and adults. These Pipstickers are great for planning, crafting, journalling, snail-mail, and collecting.
Next, I found an issue of Pippy (a zine for sticker lovers).
First, we see some candid shots from the Pipsticks studio and a letter from the founder, Mo. Here's an excerpt: "You're going to freak out over our collab with Angie Rozelaar. Angie's cats are totally irresistible and I'm beyond thrilled to see her gorgeous work in sticker form!"
Behind the scenes at the: PIPS DESIGN STUDIO & PIPSPOLL
This page outlines how their colors and ideas, illustrations, and designs come to life. I am in awe, Pipsticks are far more than just stickers and stationery!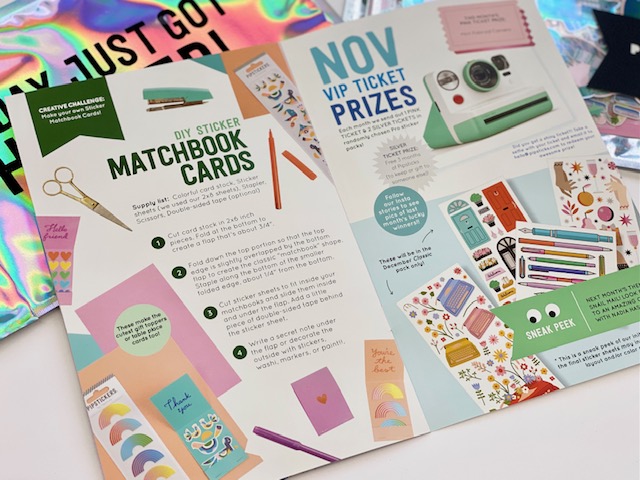 Creative Challenge & November VIP Ticket Prizes
This month's creative challenge idea was to make your own DIY matchbook cards with just a few basic supplies! A supply list and step-by-step instructions are included, as well as a few tips. Also, each month they send out one pink ticket and two silver tickets in randomly chosen Pro Sticker Packs! If subscribers receive any of those tickets, they win the listed prizes. As well, we see a sneak peek for December's subscription: "Next month's theme is snail mail! Look forward to an amazing collab with Nadia Hassan!"
MEET ANGIE!
Angie Rozelaar from Planet Cat is this month's Pipsticker collaborator brand! Follow her on Instagram @angierozelaar, and read more about the collab on the blog! It's cool to learn more about their collaboration and the inspiration and faces behind it.
Now on to the most fun part – stickers!
Warm Felines by Planet Cat
These stickers were designed in collaboration with Angie Rozelaar of Planet Cat and they fit the "All bundled up" theme perfectly. I am in love with the cats, their outerwear and the neat finish of these stickers.
Silver Caps Alphabet & Winter Bough Borders
I love some sparkly alphabet letters! I also adore winter boughs as when I think of the holiday season, I think of decorating with garland made from boughs. Beautiful!
Wintry Foliage & Hedgehogs & Holly
I love sending snail mail and how cute would this beautiful foliage be to decorate the envelopes with? I adore them all but I especially love the sweet little berries. Hedgehogs are so cute and I love the idea of having prickly foliage as their quills! I am telling you, the Pipsticks team is beyond creative.
Slow Cooked To Perfection & Gather Around The Table
I love these little slow cookers! I use mine often and especially around the holidays. This holiday feast is adorable and all the fixings are there! Perfection!
One Stitch At A Time & Band Together
How unique is the view on the one stitch at a time sticker sheet? I adore the instruments and have fond memories of music around the holidays.
Lazy Sunday & Traveling Companion
I like these cheeky stickers with lazy sayings as they will be perfect for my agenda when I am off work over the holiday break. The travel mugs and containers for hot beverages give me all the feels. I am also obsessed with the color palette of this set.
Crack Me Up & Fair Isle Fauna
Holiday crackers are a staple at our house during the holidays! I love the colors and details of these ones. I appreciate the amount of detail these animals and snowflakes have. The polar bear is my favorite.
Holiday Hustle
Look at all of these vehicles and street fixtures. I love the little dogs, trash bins and mail van! Such a neat idea and it reminds me of NYC or another hurling, bustling city like that during the holidays.
Out of Office Postcard
This month's paper goodie is a beautiful postcard! I love the gold lettering against the pink.
Slow and Steady Vinyl
This is a pretty cute sticker featuring a good reminder. I will most likely place it on my phone case, laptop, or water bottle… or give it to a student!
This "All Bundled Up" Themed November Pipsticks Subscription contained fifteen sheets of unique and high-quality stickers as well as zine and postcard. If you were to price out each sheet individually on the Pipsticks website you would be paying far more than the low monthly subscription fee. I am in awe of the high-quality, well-designed, and colorful stickers I received and cannot wait to scrapbook, send more snail-mail, and place these stickers on my students' work. This is the perfect subscription for any aged sticker lover in your life!
Hayley Savanna – https://www.instagram.com/hayleysavanna/