Postmark'd Studio Review April 2019
Postmark'd Studio is a premium stationery subscription box for the snail mail enthusiast delivered to your door every month! Each PostBox subscription comes with a monthly, limited-edition selection of beautiful handcrafted artisanal greeting cards and postcards crafted by artists around the globe. They kindly sent us this box for review.
Postmark'd Studio has been a fave for a while now. I look forward to receiving this box. It's packaged beautifully, each month has a different theme, the cards are gorgeous (and fun) and they always include some cute little extras (that's the part I look forward to most).
Anne (the owner) always includes a personal note. I love little details like this.
Subscription Details
Here's How It Works
Subscribe to a PostBox for 1, 3, 6, or 12 months.
Postmark'd Studio will turn every stone and pick the best of the best handcrafted artisanal paper and gift products to include in your monthly delivery.
Postmark'd Studio packs and ships a surprise themed box to your door every month.
Here's a closer look at the April Postmark'd Studio PostBox……
Postmark'd Studio "Mail a Brunch" PostBox Edition 2.0
National letter writing month is here, the most wonderful time of the year. Our "Mail a Brunch" PostBox is chock full of yummy brunch themed paper goodness and little bonuses to keep your letter writing inspired (and maybe a bit hungry) all month!
I love that they embraced National Letter Writing Month and paired it with a brunch theme. What a great idea! So appropriate for a stationery subscription.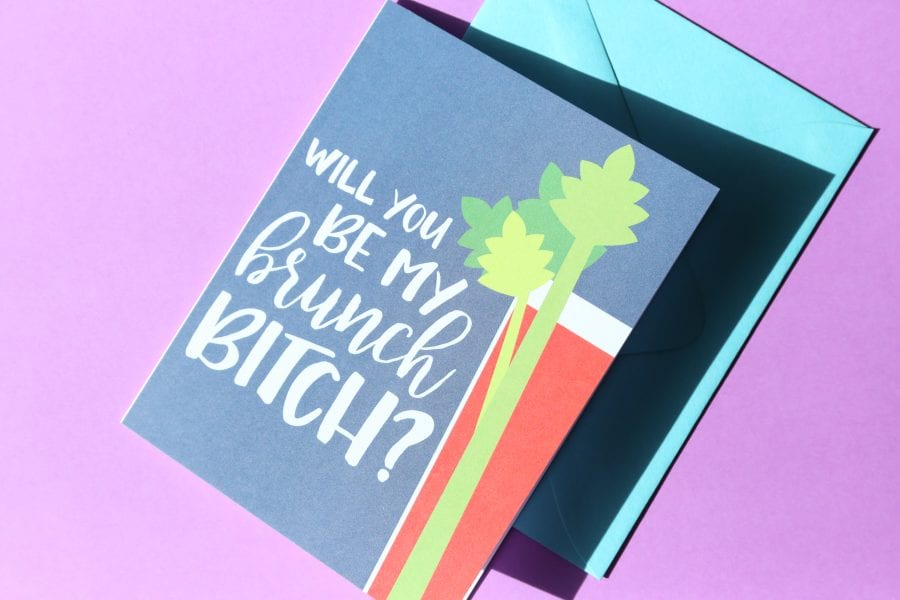 Will You?
This is the perfect brunch invite for your favorite friend (B.I.T.C.H. = Being in Total Control of Her or Himself)! Lovebird Paper Co. is a sassy, bold and sometimes a little bit vulgar stationery biz located in Long Beach, WA. kathryn Holloway designs her stationery to make you smile, laugh as you drink your morning coffee, and help you connect with a friend.
This card is sassy and fun. It's making me want to organize a brunch date with friends. It has been way too long since I enjoyed a lazy weekend brunch with a good group of girls.
I Love You
Send a big brunch of paper hugs or let someone know they are "egg"actly what you need in your life! Inklings Paperie, a Detroit, MI based stationery company has a passion for detail, a love of whimsy and a heart for people! Lindsey Henry, founder and creative director, believes that love is in the little things and that kindness is always in fashion!
This fun little card includes a pop-up. I forgot how much I love cards like this. They were my favorite to receive when I was young.
Birthday Bagel
A birthday card that comes in the mail is such an amazing gift! Light up someone's special day! Drawn Goods is an illustration studio based in Chicago, IL, run by artist Becca Gore. Each work is first hand-painted by Becca in her studio before finding its final home as a greeting card, print, or gift. We met Becca this year at the National Stationery Show and are so excited to share her work with you.
I am a bagel lover so this card is speaking to my heart. If I had the choice of cake or bagels I would choose the bagels……every time.
Hugs and Quiches
Who doesn't need a few hugs and kisses? The perfect card for any one, any time! Humdrum Paper located in Tampa, FL is the creative work of Brittany Morenek. Inspired by pop culture and a fair amount of ridiculousness, she ideates and illustrates all of the products for Humdrum Paper.
Awe, this card reminds me of my Mom. She use to make the best quiche. I'm going to save this one for my sister. She will appreciate the "hugs and quiches" as much as I do.
Tic Tac Toast
A perfect notepad to help pass the wait time at your favourite brunch spot. Try mailing this game back and forth with a pen-pal (you may create a world record for the longest game)! Peggy White is the funny and irreverent creator of Chateau Blanche Designs located in Tulsa, OK. Peggy believes that before she started her stationery company in 2015, the idea actually "hatched" while she was still in art school. Some of her favorite drawings, that were inspiration for her first cards came from the doodles in the margins of her class notes and not always the"real" art she produced for critiques.
How fun is this notepad!! The perfect item to keep in your purse, especially when eating out with children.
Mailbox Postcard
The second postcard in our monthly series as we celebrate 2019. The Year of the Postbox. This card was a collaboration with Brittney Banks. Her motto is "Make Life Fun" and that definitely shows in her illustrations.
I love the illustrations on this postcard……especially the bike. Postcards are a great way to send a quick little "thinking of you" note.
Stamp Sheet
A Postmark'd Studio stamp sheet from The Perforated Post located in Fleetwood, PA is the creative work of Jeff Uleau. Each sheet is hand perforated on an antique Southworth Perforator.
Isn't this just the best idea ever! Postmark'd Studio logo'd stamps. How absolutely perfect!
Stickers
A set of 9 snail mail inspired stickers from ArtfulGeetCreations located in Pasadena, CA is the work of Geetika Nayak. Get is a passionate artist in an engineer's body.
Easily my favorite item in the box this month. These stickers are adorable! I love everything about them. The colors, the artwork, the variety, etc….
Stamps
We always receive enough postage to mail the cards in our monthly box. I love this feature. It makes the card writing process quick and easy when you have stamps on hand.
Postmark'd Studio Review April 2019 – Final Thoughts
The April Postmark'd Studio Post Box is wonderful, as per usual. I love that they embraced National Letter Writing Month and I love the brunch theme. The stickers are my favourite item this month, but I also really love the Tic-Tac-Toast notepad and the quiche card. Postmark'd Studio keeps me supplied with adorable greeting cards for every occasion. It's the perfect box for stationery lovers and snail mail enthusiasts. And…..it has saved my butt on numerous occasions when I need a last-minute birthday card or thank you card. That alone is reason enough to subscribe.
-AYOB
Explore.
Save.
Enjoy!
Sign up for a free account on A Year of Boxes to receive exclusive offers, be added to our monthly mailing list, and much more! We are always adding features to improve the experience for our users, from their valuable feedback!
Join Today!