Postmark'd Studio Review April 2021
Postmark'd Studio is a premium stationery subscription box for the snail mail enthusiast delivered to your door every month! Each PostBox subscription comes with a monthly, limited-edition selection of beautiful handcrafted artisanal greeting cards and postcards crafted by artists around the globe.
*They kindly sent us this box for review*
I absolutely love to review Postmark'd Studio as it is one of the best stationery subscriptions on the market! I rediscovered my love of sending snail mail, getting crafty and giving thoughtful cards since the pandemic started. My Postmark'd Studio PostBox arrived in a white mailer envelope with everything bound and packaged beautifully inside.
Anne (the owner) always includes a handmade, personal note – I feel so special every time I receive one. I love the H. Jackson Brown Jr. quote, "Be the first to say, 'Hello'."
Subscription Details
Here's How It Works
Subscribe to a PostBox for 1, 3, 6, or 12 months.
Postmark'd Studio will turn every stone and pick the best of the best handcrafted artisanal paper and gift products to include in your monthly delivery.
Postmark'd Studio packs and ships a surprise themed box to your door every month.
Here's a closer look at the April 2021 Postmark'd Studio PostBox…
Postmark'd Studio April "Howdy" PostBox Edition 4.11
"'Howdy' a colloquial contraction of the formal greeting 'How do you do?' and it seemed such a spot-on theme for April, as it is National Letter Writing Month. A month dedicated to reaching out snail mail style and touching those we love with the beauty and magic of a handwritten note delivered through the post! It doesn't matter whether you send one letter, or you participate in the Write-On 30-day letter writing challenge, it is all about sending a 'How do you do?'"
Each Postmark'd Studio PostBox is incredibly well-curated so I cannot wait to see what Anne has included in an attempt to say 'Howdy' for this month's PostBox.
Hey Y'all Card
"A sweet sentiment to say hello! Jordan Jarvis Hughes is the owner and creator of Stately Made, located in Birmingham, AL. Combining a love for hand lettering with bits of regional culture and colloquialisms is the heart behind her designs to truly celebrate her roots."
This card would be amazing to mail to a friend just to check up on them and say, "Hey Y'all" as we are still in the middle of a pandemic and are unable to meet in person. This card is made from very high quality paper and the shade of yellow is just stunning! Alternatively, it would be a fun card to frame and have at your front door.
Well, Howdy There Card
"A perfect "How do you do?" to send to a special someone. Andi Fink, the hand behind A Fink & Ink (get it? It's like a whole… thing with her name), is an Oregon-born, Missouri-bred artist, educator, and designer now living and working in Minneapolis, MN. Since she started in the world of art and design she has believed that great, fun design should be for everyone and every occasion. A Fink & Ink is her effort to get it out there."
This card is super cool, it gives me old-school-western-movie vibes. The art work is very well done and anyone would be excited to receive this quality greeting card!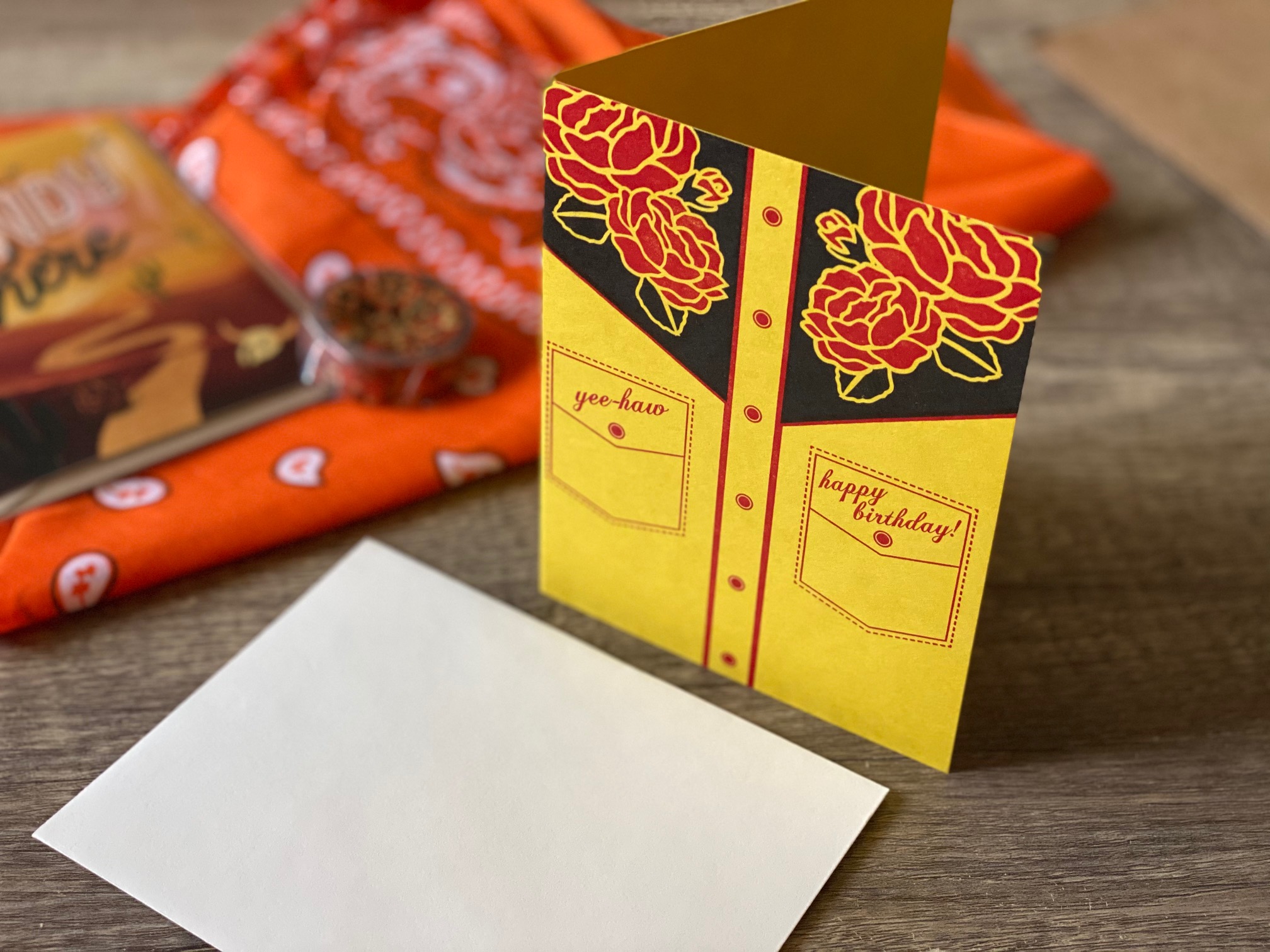 Yee-Haw Birthday Card
"We all know someone born in the month of April who will be celebrating another birthday, socially distanced, so send a note and tell them how you will celebrate post vaccine! This card from 'a. favorite design,' located in Chicago, IL, captures all the magic of Nashville; the music, the food, the clothes, the honky-tonks, the boots, the hats, the attitude, it is no Nudie suit but it's a start! Amber Favorite is a letterpress junkie who is a skillful day dreamer, type zealot, and professional brainstormer. If you love retro/vintage like me, you will love her collection of work."
This card is so cool! I am sure we all have a family member who rocked a blouse just like this. I also love retro/vintage inspired items, so this card is right up my alley. This one will go to my Uncle on his birthday, as he still rocks a Canadian tuxedo on the daily.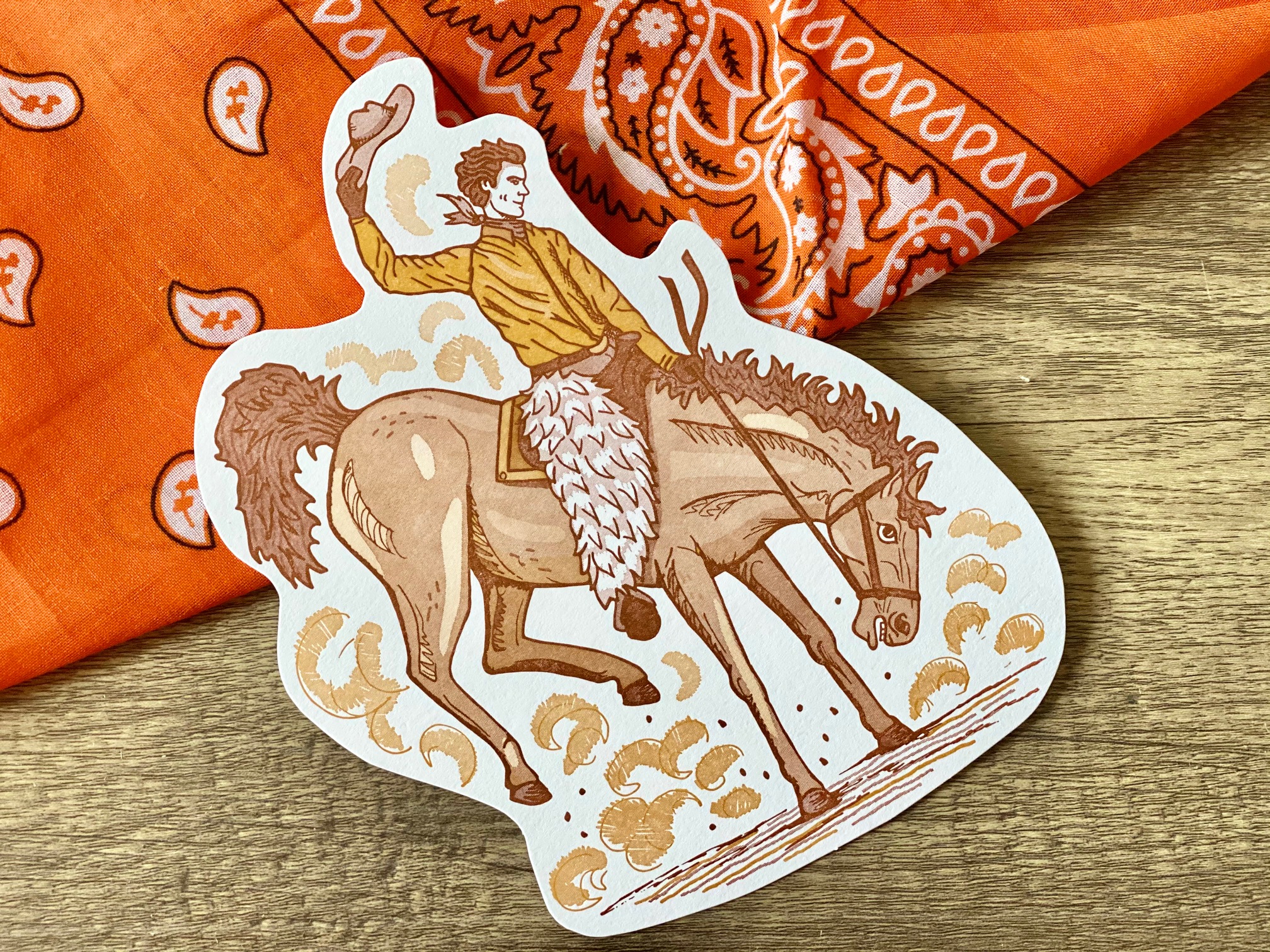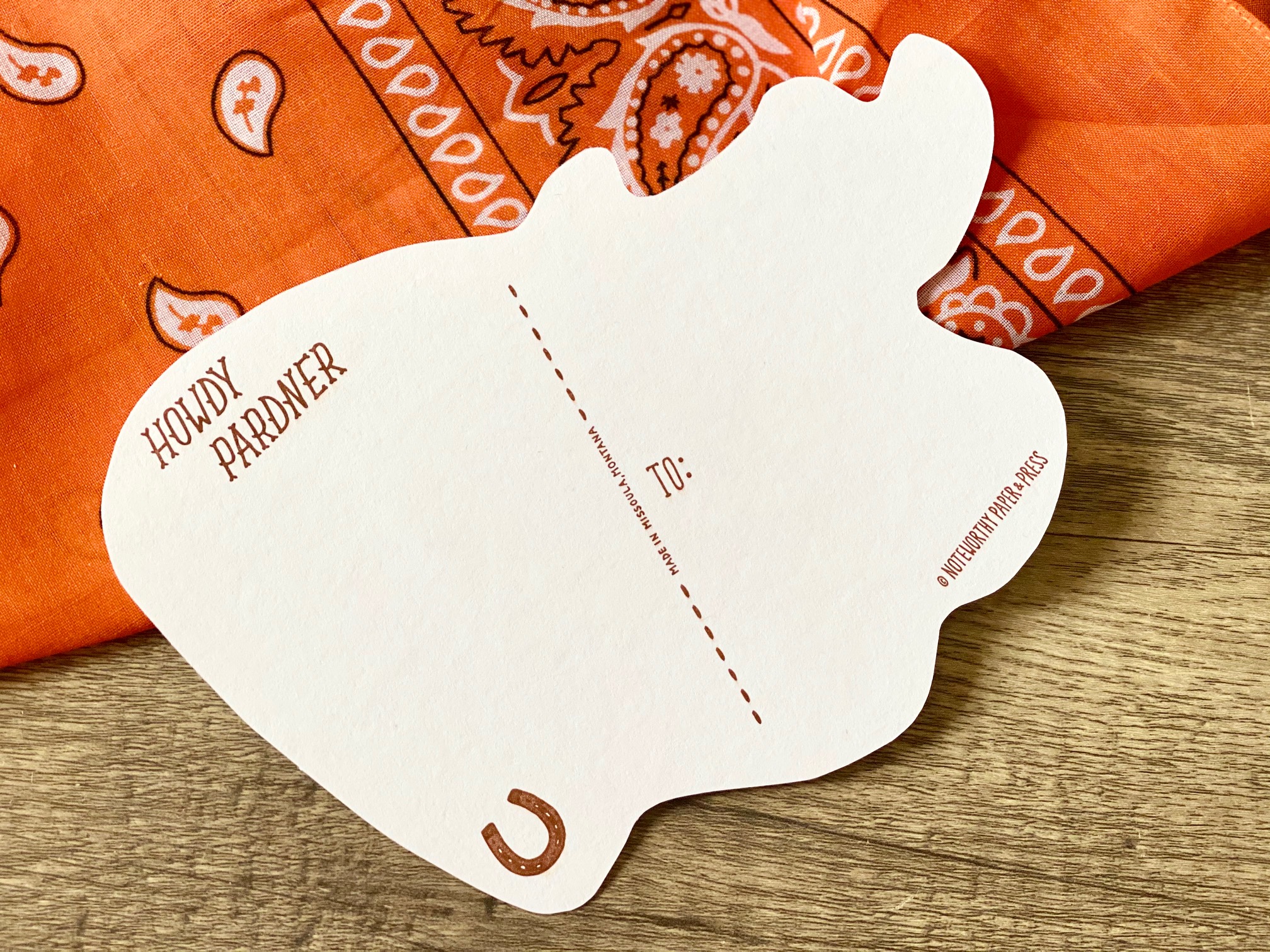 Howdy Postcard
"Buck the text and send snail mail! Noteworthy Press, located in Missoula, MT, was co-founded in 2008 by partners Taylor Valliant and Amy Dolan. These cowgirls are passionate about paper, letterpress printing and the belief that everyone needs splendid stationery, especially girls in Montana!"
This postcard is so fun! It takes me back to my childhood and the cards one might receive on their birthday. The muted brown tones really bring the composition together, and I love how the dust clouds in the background look similar to leopard print. On the reverse side, "Howdy Partner" is a perfect and fitting phrase, when sending this postcard to someone to say, "Howdy."
Howdeeee Postcard
"Transport someone to the Grand Ole Opry with this nod to Minnie Pearl. This postcard captures the spirit and magic of Minnie. Close your eyes, and you can hear her holler, "How-w-w-DEE-E-E-E! I'm jest so proud to be here!" This postcard is another spectacular collaboration with ANCORA Letterpress. Seriously, I send her one of my "wild hare" ideas and she turns it into my vision! Debra Barclay founded ANCORA Letterpress, located in Woodinville, WA, in 2017 ANCORA Letterpress is a small boutique shop with an incredible passion for paper, ink, and the process of putting those two together."
I am loving this collaboration postcard that was created by Anne from Postmark'd in collaboration with ANCORA Letterpress. The colors are neon and stunning, and this card has a feminine touch with the Grand Ole Opry style hat.
Artsy Doodad
"Floral Washi Tape. MT is the original brand of washi paper masking tape, created by the over 100-year-old company Kamoi Kakoshi, located in Japan."
I love using Washi Tape to jazz up my agenda, calendar and cards. I love the 70's vibe of this roll.
Postage
"Vintage postage to mail four US letters."
These are so fun and fit the 'Howdy' theme well! Subscribers always receive enough postage to mail the cards in their monthly postbox. What a convenient feature!
Postmark'd Studio Review April 2021 – Final Thoughts
The April Postmark'd Studio PostBox is so well-curated and it fits the "Howdy" theme SO darn well. All of the items are unique and would be so fun to receive in the mail. I think my favourite items are the Yee-Haw Birthday Card and the Howdeeee Postcard, but all of the items are awesome! Postmark'd Studio is a subscription that will keep you supplied with amazing and original greeting cards for every occasion. It's the perfect box for stationery lovers and snail mail enthusiasts.
Hayley Savanna – https://www.instagram.com/hayleysavanna/