Postmark'd Studio Review August 2022
Postmark'd Studio is a premium stationery subscription box for the snail-mail enthusiast delivered to your door monthly. Every month you will receive a Postmark'd card, pencil, USPS stamps, artsy doodads, 4 additional cards, and an informative card. They kindly sent us this box for review.
Subscription Details
Here's how Postmark'd Studio works:
Subscribe to receive a monthly PostBox
Take 5 minutes to craft a message
Pop your note in the mail
Change the world
Repeat
Here's a closer look at the August Postmark'd Studio….
The theme for the August box is Summer Adventure!
"Hello – Summer adventures and sending postcards…..what could be better? Maybe…..our August PostBox! This Postbox is loaded with postcards inspired to bring you a summer filled with adventures. Whether on the road or dreaming from your desk you can take a trip or two and share it snail mail style with a postcard. Cheers to fun adventures!"
Postcard Set: Oh my goodness! How great is this postcard set?! It inlcudes 63 postcards (crazy), there's one for each National Park and the illustrations are gorgeous!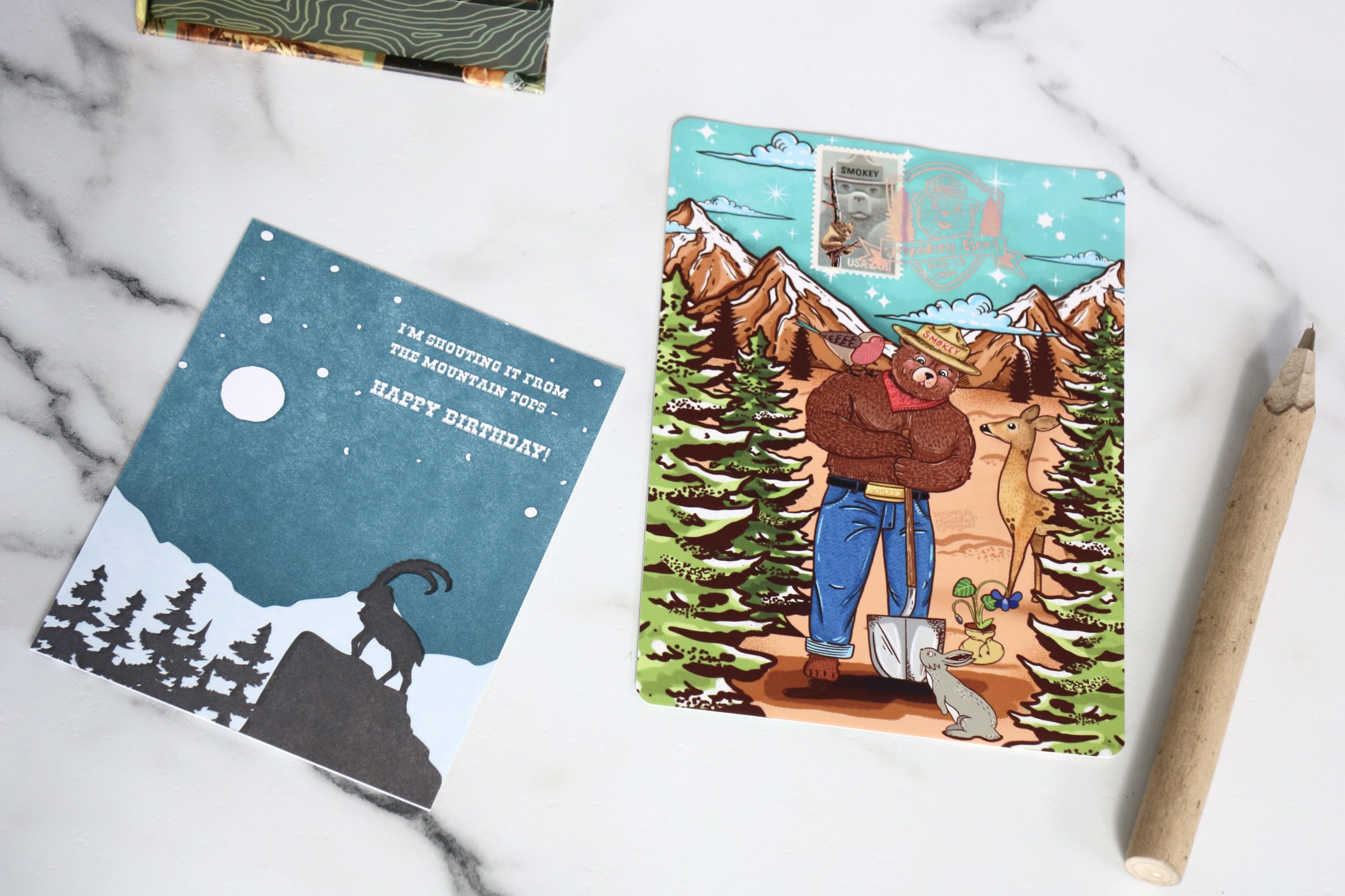 Smokey Bear Postcard: Fitting with the theme perfectly, here we have a Smokey Bear Postcard. The illustration is giving me old school vibes and I love it.
Happy Birthday Postcard: No Postmark'd Studio Box would be complete without a Birthday card, or postcard in this case. This one is fun and would be perfect for your adventurous friend:)
Artsy Doodad: And here we have a Twig Pen, it is a wood cased ball point pen with black ink and I absolutely love it! Again….fitting with the theme perfectly.
Postmark'd Studio Review August 2022 – Final Thoughts
I am loving the August Postmark'd Studio. It's a little different from their typical box while still sticking with their overall concept. I love the Summer theme and the collection of postcards. Postcards are a quick and easy way to say "I'm think of you" so I am very happy to have a stash of them. And I do have to say……I love that they sent this month's delivery in a box as opposed to the envelope……a box is just so much more fun to open:)
-AYOB Sarah