Postmark'd Studio Review December 2017
PostBox is a card box from Postmark'd Studio. Each PostBox subscription comes with a monthly, limited-edition selection of beautiful handcrafted artisanal greeting cards and postcards crafted by artists around the globe. They kindly sent us this box for review.
Postmark'd Studio is an absolutely wonderful stationery subscription. I'm sure I have said that before, but I feel like it is worth mentioning every time. I truly look forward to this box because so much time and passion goes in to it. I like to take my time with the unboxing process because everything is wrapped perfectly and there are so many little details to take in. It's one of my favourites for sure.
Subscription Details
Here's How It Works
Subscribe to a PostBox for 1, 3, 6, or 12 months.
Postmark'd Studio will turn every stone and pick the best of the best handcrafted artisanal paper and gift products to include in your monthly delivery.
Postmark'd Studio packs and ships a surprise themed box to your door every month.
"Winter Wonderful" Special Delivery Box
Just like the unique shimmer and glitter of snowflakes, this one of a kind box of cards is at the ready (when you are ready) to send warm wishes of love to family and friends this holiday season.
Some Enchanted Evening: This postcard is perfect to send a "thank you" for a magical enchanted evening spent with friends and loved ones. Alayna Paquette Draws located in Providence, RI, combines her love for art and science in all her illustrations.
I LOVE the idea of using this as a thank you card for a holiday hostess. That's exactly what I am going to use it for.
Dashing Through the Snow: A splendid card for "making spirits bright". Stephanie Lynton, is the owner and detailed designer behind Marrygrams, located in Houston, TX.
I am really loving the script used for this card.
Polar Bear: This modern letterpress card on a snow-white paper and embossed with pearl foil creates the bright, shimmery and icy feel of the polar bear's Arctic home! Classic Stationers, located in Victoria, Canada is the creative work of husband and wife team Tanya and Alex.
So classic and simple. I often forget how gorgeous
Ornament Card: A holiday card with a handprinted, foiled, stamped and completely one of a kind ornament inside. Moglea (pronounced MOH-GLEE), a design and letterpress studio is under the creative direction of Chad and Meg Gleason located in Audobon, IA.
Ummmm…..best card ever!!! The ornament is so fun. I kind of want to keep it for myself……but I won't.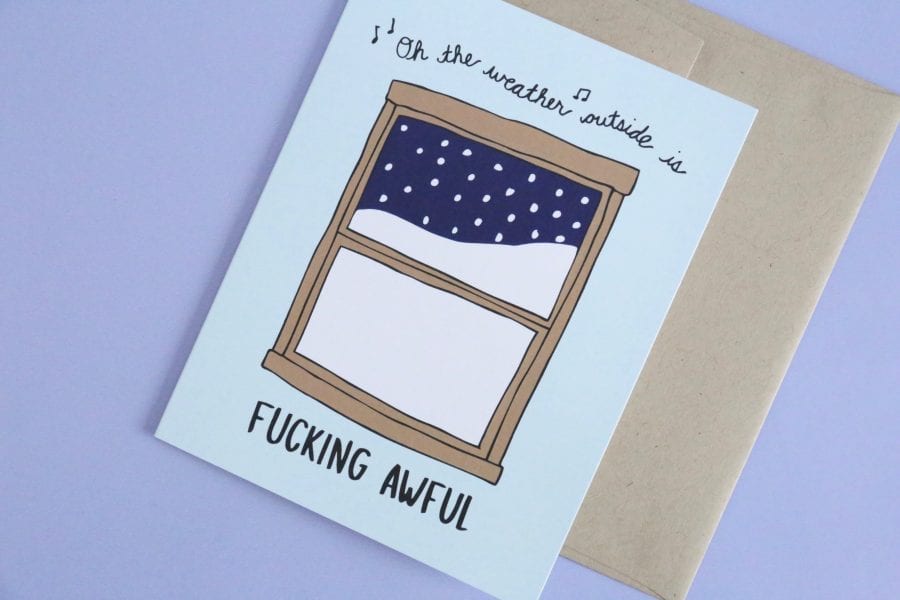 The Weather Outside:This little cutie takes a "mature" play on the word frightful and will bring a chuckle and a smile! Row House 14 located in Baltimore, MD, has a goal to put a smile on someone's face (mission accomplished).
Another amazing card. I really love this one. It has my brother's name written all over it.
Wishing You Peace and Joy: The amazement and amusement of a snow globe is sure to bring joy when you open the envelope. Frog and Toad Press, located in Providence, RI, is a stationery company with heart and sass!
Let it Snow: The letterpresses printed shimmering rainbow holographic foil card evokes the excitement of the first snowfall of the season. Elum Designs, located in San Diego, CA, has been paper obsessed since 2001, always promising to deliver thoughtfully designed products that leave an impression.
Love the shimmer on this one. I feel like this will be perfect for my Stepmom.
Artsy Doodad: The snowflake stamp is beautifully engraved by Olga Hagedorn of Cup Cake Tree, located in Lake Mary, FL. Colorbox ink pad: icy blue.

Sometimes the artsy doodads are my favourite part of the box. This stamp put a smile on my face the moment I laid eyes on it.
Stamps: No greeting card subscription would be complete without these.
Special Holiday Gift
Season's Greetings: A fun 60's vibe featuring Santa and his reindeer in snow covered mountains. Violet Press and Paper, located in Broomfield, CO, began with a trip to a craft store.
Snow Days: A nostalgic euphoric memory. Sad Shop, located in Seattle, WA, began with a nap!
Postmark'd Studio Review December 2017 – Final Thoughts
Oh my goodness! Postmark'd Studio really outdid themselves this month. I had a feeling their December box would be good, but this is more than good, it is perfection. I purposely put off purchasing Christmas cards because I knew I would receive some beauties in this box, and boy did we ever. It arrived just in time for the holidays, we are a week away from Christmas which means I have the perfect amount of time to write the cards I will be hand-delivering on the 24th and 25th. I am blown away by the number of cards we received. They included a little holiday gift which means we received more cards than we usually do. We received a total of 8 cards plus one postcard. This means I have one for – Dad, Mom, Brother, Sister, BF, BF's Mom, Grandma and best friend.
I'm also pretty excited about the snowflake stamp as it brings back memories from childhood when I use to be obsessed with stamps. I will definitely be decorating my cards with that little gem. I am going to set aside a night this week to make some tea from my Amoda Tea box, watch Christmas movies and write Christmas cards. I can't wait!!!
XOXO