Postmark'd Studio Review February 2018
PostBox is a card box from Postmark'd Studio. Each PostBox subscription comes with a monthly, limited-edition selection of beautiful handcrafted artisanal greeting cards and postcards crafted by artists around the globe. They kindly sent us this box for review.
Greeting cards are such a beautiful thing. They are a simple gesture, but a special gesture at the same time. There's nothing like a handwritten card. It's a way to say I love you, I'm thinking about you, I'm here for you, etc…..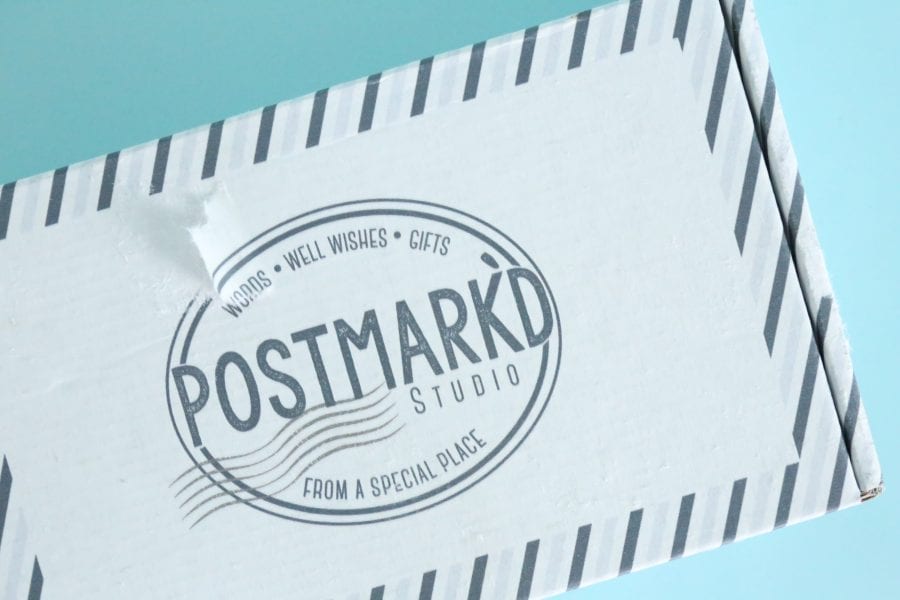 I've realized that I don't write cards often enough and that I really should set aside 20 minutes each week to write a card to someone I love. It doesn't require a lot of time, but it will leave a lasting impression.
This is where Postmark'd Studio comes in. They are easily one of the best stationery subscription boxes we review.
Subscription Details
Here's How It Works
Subscribe to a PostBox for 1, 3, 6, or 12 months.
Postmark'd Studio will turn every stone and pick the best of the best handcrafted artisanal paper and gift products to include in your monthly delivery.
Postmark'd Studio packs and ships a surprise themed box to your door every month.
February Chocolate PostBox
Celebrate chocolate and love! Sweet, small gestures are the gifts of the heart. Send someone a secret admirer Galentine or Valentine and make their day and yours too!
Here's a closer look at the gorgeous cards we received this month….
Chocolate Tub
A perfect card for a chat with a friend dreaming of the most delicious hot cocoa. Mari Tanimura is a water-colour artists located in Tokyo, Japan. She paints and prints her delectable art in her own little studio.
I am a huge fan of water-colour. There's just something so dreamy and whimsical about it. Am I right?
Chocolate Lab
Who could resist a valentine delivered by this adorable chocolate lab? Perfect for the dog lover in your life. Kristen Walker presses to keep it simple at Twin Ravens Press, located in Eugene OR. She believes that good things come from what you love and we love what she is doing.
Eeekk! This card is absolutely perfect for my Dad. I missed Valentine's Day so I am going to save this for his birthday or as a "just because" card. He has two chocolate labs and they are his world. He will definitely appreciate this card.
Golden Ticket
Did you love Roald Dahl's Charlie and the chocolate Factory? Create your own "golden ticket" for someone special! Simply write a note in the rectangle, cover it with the sticker provided, and scratch with a penny to reveal the surprise! Inklings Paperie is a Detroit, MI based paper goods company that is passionate about creating beautiful products to celebrate all of life's little occasions.
Oh my goodness!! How fun is this?! You get to create your own scratch card. And they even included a penny. I am beyond impressed.
All You Need is Love
To quote this card "but a little chocolate now and then doesn't hurt". This little sweet card is letter pressed and die cut. Will Ink Press, located in Chico CA is the creative work of Rebekah Tennis. She began her dream in 2009, creating and designing beautiful art that is forever and cherished.
I love the simplicity of this card. The font is classic, the little red heart has just the right amount of detail and I love the die cut on the front of the card.
Chocolate is a Salad
The logic of this card is downright brilliant. It "will inspire a little smile" for you and whomever you send this card. Lisa Hill Arnett started Skel Designs, located in Hermosa Beach, CA designing a notepad; To Do or Not To Do. We are so pleased she chose to do!
Hahah, I actually laughed out loud when I read this card. This one is actually kind of perfect for me but it would be weird to give myself a card…..or would it?
Artsydoodad
Stablio 88 pen in chocolate brown.
Sweet Bonus
Magnetic hearts to add a little love to your office, your kitchen, or even your to-so list.
Oh my goodness. I am kind of obsessing over these hearts. First of all, in case you weren't aware, hearts are my thing. They are my good luck charm and always put a smile on my face. Second, I have a magnetic board on my desk and it sits right behind my computer screen……meaning I have to look at it all day every day. It's the perfect home for these adorable little hearts.
Sweet-Sweet Bonus
Divine Dark Chocolate and Pink Himalayan Salt Bar made from the finest Fair trade cocoa beans from Kuapa Kokoo, a co-operative of small-holder farmers in Ghana.
Oh my goodness……could this box get any better?! They really did put together the best box of Valentine's goodies. This is the perfect addition to the box and it ties all the other items together. Chocolate Lab greeting card, chocolate brown pen, and now a pretty little bar of chocolate. My life is complete.
Postmark'd Studio Review February 2018 – Final Thoughts
Now do you see why I adore this subscription? Postmark'd Studio really knows what they are doing when it comes to greeting cards and stationery. They always curate the perfect box and they have some of the best themes. Actually, as far as themed boxes go I'm tempted to say that Postmark'd Studio does it best. I also love their style. Let's be honest, there are a TON of greeting card options out there but I always love the designs they include. And, if that wasn't enough, they round out the box and create a wonderful experience by including writing tools and stamps. They really do think of everything. Oh……and they included a chocolate bar this month….just when I thought I couldn't love this box any more, they go and do something like that. I am officially obsessed!
XOXO