Postmark'd Studio Review January 2018
PostBox is a card box from Postmark'd Studio. Each PostBox subscription comes with a monthly, limited-edition selection of beautiful handcrafted artisanal greeting cards and postcards crafted by artists around the globe. They kindly sent us this box for review.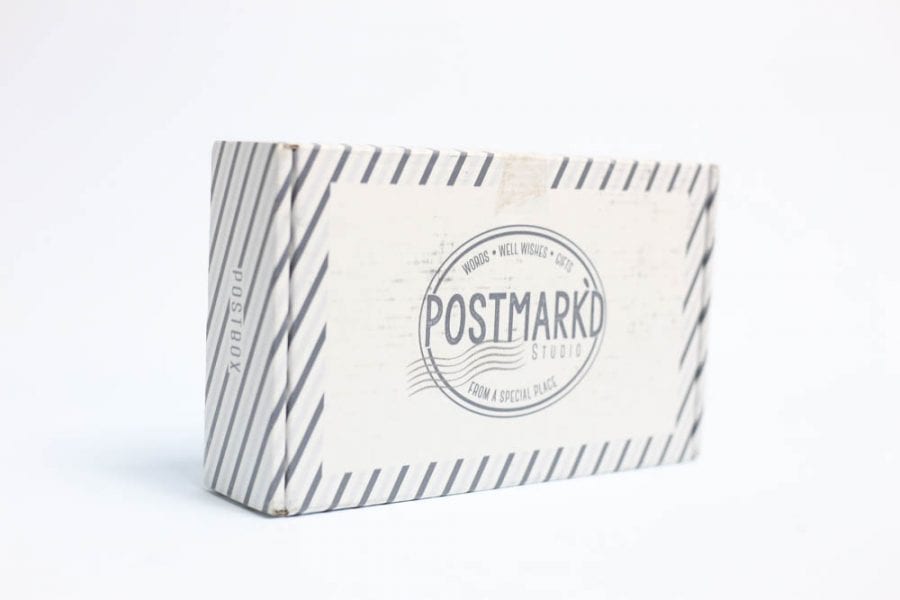 Postmark'd Studio New Year PostBox Edition 7 – January 2018
Black & white amazing stationary products to start your new year off on the right tone whether you are striving to learn a new skill, committing to becoming more organized or connecting with your friends and family in a more meaningful way in 2018!  Happy New Year!
Postmark'd Studio is one of my all time favourite subscription boxes!  I've always been a sucker for stationary and cards.  I tried to maintain a couple different pen pals when I was a kid, as nothing was more exciting than receiving a letter in the mail!  Even now as an adult I get all giddy inside when a square envelope shows up among the rectangle ones.  Nothing is quite as personal as sending someone a hand written card or letter!  I love that Postmark'd Studio is bringing some pizzazz back into the letter writing world!
One thing that sends Postmark'd over the top are their inclusions of bonus items such as stamps, pens and pencils.  I have even received washi tape and stickers in the past!  All of these stamps are recognizable in the US for all your posting needs!  Now there really is no excuse to send out these cards.
2018 Calendar
The perfect accessory for any stylish office, kitchen or dorm room.  This hand-lettered desktop calendar includes a magnetic bullnose clip.  When It Rains Paper Co., located in Atlanta, GA, began for two sisters on a rainy day when they turned their dream into a reality.  They love paper and you can count on them to turn it into something wonderful that showcases their passion for bold patterns, bright colours and quirky designs.
Love this calendar!  It's perfect in all it's simplicity!  I love the calligraphy and colours.  It's already hanging on my fridge.  The only down side is it can only hang around for one years time!
Hello
Wave to a friend with this card that can be sent in the envelope or on its own as a postcard.  Ramona & Ruth, located in Omaha, NE, was founded by Kim Burks and named after her two grandmothers.  She creates delicate, thoughtful designs that leave a lasting impression.
So cute!  I love that this can be sent as its own postcard if you wish.  The design is simply beautiful!
A Wink
Oh, the things a wink can say: "I like you", "It's going to be okay", "I was just kidding"; this card let's you say all of those and more!  Dahlia Designs, located in Seattle, WA, is a stationary design studio operated by Stephanie Clarke.  Stephanie has a passion for letterpress printing that results in one of a kind greeting cards that are a delightful combination of wit and whimsy.
This is super cute!  My girlfriend and I are always working on our winks to perfect them to the ultimate flirt tool!  She will get such a kick out of this card!
You're Ze-Best
Send a note to thank your bestie for just being who they are!  Paper Wolf Design, located in Oneonta, NY, is a small illustrated paper goods company run by Lara Bremer.  Her colorful and playful designs have sassy twists and witty puns.
So adorable!  I'm such a sucker for a good pun.  I'm totally sold on the zebra as well!!
Happy New Year
There is still time to take a moment and send wishes for a wonderful 2018 with this simple yet elegant card.  The envelope liner makes it extra special.  Bred & Butter Paper Co., located in Dallas, TX, is the creative work of Jenna Bredehoeft.  Her love (and our love too!) of kraft paper and euro-fold envelopes can be seen in all of her designs.
So simple and cute!  I wish I had twelve of these back in December so that I could have delivered them right at New Years!  Well, now I know where to find them for next year.  And it's not too late to send out this beauty!  It's too lovely to waste.
Black Sheep
This cute little sheep has a "make ewe smile" style about it!  It is perfect for a hello to a friend, even better for one who loves to knit!  Gingiber, located in Springdale, AR, is an illustrative paper and homewares store.  Stacie Bloomfield started Gingiber when she could not find artwork for her daughter's nursery.  Stacie's work is sweet enough for children yet smart enough for grown ups.
Super cute!  I could see this easily being transferred from child friendly to adult loved!  A lot of work went into that design too!  I can really appreciate the detail in this card.
Postmark'd Studio January 2018 – Final Thoughts
This box impresses me every time I receive it!  I'm a sucker for stationary as it is, but there can be a lot of dud cards out there.  Postmark'd does an amazing job of sourcing content for this box and curating it into a really unique package!  Every single box I've received I've hesitated to open, as it looks so amazing all packaged up!  The cards themselves are of very high quality, with heavy card stock and unique envelopes for every card.  Each card is plastic wrapped as well to protect it from damage in shipping.  Unwrapping this box is almost as fun as sending out the cards inside!  It's a real gift to receive, but an even bigger gift to bless others with its contents!
-Shonah