Postmark'd Studio Review July 2019
Postmark'd Studio is a premium stationery subscription box for the snail mail enthusiast delivered to your door every month! Each PostBox subscription comes with a monthly, limited-edition selection of beautiful handcrafted artisanal greeting cards and postcards crafted by artists around the globe. They kindly sent us this box for review.
Do you know how nice it is to have greeting cards on hand? I had to put together a last-minute birthday gift the other day and there's no way I would have had time to run to the store to pick up a card. So…..I just reached in to my Postmark'd Studio box and ta-da…..problem solved!

Subscription Details
Here's How It Works
Subscribe to a PostBox for 1, 3, 6, or 12 months.
Postmark'd Studio will turn every stone and pick the best of the best handcrafted artisanal paper and gift products to include in your monthly delivery.
Postmark'd Studio packs and ships a surprise themed box to your door every month.
Here's a closer look at the July Postmark'd Studio PostBox……
July Theme
Welcome to summer! I have created a fun collection of cards that whether you are just dipping your toe into the pond of snail mail correspondence, or you are an advanced swimmer in the pool of pen pals, will have you diving head first into your letter writing. Have fun and enjoy!
I'm All In
Why not be a little fancy this summer and send a friend an "invitation" to enjoy a glass of rosé on the patio. There's nothing wrong with some long-distance wine time either. I have had this card saved in a future PostBox file for over 18 months. I have been (not so) patiently waiting for summer to arrive so that I could share it with you.
Maybe not my favorite card when it comes to design, but I LOVE the idea behind it and the saying "I'm All In". I know just the person to send this card to.
One in a Million
This card is perfectly perfect for almost any occasion. The texture of the polka dots on the card work so well with the polka dot envelope.
Ok……a quick way to my heart is via polka dots and this card has a polk dot envelope!!! How can you not love it! I'm not sure what I will use this particular card for, but I will definitely find a reason to send it to someone.
Happy Birthday
Make someone's special day even more memorable by sending a "real" birthday card, snail mail style.
I love that we receive a birthday card in each box…..but I have mentioned that before. This one is perfect for a Summer b-day and I have a few coming up.
You're the Best
Who doesn't love to hear they are the best? The best host, thanks for dinner, the best friend, thanks for everything, or the best partner.
Awe….as soon as I saw this card I thought of my best friend. I will be saving this one for her……I'll send it with a "just because" gift.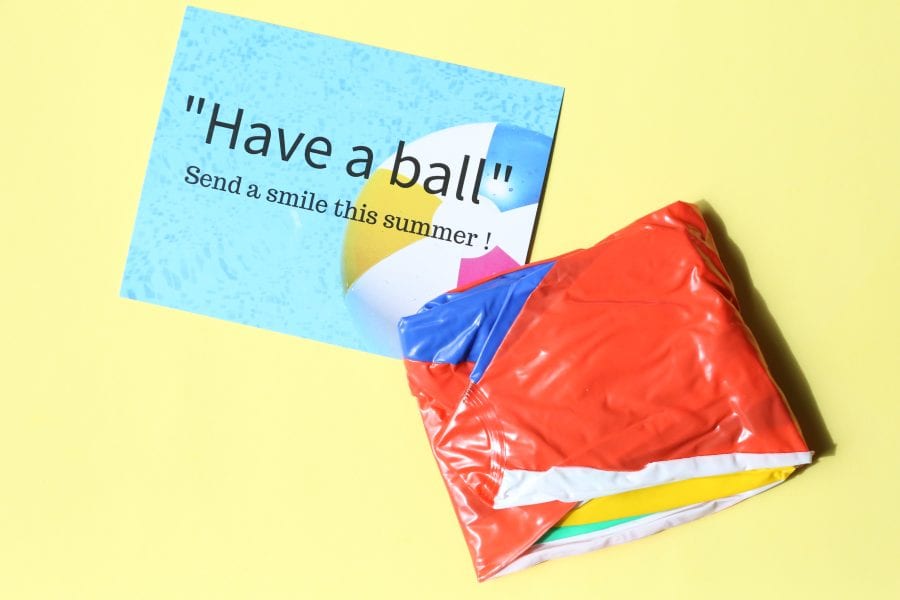 Beach Ball Postcard
Have a ball this summer and send an inflated beachball to your favorite pool pal. Guaranteed to be loved by all ages.
Lol, this made me giggle. How cute is this?! I can't even remember the last time I played with a beach ball…..I think it's time:)
Artsy Doodad
An upcycled postcard and wave stamp to dive in and decorate. Why stop at the postcard, your envelopes need a little extra wave too!
Postage
Vintage US postage to mail 4 letters featuring Lady Liberty.
This little guy was attached to my thank you card from Anne, the Postmark'd Studio Owner, and it was just so cute I had to feature it on it's own.
Postmark'd Studio Review July 2019 – Final Thoughts
The July Postmark'd Studio is the perfect dose of Summer in one little box. The Summer colors, the beach and pool designs, the beach ball postcard…..etc. It's making me want to do all the Summer things and send all the Summer cards to all of my friends. I also appreciate the festive 4th of July vintage stamps, as well as the adorable little heart-shaped pool pin that was attached to my thank you card. Postmark'd Studio is a great little reminder to send a few hand-written notes each month. It's a great way to say I love you or I am thinking about you. Everyone appreciates the time that goes in to an actual card……I know I do.
-AYOB