Postmark'd Studio Review July 2020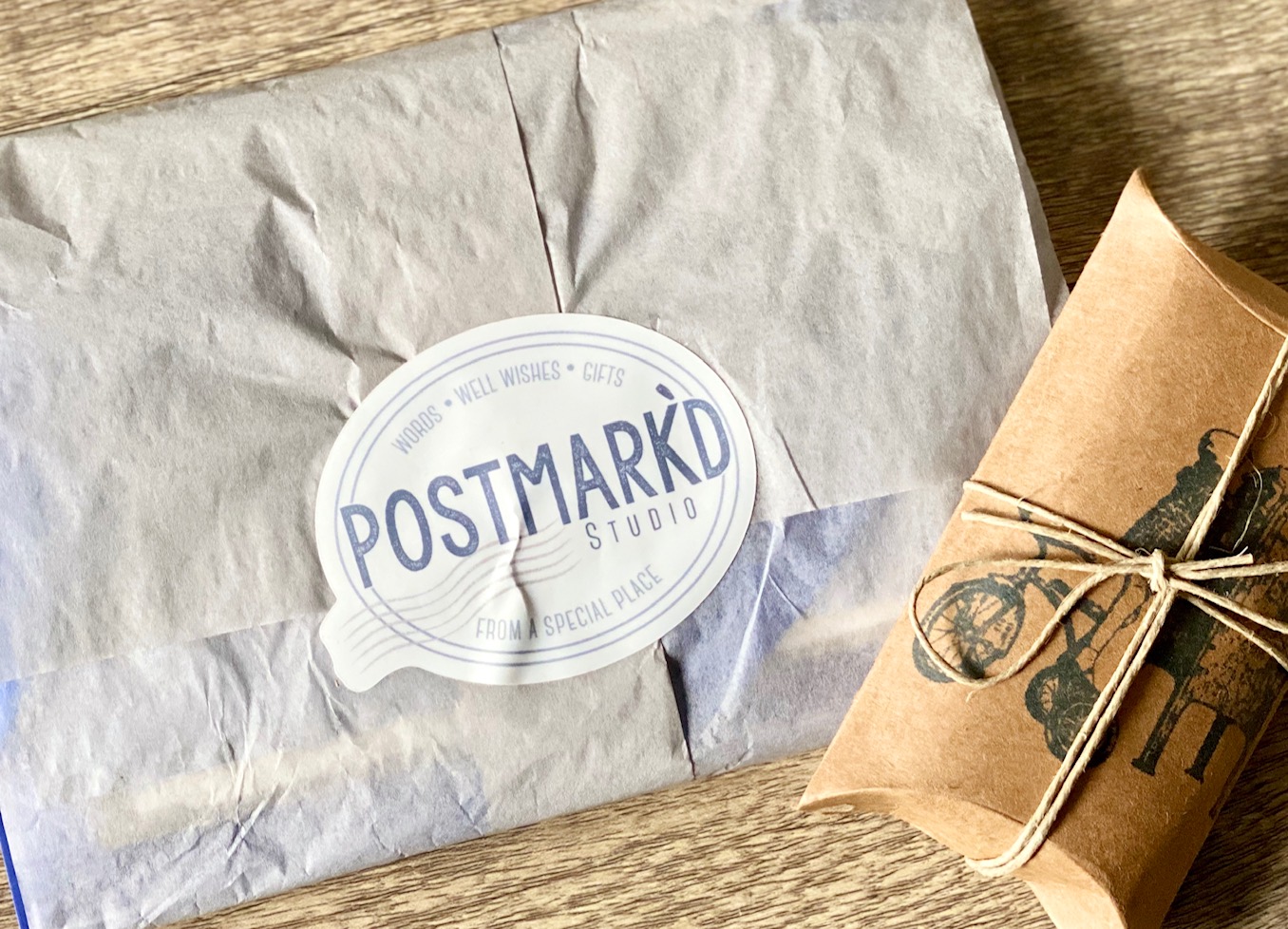 Postmark'd Studio is a premium stationery subscription box for the snail mail enthusiast delivered to your door every month! Each PostBox subscription comes with a monthly, limited-edition selection of beautiful handcrafted artisanal greeting cards and postcards crafted by artists around the globe.
*They kindly sent us this box for review*
I was excited to review Postmark'd Studio as I love to send snail mail and get crafty from time to time. It arrived in a white mailer envelope with everything bound and packaged beautifully inside.
Anne (the owner) included a personal note – this made me feel ever so special!
Subscription Details
Here's How It Works
Subscribe to a PostBox for 1, 3, 6, or 12 months.
Postmark'd Studio will turn every stone and pick the best of the best handcrafted artisanal paper and gift products to include in your monthly delivery.
Postmark'd Studio packs and ships a surprise themed box to your door every month.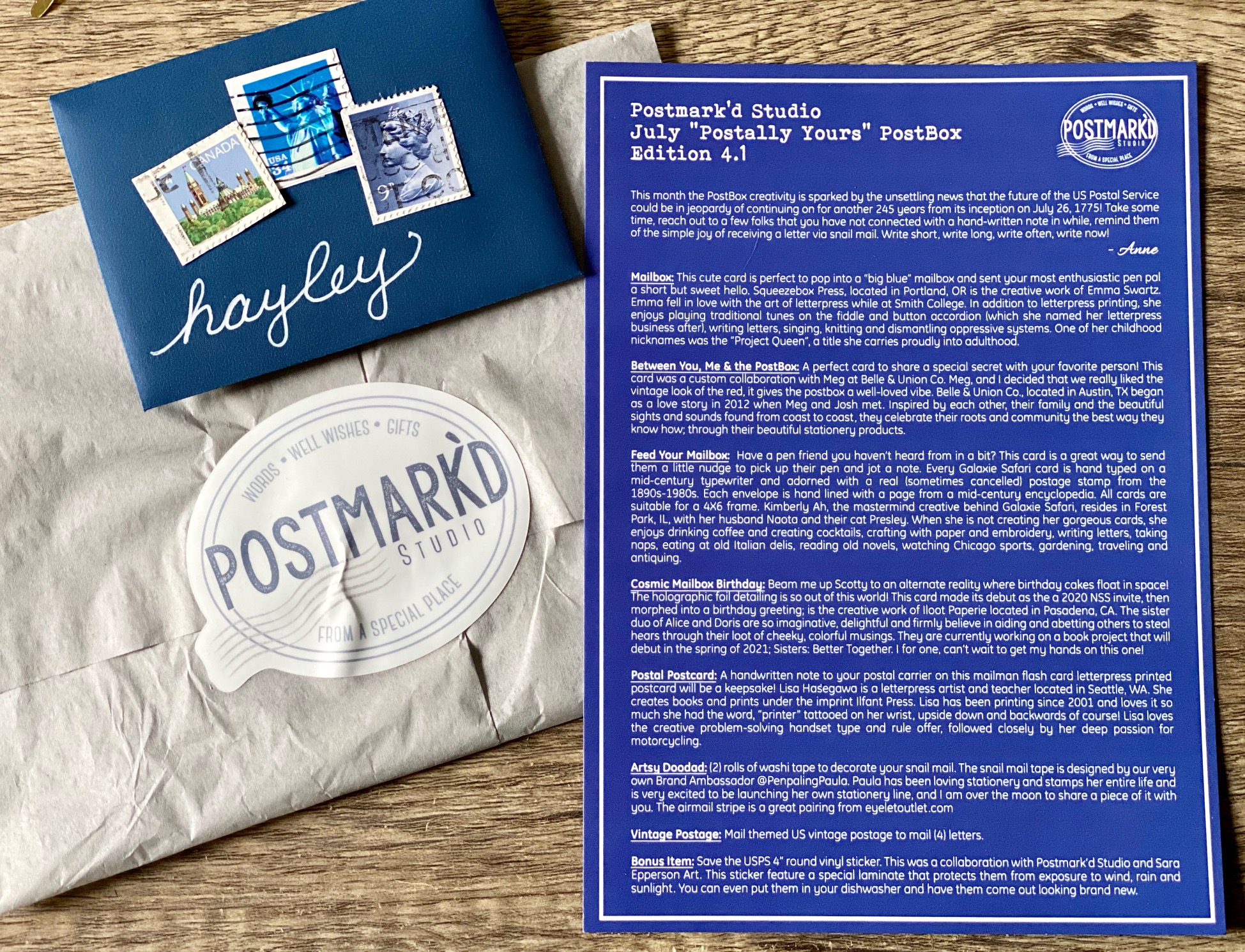 Here's a closer look at the July 2020 Postmark'd Studio PostBox…
Postmark'd Studio "Postally Yours" PostBox Edition 4.1
"This month the Postbox creativity is Sparked by the unsettling news that the future of the US Postal Service could be in jeopardy of continuing on for another 245 years from its inception on July 26th, 1775! Take some time, reach out to a few folks that you have not connected with a handwritten note in a while, remind them of the simple joy of receiving a letter via snail mail. Write short, write long, write often, write now!"
I love that they are celebrating the US Postal Service – they are important to us all – and I had no idea they have been around for so, so long! What a neat idea! So appropriate for a stationery subscription that helps subscribers send snail mail.
Mailbox
"This cute card is perfect to pop into a "big blue" mailbox or send your most enthusiastic pen pal a short but sweet hello. Squeezebox Press, located in Portland, OR is the creative work of Emma Swartz."
This card is so sweet that I almost want to frame it. I love the blue and silver details, and the fact that it looks hand-drawn!
Between You, Me & the PostBox
"The card to share a special secret with your favorite person! This card was a custom collaboration with Meg at Bell & Union Co. Meg, and I decided that we really like the vintage look of the red, it gives the postbox a well-loved vibe."
This fun little card seems so romantic to me. It might be a cool way to tell a long-distance partner a secret like saying, "I love you" for the first time or maybe announce a pregnancy? Or I could see writing to a best friend to announce or share the big news.
Feed Your Mailbox
"Have a pen friend you haven't heard from in a bit? This card is a great way to send them a little nudge to pick up their pen and jot a note. Every Galaxy Safari card is hand-typed on a mid-century typewriter and adorned with a real (sometimes canceled) postage stamp from the 1890s-1980s. Each envelope is hand-lined with a page from a mid-century encyclopedia. All cards are suitable for a 4×6 frame. Kimberly Ah, the mastermind creative behind Galaxy Safari, resides in Forest Park, IL, with her husband Naota and their cat Presley."
Guys! I want to frame this one too – can we just appreciate the beauty of the hand-lined envelope? This card is pretty classy and would be awesome to send a short note to someone in.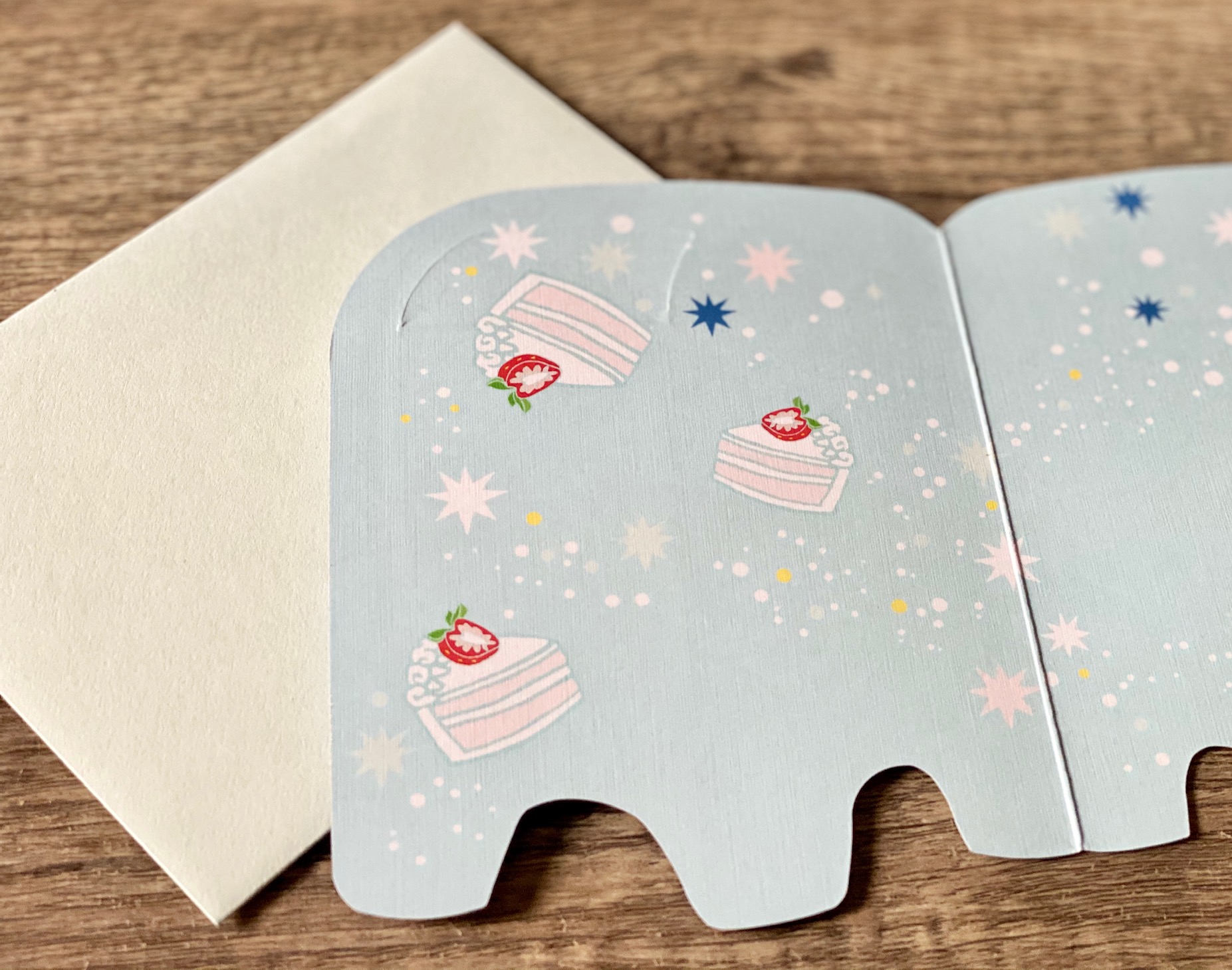 Cosmic Mailbox Party
"Beam me up Scotty to an alternate reality where birthday cakes float in Space! The holographic foil detailing is so out of this world! This card made its debut as the 2020 NSS invite, then morphed into a birthday greeting; it is the creative work of Iloot Paperie located in Pasadena, CA. The sister duo of Alice and Doris are so imaginative, delightful, and firmly believe in aiding and abetting others to steal hearts through their loot of cheeky, colorful musings."
Awe, this card takes me right back to my childhood when I received some fun and creative cards. I love the holographic details, the cake, and stars on the inside and the actual "pull to open" piece on the card. So fun!
Postal Postcard
"A handwritten note to your postal carrier on this mailman flash card letterpress printed postcard will be a keepsake! Lisa Hasegawa is a Letterpress artist and teacher located in Seattle, WA. She creates books and prints under the imprint Ilfant Press."
Funny story, I have been leaving my mailperson notes since the beginning of quarantine and will have to leave him one on this awesome postcard. It would also be a neat thing to frame or use for teaching letters of the alphabet to children. I am obsessed with the details of the mailman down to his pleated pants and printed mail carrier bag.
Artsy Doodad
"Two rolls of washi tape to decorate your snail mail. The snail mail tape is designed by our very own brand ambassador @PenpalingPaula. Paula has been loving stationery and stamps her entire life and is very excited to be launching her own stationery line, and I am over the moon to share a piece of it with you. The airmail stripe is a great pairing from eyeletoutlet.com"
I am so excited about this washi tape. I have been using washi tape in my planner for years and can't wait to use this mail-themed washi tape on my snail mail.
Vintage Postage
"Mail themed US vintage postage to mail (4) letters."
These are so cool! My Dad has a stamp collection so I may have to give these to him. Subscribers always receive enough postage to mail the cards in their monthly postbox. What a neat feature!
Bonus item: USPS Sticker
"Save the USPS for 4" round vinyl sticker. This was a collaboration with Postmark'd Studio and Sara Epperson Art. The sticker features a special laminate that protects them from exposure to wind, rain and sunlight. You can even put them in your dishwasher and have them come out looking brand new."
I have a friend whose car looks like a sticker book. I'm sure he will appreciate this "save the USPS" vinyl sticker. Funny enough, he was also born in the United States.
Postmark'd Studio Review July 2020 – Final Thoughts
The July Postmark'd Studio PostBox is well-curated and fits the "Save the US Postal Service" theme great as it makes you really appreciate their contribution to our past and present day… and if we focus a tad less on sending everything via expensive courier and more on the good ol snail mail, we can probably help. The cards, especially the Cosmic Mailbox Birthday and the Between You, Me & the PostBox are my favorite items this month, but I also really love the vintage postage and the washi tape rolls. Postmark'd Studio is a subscription that will keep you supplied with amazing and original greeting cards for every occasion. It's the perfect box for stationery lovers and snail mail enthusiasts.
Hayley Savanna – https://www.instagram.com/hayleysavanna/