Postmark'd Studio Review July 2021
Postmark'd Studio is a premium stationery subscription box for the snail mail enthusiast delivered to your door every month! Each PostBox subscription comes with a monthly, limited-edition selection of beautiful handcrafted artisanal greeting cards and postcards crafted by artists around the globe.
*They kindly sent us this box for review*
I absolutely love to review Postmark'd Studio as it is one of the best stationery subscriptions on the market! I am currently obsessed with sending snail mail and I love the joy it brings to myself and recipients.
My Postmark'd Studio PostBox arrived in a white mailer envelope with everything bound and packaged beautifully inside.
Anne (the owner) always includes a handmade, personalized note – It makes me grin every time. I love this quote from Jane Goodal, "What you do makes a difference and you have to decide what kind of difference you want to make."
Subscription Details
Here's How It Works
Subscribe to a PostBox for 1, 3, 6, or 12 months.
Postmark'd Studio will turn every stone and pick the best of the best handcrafted artisanal paper and gift products to include in your monthly delivery.
Postmark'd Studio packs and ships a surprise-themed box to your door every month.
Here's a closer look at the July 2021 Postmark'd Studio PostBox…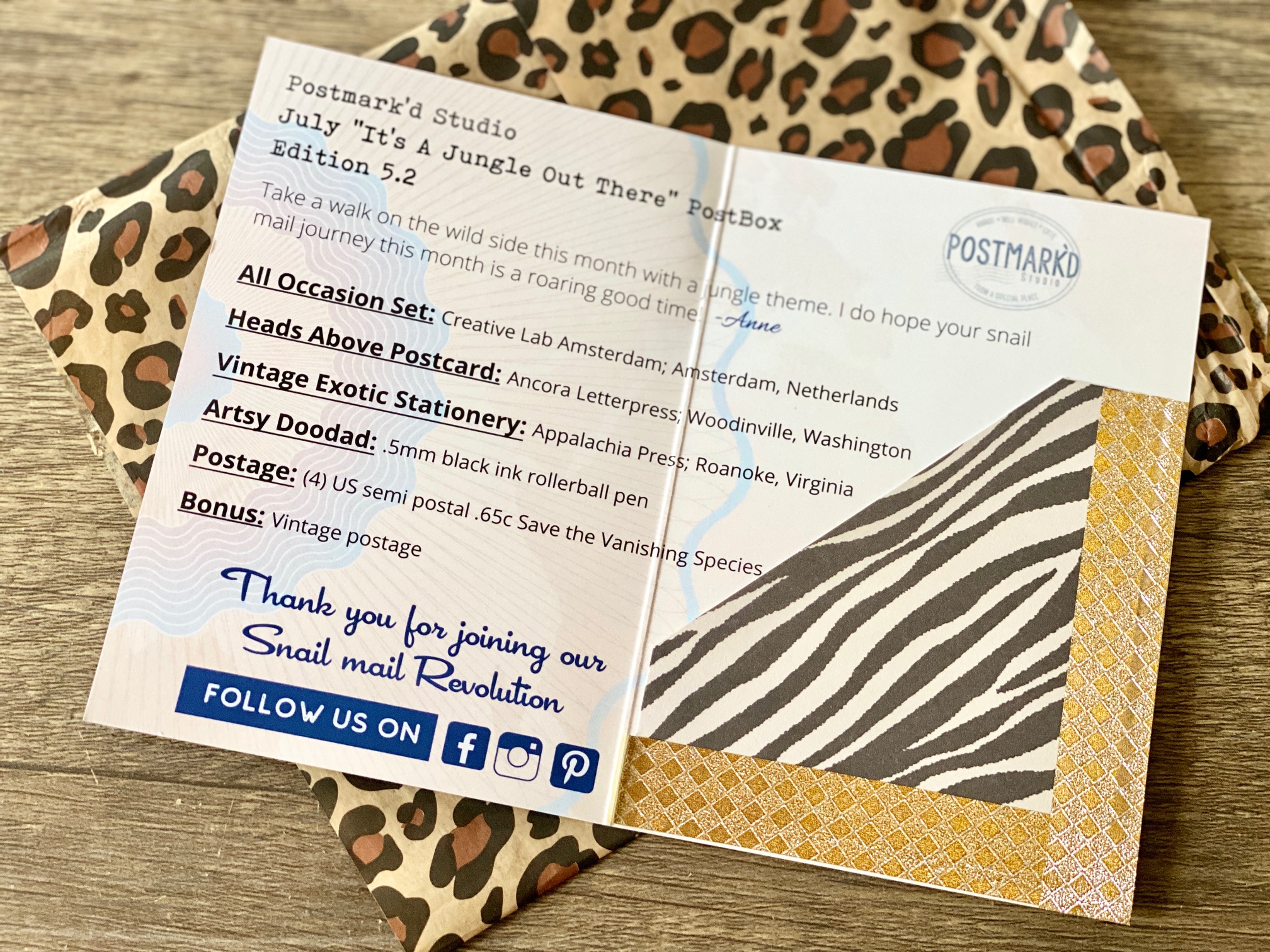 Postmark'd Studio July "It's A Jungle Out There" PostBox Edition 5.2
"Take a walk on the wild side this month with a jungle theme. I do hope your snail mail journey this month is a roaring good time. -Anne"
Each Postmark'd Studio PostBox is so incredibly well-curated and I love animal print so much! I can't wait to see what wild items Anne has included for this month's PostBox!
All Occasion Set
This stunning set was made by Creative Lab Amsterdam! It looks like we received a 'PostBox Passport' to travel around the world. First stop, this incredible vintage-inspired set from Amsterdam! The colour palette of this set is just to die for. I love jungle animals so much and these cards and matching envelopes are beautiful! I can't decide if the elephant or tiger is my favourite, my close friends will be so happy to receive these.
All Occasion Set: Happy Birthday
All Occasion Set: Hooray
All Occasion Set: With Love
Heads Above Postcard
Next destination, ANCORA Letterpress located in Woodinville, Washington. I am assuming this postcard was created by Anne from Postmark'd in collaboration with ANCORA Letterpress. The giraffe fits the jungle theme perfectly and the phrase "You stand above the crowd!" is so cheeky and punny. This will be a wonderful postcard to send to someone to say thank you!
Vintage Exotic Stationery
This handsome set was created by Appalachia Press in Roanoke, Virginia. Mixed (2 of each animal) Panel Cards with Envelopes Lined in Burlwood…handsome AND beautiful! This set contains six cards with liners, printed on Italian cotton paper. There are three jungle-themed animals on these cards, and they would make a perfect note to make that lasting impression on family, friends and business associates.
Artsy Doodad – .5mm Black Ink Rollerball Pen
This rollerball pen is muted gold and would look beautiful sitting on your desk. There is a comfort tip on it for ease of use and it writes so beautifully. I am a sucker for pretty and effective stationery.
Postage & Bonus Vintage Postage
"4 US semi postal .65c Save the Vanishing Species."
The postage this month is so fun and it absolutely fits the jungle theme! We were also given this stunning vintage postage with different animals. Subscribers always receive enough postage to mail the cards in their monthly postbox. What a convenient feature!
Postmark'd Studio Review July 2021 – Final Thoughts
The July Postmark'd Studio PostBox is so well-curated and it fits the "It's a Jungle Out There" theme perfectly! All of the items are so wild and unique and will be so fun to send in the mail. I think my favourite cards are the vintage-inspired All Occasions Set, but all of the items are awesome! Postmark'd Studio is a subscription that will keep you supplied with amazing and original greeting cards for every occasion. It's the perfect box for stationery lovers and snail mail enthusiasts. Signed sealed delivered…
Hayley Savanna – https://www.instagram.com/hayleysavanna/