Postmark'd Studio Review July 2022
Postmark'd Studio is a premium stationery subscription box for the snail-mail enthusiast delivered to your door monthly. Every month you will receive a Postmark'd card, pencil, USPS stamps, artsy doodads, 4 additional cards, and an informative card. They kindly sent us this box for review.
I have always loved my Postmark'd Studio deliveries but even more so the last couple months. I am creating a "snail mail" drawer in my office complete with pre-printed mailing labels, stamps and cards. This way, each month when my Postmark'd box arrives I can quickly send out cards to friends and family. I am going to make an effort to set aside an hour each month to do this……and I am so excited!
Subscription Details
Here's how Postmark'd Studio works:
Subscribe to receive a monthly PostBox
Take 5 minutes to craft a message
Pop your note in the mail
Change the world
Repeat
Here's a closer look at the July Postmark'd Studio….
The theme for the July box is "Flamingo" and it is SO darn cute!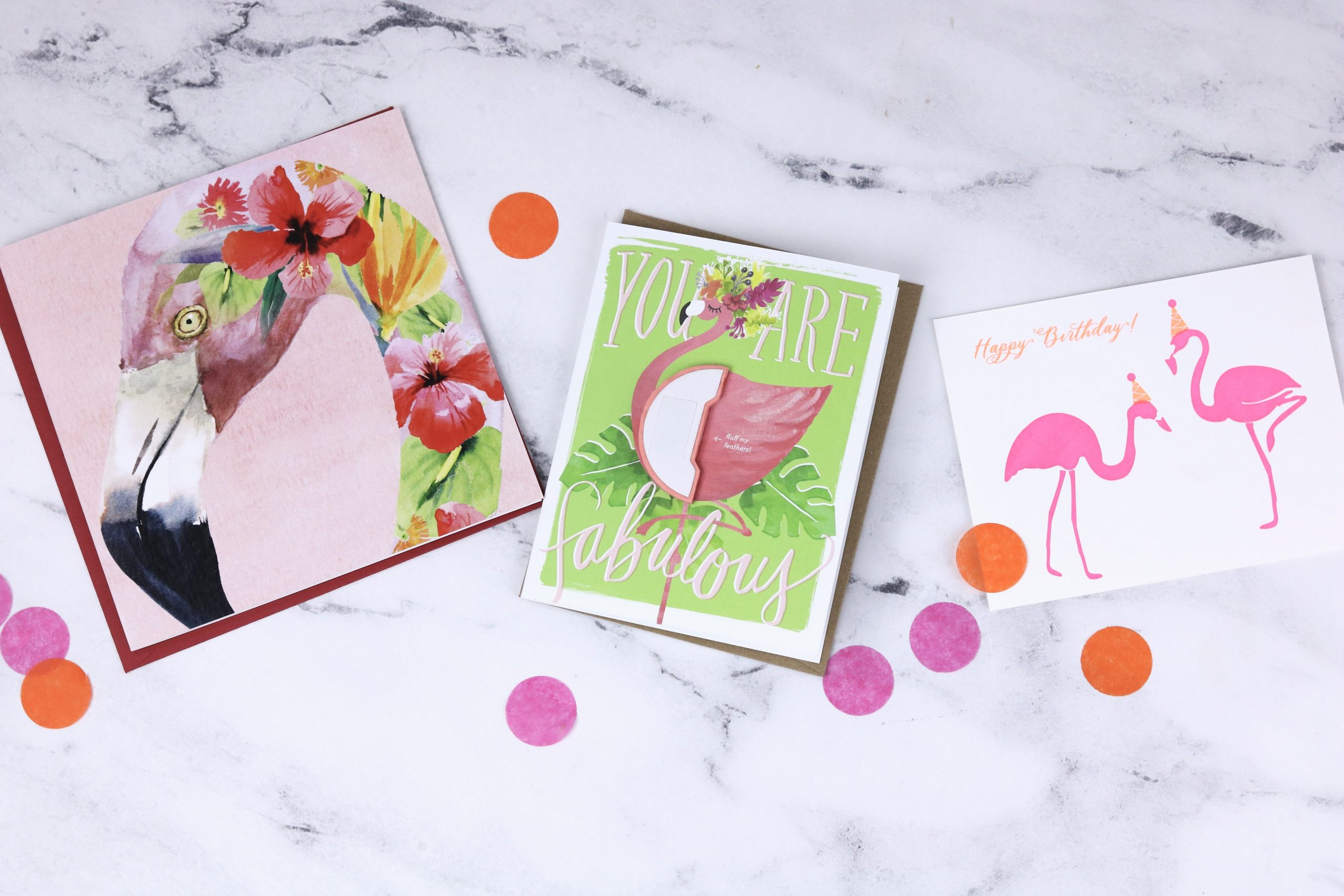 Tropical Flamingo: This is such a gorgeous card and can be used for a number of occasions. I will most likely use it as a "thinking of you" card.
You are Fabulous: This card will be perfect for my bestie or maybe one of my nieces. I LOVE the summer vibes! And….it is a pop up card!
Happy Birthday Postcard: The birthday cards are always my fave. I used one from a previous box just the other day. They are so great to have on hand. This one is extra fun and came with the cute little tissue paper dots!
Hello: This one is definitely my favourite of the bunch! I LOVE the font and the simplicity of the design. This is another "just because" card.
Happy Birthday: I love that we received 2 birthday cards this month as they are the ones I use most often. I love the shape and size of this one.
Artsy Doodad: I think this is the best artsy doodad to date!!! So unbelievably cute and thoughtful.
"Cool off this summer by floating a cold drink with this inflatable flamingo drink holder and $5 gift card from Starbucks."
Postage: The postage this month is so pretty and fits the tropical bird theme perfectly. I will be sure to pass these on to a US friend:)
Postmark'd Studio Review June 2022 – Final Thoughts
As per usual, Postmark'd Studio has done an amazing job. I love the theme, it is perfect for Summer, and the cards are adorable! The drink floaty and gift card were such a lovely surprise and makes this month's box feel extra special. And….even though I'm not a fan of pink the colors are making me happy!!!
-AYOB Sarah