Postmark'd Studio Review May 2018
PostBox is a card box from Postmark'd Studio. Each PostBox subscription comes with a monthly, limited-edition selection of beautiful handcrafted artisanal greeting cards and postcards crafted by artists around the globe. They kindly sent us this box for review.
Postmark'd Studio is a subscription I've really come to appreciate. There's something really nice about having greeting cards on hand for all the special occasions that arise – last minute birthday parties, just because, thinking if you, etc……I feel so organized when I am able to say "I have a card for that". And if the cards are super cute and handmade, well that's just even better!
Subscription Details
Here's How It Works
Subscribe to a PostBox for 1, 3, 6, or 12 months.
Postmark'd Studio will turn every stone and pick the best of the best handcrafted artisanal paper and gift products to include in your monthly delivery.
Postmark'd Studio packs and ships a surprise themed box to your door every month.
May Details: Llama Mama
A llama, like a mama, is such a dignified creature, appearing almost aristocratic with that demure glance and flawless posture (you know, that "mom look").
Oh, HELLO There!
This little note fulfills what it was created to do—make you smile. If llamas could talk, I know this is how they would greet you every time they met you! 
The Ladybug Press is located in Boise, ID. Owner, designer, and press operator Angela Stewart prides herself on making functional art that's created to be used and enjoyed, not just looked at!
Such a cute little card that will be great for a number of occasions, or "just because".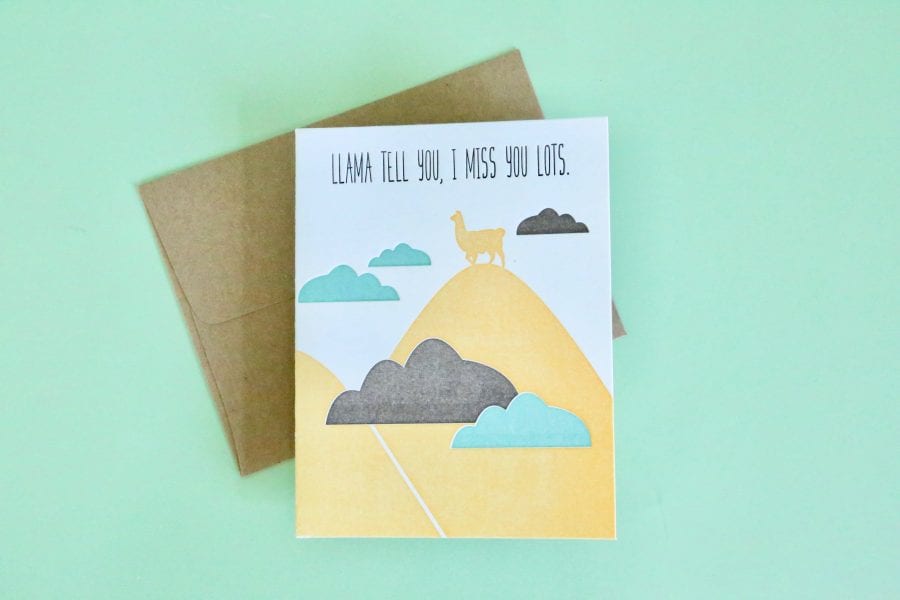 Llama Tell You
Send a note to a faraway friend and close the distance cap just a little bit. We absolutely love that this card's illustration spans the front and the back!
Farmwood Press is a letterpress shop owned and operated by Chris and Katie Torres. Chris and Katie live in Atlanta, GA, with their two kids, six chickens, and one coonhound. They are a creative family that enjoys photography, yummy food, and letterpress—ahh to live the artist's dream!
Awe, I love this card! I can think of a few different people in my life that I could send this to. I think "I Miss You Cards" are my favourite kind of card to give.
Happy Birthday
What better way to send wishes for another trip around the sun than with this peaceful, quirky, flag-waving llama!
Paper Parasol Press is located in San Francisco, CA. Cindy Tomczyk is the owner, designer, and creative director. Her work is inspired by traveling, midcentury design, the great outdoors, and the beautiful state of California.
Loving the colours on this card and it's always nice to have extra birthday cards on hand. They are the ones I use most often.
I Llama You
Who do you want to make sure they know you llama them? A perfect card for a special someone.
Pistachio Press is located in Cincinnati, OH. Rachel Hertzel bought her first letterpress in 2003 and has been printing sweet and snarky stationery ever since.
This is perfect for a significant other. A cute little way to say I Love You.
Skater Llama
Drop a postcard to let a friend know things are rolling along well. A rollerskating llama is sure to bring a smile.
Paper Wilderness, located in Long Beach, CA, is the creation of Jenna Puente. Inspired by amazing creatures and colors from nature, she illustrates, letters, and assembles by hand.
I think this just might be my favourite of the bunch. I love the colours and detailed illustration.
Llama Trinket Tray
This adorable Llamarama trinket tray is a perfect desk accessory. We even include a few special spiral paperclips to keep this little one fed!
Located in Vancouver, BC, Danica Studio comprises a small team of designers who create beautiful lifestyle and gift products decorated with prints, patterns, and pretty details.
The perfect addition to any desk. Use this little guy to keep your paperclips, pins or small doodads organized.
Stamps & Artsy Doodads
These little items are always appreciated…….simple but necessary.
Postmark'd Studio Review May 2018 – Final Thoughts
Postmark'd Studio always managed to come up with the best themes. Have I mentioned that before? Let's be honest…..the Llama theme is genius! Llamas are a super fun trend as of late. I'm actually kind of surprised I haven't seen them in more subscription boxes. I love that Postmark'd Studio gets creative with their themes. The May Llama Mama box is sure to put a smile on anyones face. Seriously, how can you not smile when you have all those Llama faces staring up at you?! Once again we have an amazing box full of gorgeous cards and a few little bonus items. No wonder this box is already sold out…….
XOXO